Notes for Healthy Kids… and for parents too!!
by Rujuta Diwekar
Westland; Price: Rs.350
The cover sets the tone for this book with its second sub-title that says "milk, veggies and dal are not compulsory". And that's just one of the many food myths that celebrity fitness guru and nutritionist Rujuta Diwekar busts in this well-written book.
Notes for Healthy Kids encourages parents and children to cultivate a healthy relationship with food. For instance she counsels parents to encourage children to eat local and seasonal food without worrying about carbs, fats and proteins. For most parents who whinge about their children not eating enough, she advises against force-feeding. Other useful advice is to involve children in kitchen activities which will teach them to appreciate good, healthy food. Diwekar also stresses that Indian sweets and snacks are superior in nutritional content to processed western sweets. According to her, ghee and several other ingredients used in Indian cooking are healthy, but maligned in the media because they don't have Western endorsement.
Malala: My story of standing up for girls' rights
by Malala Yousafzai with Patricia McCormick
Hachette India; Price: Rs.299
On October 9, 2012, a young Pakistani school girl Malala Yousafzai was shot at and injured by Taliban gunmen for asserting her right to education. Since then she has emerged as an international youth icon and champion of girls' education. In 2014 she was awarded the Nobel Peace Prize for her persistent advocacy of the right of girl children to education.
The book begins with Malala's happy childhood in Pakistan that changed dramatically when Taliban gunmen showed up at her school. Thereafter, the memoir takes readers on a roller-coaster ride of emotions ranging from horror to hope, sadness and relief. Malala's story is inspirational and reinforces the belief that one person can change the world.
Comments Washington-based author and journalist Patricia McCormick, who spent several hours interviewing Malala for the book: "It's a story of a girl like any other, who wants to meet her friends at school, to learn to prepare for a better future, and to have fun."
Not just grades: Schools that educate differently
by Rajeev Sharma
Penguin Random House India; Price: Rs.599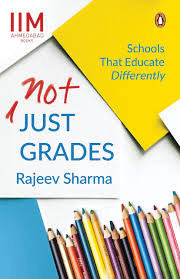 Not Just Grades is an account of the country's most progressive schools that focus on the holistic all-round development of children. According to Rajeev Sharma, professor at the Ravi J. Matthai Centre for Educational Innovation at the Indian Institute of Management, Ahmedabad, India's education system has become obsessed with grades-based performance, to the neglect of holistic development of children. In this critique of India's rote-centric education system, Sharma beams a spotlight on ten schools across the country which have pioneered innovative initiatives to promote all-round education, inclusivity, autonomy of teachers, etc. Not Just Grades gives parents valuable insights into India's K-12 education system and will perhaps inspire them to demand accountability and improvement from their children's schools.
Mini P.