Al-Hira Model School, Chennai was promoted in 2004 with the objective of providing quality education at an affordable cost to the burgeoning middle class of the southern sea port city.
Established under the aegis of the 130-year-old Anjuman-e-Himayath-e-Islam (AHI) charitable society, Al-Hira Model School (AHMS) is driven by a mission to "provide holistic education with special emphasis on social, moral and ethical values which would nurture character building, tolerance, and cooperation in students and inspires them to strive for excellence in every field."
Having started with an initial batch of 40 students and seven teachers, the CBSE affiliated K-12 AHMS has grown from strength to strength over the last two decades and presently boasts 1183 students mentored by 60 teachers.
"Lack of education is the root cause of poverty and we need to play our part to eradicate this by imparting affordable education with the highest standards. We believe no child should be left behind for want of education. At Al-Hira, we strive to provide holistic education with special emphasis on social, moral and ethical values which would nurture character building, tolerance, and cooperation in students and inspires them to strive for excellence in every field," says Imthiaz Pasha, vice president, AHI and chairman, AHMS.
"We at AHI owe our deepest gratitude to Padmashree Mecca Rafeeque Ahmed, president of AHI, who has inspired us to achieve the highest standards of excellence in education and who has inspired me personally to aim high."
A prominent industrialist-philanthropist, whose father Osman Ali Khan was also an industrialist and a member of parliament, and mother Begum Jouhar Osman Ali Khan was a prominent social worker, Pasha's first entrepreneurial venture was the leather and shoe upper exports company Chevro Leather Manufacturers (estb.1982) which has established an excellent client base in 30 countries worldwide and has won 37 national awards from the Government of India thus far.
During the course of his four-decade-long illustrious career, Pasha has held several coveted positions in India's leather, healthcare and education industries including chairman, Indian Finished Leather Manufacturers and Exporters Association; vice president, Indian Shoe Federation; director, Footwear Design and Development Institute of India; chairman, Council of Leather Exports (southern region) and member, Central Leather Research Institute, Chennai, among others.
A founding member of the Heart Foundation, Chennai, he presently also serves as chairman, vice-president, Muslim Educational Association of Southern India; VP-in charge, Measi Institute of Management and member, Southern India Educational Trust.
Enabling infrastructure to support holistic 21st century education
Despite its modest fees, the AHMS management has invested generously in an enabling infrastructure to support holistic 21st century education. The school's purpose-built campus hosts excellent facilities for academics, sports & co-curricular education.
AHMS' 36 classrooms are equipped with Smart Class facility with digital content for Kindergarten through class XII powered by Tata Class Edge. Smart Class content is continuously upgraded so as to provide students with relevant knowledge. The fully Wi-Fi enabled school building ensures the faculty have quick access to information and knowledge resources as and when required.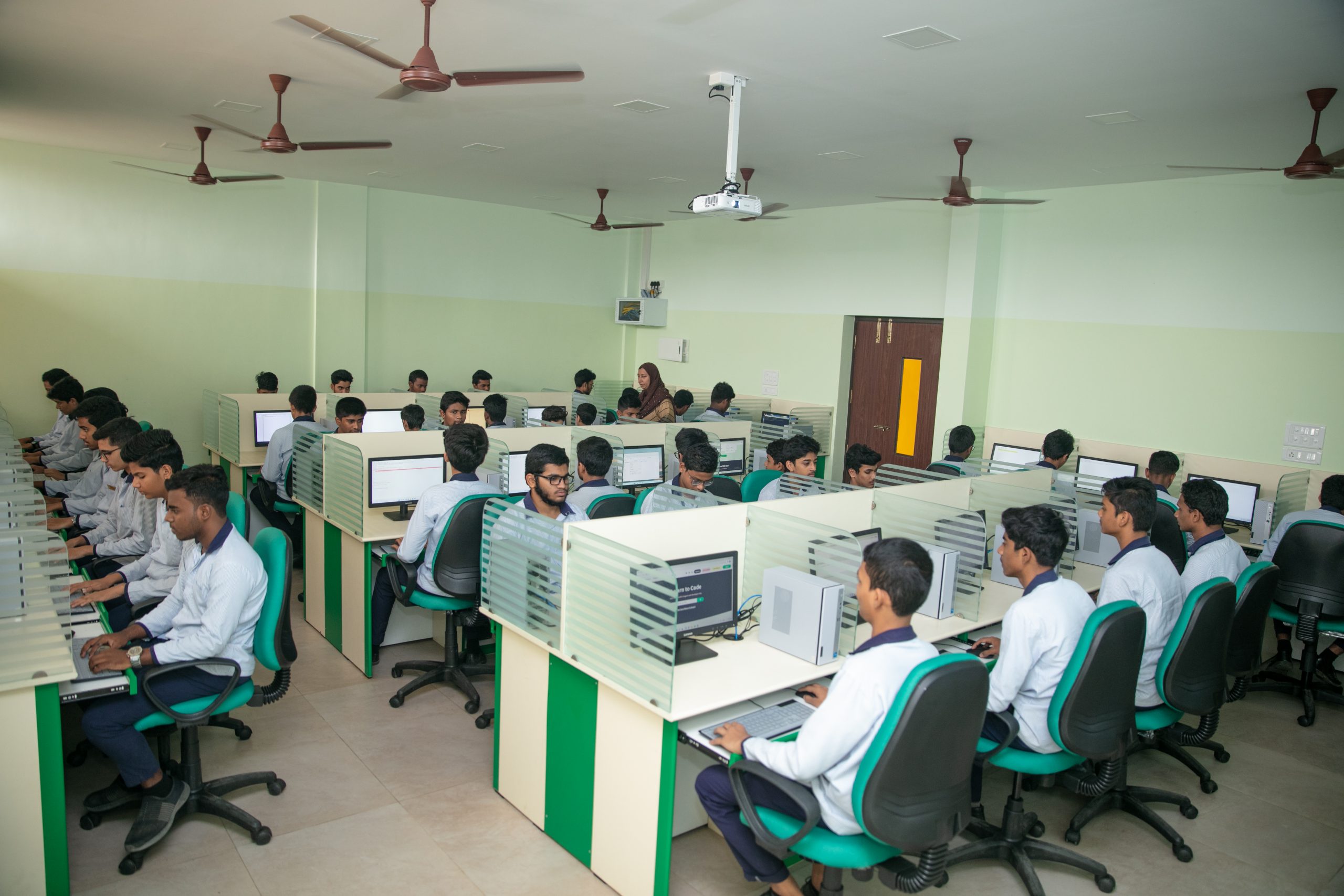 Two fully air-conditioned and Wi-Fi enabled computer laboratories are equipped with the latest PCs. Moreover, to keep pace with the digital transformation sweeping across the globe, the school has also introduced coding classes in collaboration with the Upschool Project right from primary classes at no additional fees.
The school's spacious, well-lit and airy classrooms feature comfortable seating arrangement and a visually appealing colour scheme of yellow, pink, blue and lavender. Nature-inspired themes like sun, sky, clouds and trees along with images of trains and airplanes grace the kindergarten classroom walls. The walls have built-in mini black boards where the tiny tots are allowed to scribble.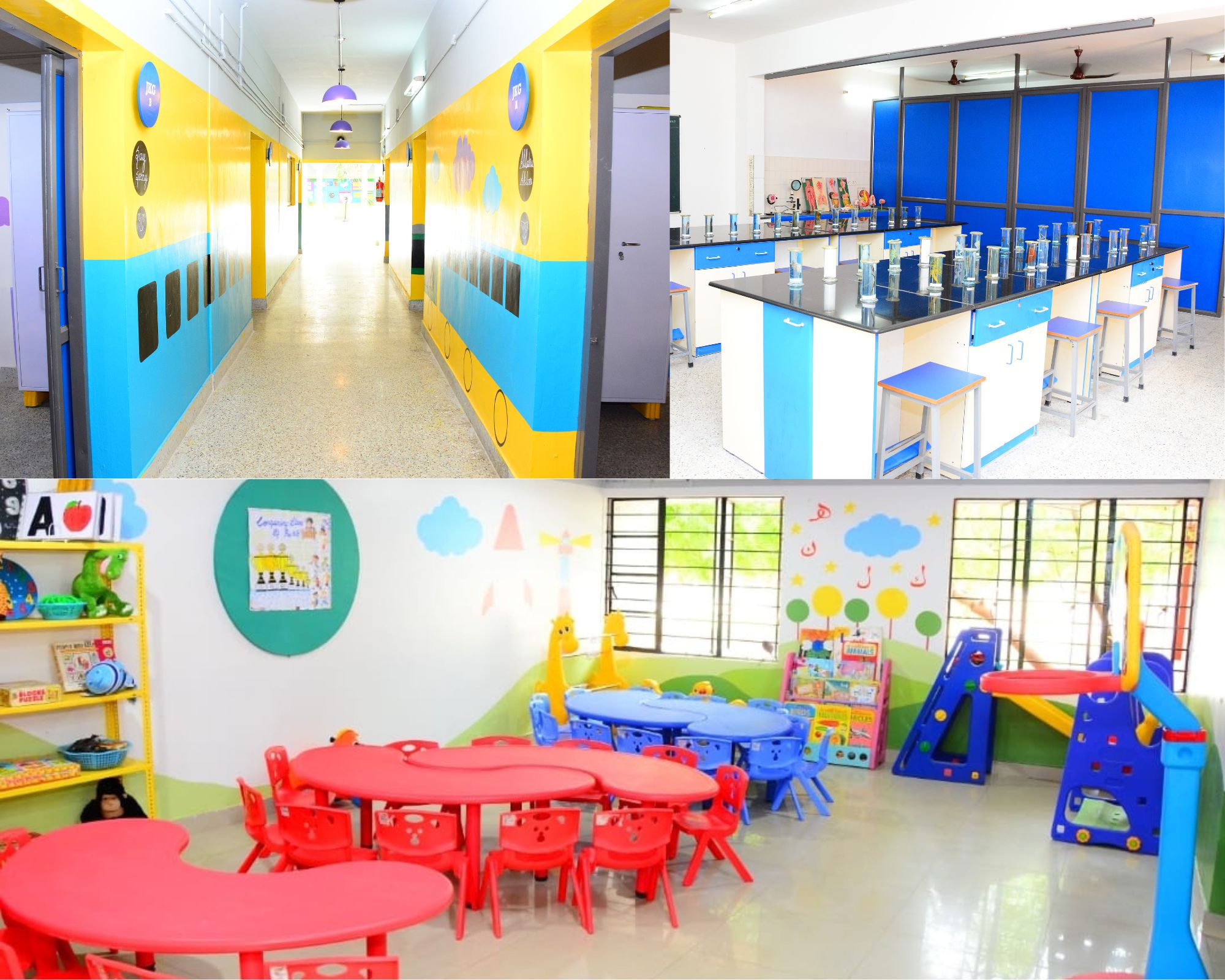 The well-equipped science laboratories enable hands-on training in performing experiments while the mathematics lab enables effective learning of mathematical concepts. The Composite Laboratory designed exclusively for middle schoolers, provides them tools to tinker with any gadget of their choice or construct any model of their imagination. The spacious school auditorium and a well-stocked library with a rich collection of books on a wide range of subjects, are other campus highlights.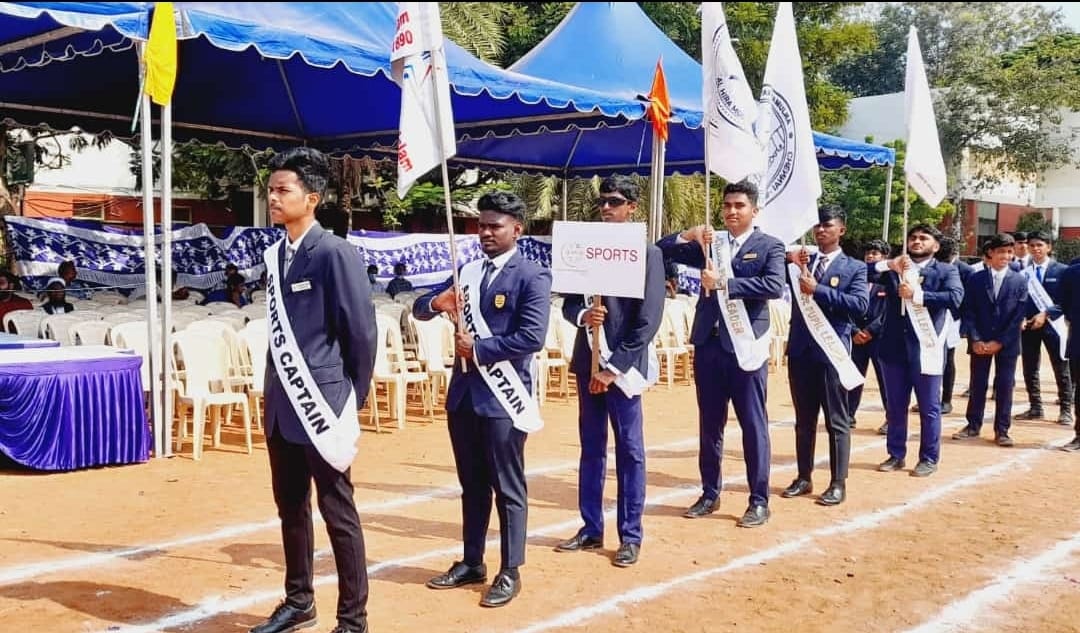 The school's impressive sports infrastructure includes spacious playgrounds, well-maintained courts for basketball, badminton, volleyball and tennis, apart from facilities for athletics, football, cricket, kho-kho, tennikoit, long jump, and shot put. Moreover, a spacious indoor games hall facilitates various games such as chess, table tennis, carrom, archery, etc.
At AHMS, high importance is accorded to the mental wellbeing of students. The school boasts a team of committed special educators and counselors to cater to the needs of students dealing with stress, learning and communication difficulties.
Promoting technology-driven education
When the Covid-19 pandemic prompted a nationwide lockdown and closure of all educational institutions in March 2020, Al-Hira Model School was among the first schools in Chennai to switch to online classes to facilitate learning for its homebound students on the Microsoft Teams platform. The school's principal Safeena Parveen encouraged all teachers to attend the Microsoft Training Programme and the subsequent hand-holding sessions, thus enabling them to become Certified Microsoft Innovative Educators. Teachers were provided with DELL laptops and a host of digital tools along with the necessary training to ensure a seamless transition to online/blended learning.
Curriculum crafted to foster Joy of Learning
The CBSE affiliated AHMS offers a carefully customised curriculum that lays special emphasis on foundational literacy and numeracy for KG to class V and ensures that every child experiences the joy of learning. For higher grades, the curriculum is learner-centric and student participation is encouraged in the teaching-learning process. Teaching is a blend of classroom lecture, demonstration, use of Smart boards, experiential, case-based, highly interactive sessions.
AHMS has an uncompromising focus on providing individual attention and a suitable learning plan is chalked out for students with diverse learning needs and styles. Remedial sessions are also held after school hours for the students requiring additional support and the school's in-house special educator and counsellor work closely with the teachers to provide inclusive education. Individualized Education Programs (IEPs) are prepared to cater to the children with special learning needs.
Learning beyond the classroom
With the objective of enabling students to consciously develop an understanding of the rich culture and heritage of their city, state, and nation, the school runs a series titled "Know Your Nation" where a particular state is in focus for a period of two weeks. Various activities throughout the week such as assembly presentations, theme board and PPT presentations are conducted centred on the state in focus. In addition, the school subscribes to The Hindu In School edition and allots time for reading it everyday after the morning assembly to encourage the habit of reading newspaper and to keep them updated on current affairs.
AHMS students regularly participate in various Olympiads and co-curricular events such as the competition conducted by the Periyar Institute of Science & Technology in association with ISRO and they have won the top prizes for two years in a row.
The school also conducts seminars, guest lectures by subject experts and motivational talks to facilitate learning and preparation for Board examinations.
Green Zone & Principles of 5 S
In a bid to do its bit for the conservation and protection of the environment and to inculcate these values in the young learners,AHMS aspires to be a completely plastic free zone. Each zone of the school has been provided with colour coded bins to segregate biodegradable and non-biodegradable waste. The school is in the process of building composting pits in accordance with the training imparted by experts from the Tamil Nadu Agricultural University.
The school building applies the Japanese principles of 5S: Sorting, Setting in Order, Shining, Standardizing & Sustaining. The 5S system is a lean manufacturing tool that improves workplace efficiency and eliminates waste which has helped immensely in maintaining the highest standards of hygiene and waste management.
Appreciating the importance of data driven decisions, AHMS has a full-fledged MIS in place which has transformed education management and decision making in all strategic areas. Being environmentally conscious, the school is on the verge of going paperless which in turn aids effective management.
"Al-Hira Model School is now in an expansion mode with plans of adding new wings so as to accommodate more students without compromising on the quality of education and environment conducive to learning. Needless to add, without passing on the burden of cost to the parents. Thus, we continue in our quest to impart quality education at a nominal cost so that education remains accessible and affordable to every child. In an era where education is sadly turning into a booming business, Al-Hira Model School stands apart and sets an example where the educational needs of a child is the predominant motivating factor in its 'business model'," says Imthiaz Pasha.
Al-Hira Model School Laurels 2022-23
AHMS students participated in the national round of the Spell Bee International competition. Rifa Taskeen (Class IV), Ridha Mariam and Sadia Mehreen (Class VI) made it to the toppers category.
In the International Olympiad of English Language (IOEL), Hajira Parveen (Class I), Faiza Kulsum, Farhathul Tasfiya and Zarah Yusuf (Class II) and Fudail Md. Zafar (Class XII) secured #1 rank at the zonal level.
Around 86 AHMS students participated in the National Young Authors' Fair organised by BriBooks. AHMS made it to the top 50 schools in India and the school was awarded with the much coveted Literary Leadership Achievement Award. Three AHMS authors were nationally recognised for their exemplary writing skills; Minha Faseeh (Class III) received the Jury's Certificate of Excellence while Md. Zain (Class I) and Syed Armaan (Class II) received the Writing Prodigy Author Certificate.
Campus
,
News