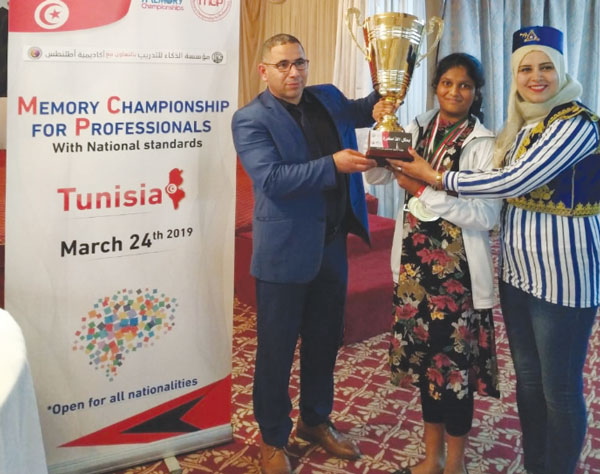 Ananya N. Swamy (14), a Chikkaballapur (Karnataka)-based class IX student of the CISCE (Delhi)-affiliated BGS World School, is making waves in the national and international memory sport circuits. At a Memory Championship for Professionals staged in Tunisia on March 24 this year, she was adjudged the winner of all ten events of the competition. Moreover, last December at the 27th World Memory Championships, Hong Kong, Ananya won the title of 'International Master of Memory' in her maiden attempt — the youngest ever winner of this title.
The eldest child of surgeon Dr. Narayan Swamy and health education officer Sudha, Ananya is elated about these laurels and attributes her success to her school principal Wg. Cdr. Ranjit Kumar Mandal (Retd.) and her mother. "I owe gratitude to our principal for introducing me to this sport which has improved my academic scores as well. But without my mother's motivation and encouragement, I would have never had the confidence to sign up for these global competitions," she says.
Memory sport, which has its roots in ancient Greece, requires practitioners to showcase speedy memorisation and recall skills. Typically, memory sport competitions staged worldwide comprise ten rounds, with contestants required to memorise a set of numeric/alphanumeric characters (numbers, words, dates) shown to them on a sheet of paper for a specified time period. In the competitive rounds, participants are required to recall the alphanumeric numbers in the same formation.
Popularised in 1991 by education consultant and author Tony Buzan and English chess Grandmaster Ray Keene, memory sport is recognised by over 65 countries worldwide.
Top of her class academically despite frequent travels for memory sports tournaments, this teenage whiz is training intensively for the Asia Open Memory Championship 2019 scheduled to be held in Bali later this month. "I haven't given my long-term career goals much thought. There's plenty of time for that," she says.
Go girl!
Sarah Samuel (Bangalore)