The Navarathri festival spans nine nights and ten days of celebrations during the Hindu calendar month of Ashvin which usually falls in the Gregorian months of September and October. While it is celebrated as Durga Puja, the triumph of the Goddess Durga over demon Mahishasura in West Bengal and some parts of north-east India, in the northern and western parts of the country Navarathri is celebrated as the victory of Lord Ram over Ravana through Ram Leela performances.
During this sacred period, people celebrate the victory of good over evil, by observing fasts, refraining from non-vegetarian food, wheat and pulses. The highlights of Navarathri include the lively "Garba" and "Dandiya" dance events that add to the vibrancy of the festive season. With so many celebrations, one can always look forward to dressing up beautifully. So here's a scoop on some popular shopping spots in Indian cities during Navarathri.
Ahmedabad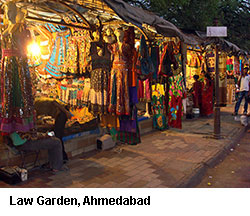 Law garden market, a public garden in Ahmedabad is popular for the local handicraft goods. A visual treat for the shopaholics, the market offers most intricate traditional creations of Gujarati apparels, accessories, and ornaments. Along with chania (skirts), cholis (blouses) which are normally worn for the folk dance Garba are sold here men can also find their traditional attires. Not to forget the footwears and purses that can be carried along.
Bangalore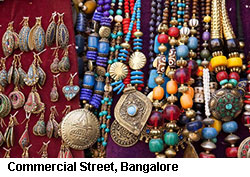 The best places in Bangalore for shopping this season are the Commercial Street and Chickpet, which are extremely budget-friendly and ideal for all kinds of traditional wear — including Bandini dupattas, Chania Cholis, Gagras, Salwar Kamez and saris. Men are also spoilt for choices – with a wide range of men's attire ranging from ethnic Kurtas, Sherwani's to the western wear available here. Apart from clothing, accessories such as earrings, bangles and a wide choice of ornaments can also be found in plenty.
Mumbai
Linking Road and Hill Road are two of the main shopping hubs in the suburbs of Mumbai selling everything from street stalls to high-end international brand stores and boutiques.
Delhi
Lajpat Nagar, Chandni Chowk, and Karol Bagh markets are places to shop during the festive season. Stocked with a wide variety of festive decor, clothes and accessories, these popular shopping zones are also visited by tourists from across the country and the world during this time of the year.
Chennai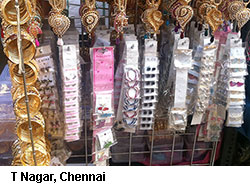 Theagaraya Nagar, known locally as T. Nagar, is an affluent and bustling shopping neighbourhood with stores and street vendors selling colorful saris, gold ornaments at affordable prices.
Kolkata
A treat to the bargainers, Kolkata's new market is a shopping arena with over 2,000 stalls selling sarees and other clothing materials, local jewelry and variety of bags. As this place is a you must expect a large crowd, especially in the evening. The other not to missed places include Dakshinapan Shopping Center, Hatibagan Market and Bara Bazaar.
Lets us about know your favourite shopping hubs in your city.
Also read: Best apps to use this Diwali