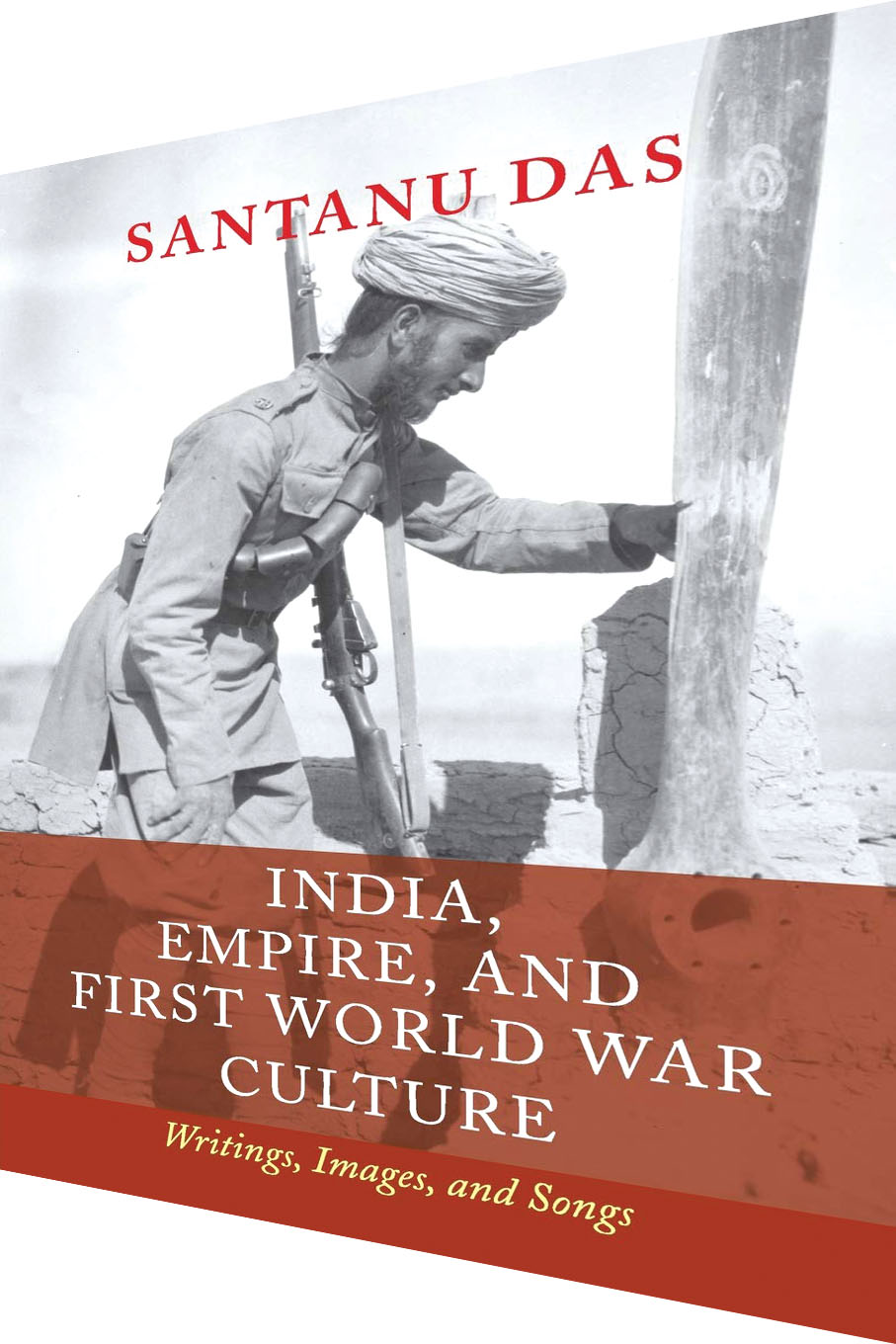 India, Empire & First World War Culture: Writings, Images & Songs Santanu Das; Cambridge University Press Rs.1,774; Pages 466
Winner of The Hindu literary prize (2019) in the non-fiction category, this history of the first World War and India is a deeply researched, well-structured retrieval of unconventional archival material that revolutionises ways of understanding transnational human and cultural negotiations during the Great War 1914-1918. Santanu Das, professor of literature and culture at oxford university, takes the reader beyond official records and statistics, traditional sources of war history, and ferrets out facts and anecdotes of the Great War that he describes as "artefacts in the wardrobe".
Over the past few years, there's been revived interest in WWI in which the major role played by over a million Indian sepoys/ soldiers was routinely blanked out by Western historians. The Great War divided Indian opinion with imperial loyalty clashing with rising nationalist sentiment.
Das has analysed loyalist speeches of Mohandas Karamchand Gandhi, the nationalist writings of Lokmanya Tilak, a popular Bengali recruitment play enacted in public theatres, and fawning supplications of native princes. additionally there are reports of debates in Punjab newspapers that actively contributed to multivalent war-time discourses in British India.
The war zones as reconstructed in this book range over the "farthest fields" of the European/ Western and middle eastern theatres in which Indian sepoys, primarily peasants, as well as educated, middle-class professionals, fought bloody battles for imperial Great Britain. paradoxically, the battlefront was a democratic space in which racially and socially discriminatory codes of civilian life were buried under the rhetoric of patriotism, sacrifice, self- discipline and masculinity.
Das documents the trajectory of swaraj or the self-rule movement subtly dovetailing the modest benefits derived by impoverished peasants from across the subcontinent who enlisted in British armies in Europe and elsewhere. The combatants were Sikhs from Punjab, Gurkhas from Nepal and Pathans from the rugged terrains of the north West. the noncombatants were mainly qualified physicians from Bengal.
The array of images reproduced in India, Empire & First World War Culture — the bloodstained spectacles of private J.n. or 'Jon' sen, the only Indian in the West Yorkshire regiment, preserved in the Dupleix museum in Chandernagore (an erstwhile french enclave in British India); a poignant letter written by a young village girl Kishen Devi who had learnt to read and write so she could correspond with her father Hamilcar Sewa Singh serving in Egypt; the trench notebook of Jemadar Mir mast who influenced by the Turko-German jihadi mission, defected to the Germans and eventually found his way home via Kabul — are a few of several artefacts, bearing testimony of Indian involvement in the Great War. the author believes such off-beat histories "occupy a strange space between life-writing, travel-writing and war writing: one never knows where one ends and the other begins".
How did creative literature of that era shape public opinion and discourses regarding the War? this is to be found in the poetry of Rabindranath Tagore, a story by his elder sibling Swarnakumari Devi and the lyric poetry of Sarojini Naidu. this literature highlights the contradictions, complexities and ideological challenges that impacted elite and middle-class national consciousness in British India. several Hindi and urdu language narratives upended traditional qissa and fasana literature to create a new genre of historical fiction.
The war also inspired soldier and rebel poets such as Kazi Nazrul Islam whose evocative "aesthetics of violence" changed the contours of poetry and created new idioms and metaphors that attracted a huge youth following. Muhammad Iqbal, Aurobindo Ghose and Mulk Raj Anand (Across the Black Waters, 1940) are also brought within the ambit of this alternative narrative. By asking pertinent questions about not just the contribution of Indian sepoys to the history of pre-independent India but also about their post-war lives, the author questions the equation between nationalist politics and radicalisation of Indian soldiers in trenches of the Western front and POW camps in Germany.
In this oeuvre which showcases the author's intensive research capability and academic rigour, Das draws meaning from the most modest artefacts and trivial everyday realities of life in early 20th century war-time India. The mass exodus of over one this million sepoys/combatants, non-combatants and professionals from rural and urban India to distant theatres of the Great War involved massive logistics of mobility and communication. Das sensitively investigates the lives of families left behind, entire villages denuded of males, some of whom never returned and others who returned traumatised.
For the general reader, India, Empire & First World War Culture is a work of unconventional history and original socio-economic research that highlights loss and mourning, anger and pride, patriotism and nationalist fervour by foregrounding colour, religion and ethnicity embedded in the heart of India during the WWI era and its aftermath. this reinvention of war writing poses a challenge to traditional Anglo-European histories of the past several centuries.
Jayati Gupta