To provide adult education as envisioned under the National Education Policy 2022, the centre has approved the New India Literacy Programme for the 2022-27 period.
The programme aims to deliver adult education and lifelong learning by imparting foundational numeracy and literacy among all. Officially, the term 'adult education' has been rechristened 'education for all' under the NEP.
The ministry of education estimates that 20 lakh students from teacher training and higher education institutions from across the country would participate in the same. Three crore students are said to contribute as volunteers to promote lifelong learning.
"As per the vision of #NEP 2020, the Government has approved the #NewIndiaLiteracyProgram (NILP) aiming at providing Education for All, covering all aspects of education for non-literates of 15 years and above," the ministry of education has said.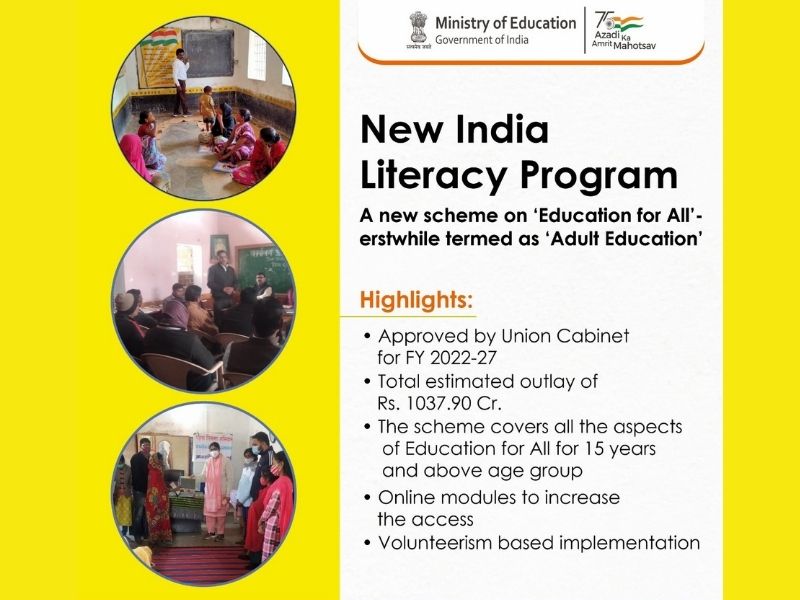 This programme will involve convergence with various other government departments. To begin with, the assessment of literacy will be conducted at local schools using a scientific methodology to estimate real life learnings and skills of functional literacy. The aggregated data will be captured on a portal developed by the NIC.
Under the scheme, priority will be given to girl children, women, SC/ST/OBCs, minorities, marginalized, construction laborers among others who will be immediately benefited from the scheme.
Learning strategies have been conceptualized to be age specific. Online teaching-learning-assessment system will be adopted.
Also read: Educators' opinions on NEP 2020 anniversary
National
,
News