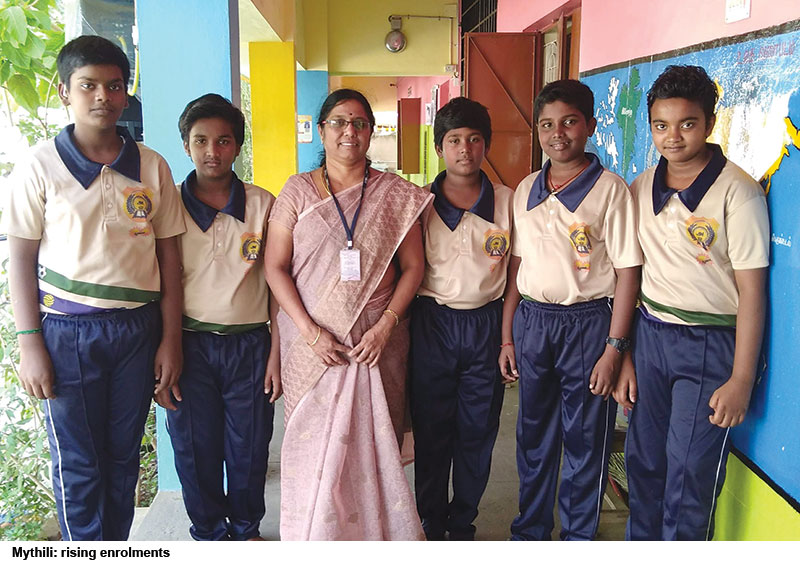 K. Mythili is headmistress of the Coimbatore Corporation Middle School, Masakalipalayam (CCMSM), established in 1956 as a primary and upgraded into an upper primary (class I-VIII) school in 1966. Since she took charge as headmistress in November 2017, she has pulled out all the stops to transform CCMSM, which currently has 140 students instructed by seven teachers, into the most sought-after municipal corporation primary in Coimbatore (pop. 1.9 million).
Unusually for a local government school, the painted one-storey school building sited on a half-acre campus boasts a spacious courtyard, clean corridors and well-ventilated classrooms furbished with colourful chairs and tables for youngest children and clean desks for older. Even more unusually, the school hosts fully wired classrooms, a projector and smartboard to access multimedia content, and a library of 3,000 books.
Newspeg. To attract admission applications for the new academic year beginning June 2019, the school's teachers have designed and distributed colour brochures, listing the facilities and co-curricular activities of the school to households in the locality — an initiative so unknown among government schools that it made headlines in the daily press. Simultaneously, a flyer shared on social media platforms evoked a huge response with over 95 students, including a few from private schools, applying for admission. On May 12, Mythili was conferred the best school leader award of the Kalvialargal Sangamam, an association of school teachers from seven districts and towns of Tamil Nadu.
History. Credit for CCMSM making headline news is unanimously given to Mythili who has energised all the teachers to revolutionise this upper primary. A Tamil literature alumna of Annamalai, Alagappa and Madurai Kamaraj universities, Mythili acquired 24 years of teaching experience in elementary, upper primary and secondary corporation schools in Coimbatore before she was appointed headmistress of CCMSM two years ago. Since then, the once nondescript CCMSM has morphed into a model primary school of highly motivated teachers and students. Even as most of the 83 schools of the Coimbatore Corporation are witnessing a steady decline in student numbers, CCMSM's enrolment has risen from 95 in 2017-18 to 145 in 2018-19.
Direct talk. "Our main objective is to transform the negative image of corporation schools and show people what teachers can do to provide holistic education to socially disadvantaged children. Among our motivational initiatives: We post the names of students who excel in academics on the notice board and simultaneously provide remedial classes for slow learners. This has paid rich dividends in terms of better academic performance and our children have also excelled in co-curricular activities winning laurels in yoga, chess and drawing competitions. We have been able to provide infrastructure facilities, accident insurance and extra-curricular activities to students through voluntary contributions of friends and well-wishers and companies looking to discharge their corporate social responsibility," says Mythili.
Future plans. Encouraged by positive feedback from the public and the Coimbatore Corporation commissioner, the school's management has drawn up ambitious plans to attract more students by providing learning facilities on a par with private schools.
"We plan to set up a science laboratory, a children's park and provide better and improved infrastructure. For this, we have earmarked an approximate budget of Rs.10 lakh of which Rs.3 lakh has been collected through voluntary donations. Vedic math, western dance and spoken English will also be added to our existing repertoire to provide more opportunities for students to discover their talents," says Mythili.
Fly-high, sister!
Hemalatha Raghupathi (Chennai)