A distinguishing feature of CityU is its international outlook and outreach. 41 percent of its 20,000 enrolled students are from 30 countries and 60 percent of faculty is from abroad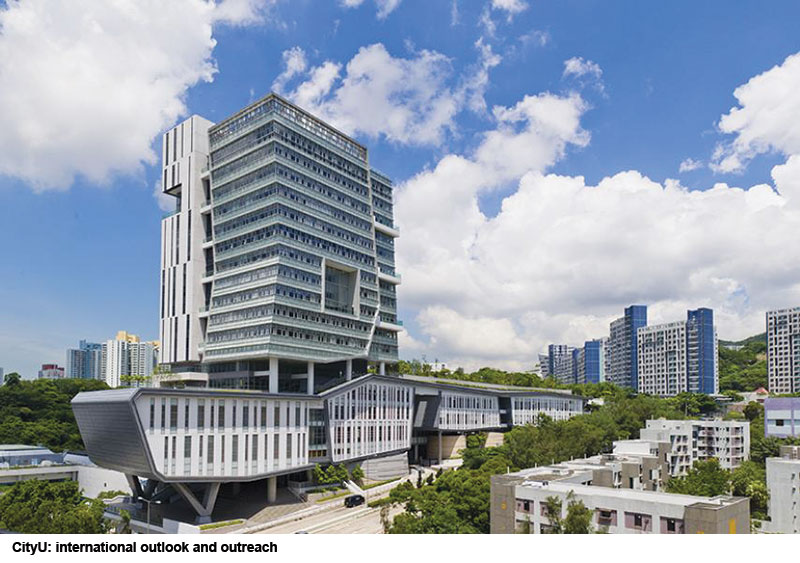 City University of Hong Kong (aka CityU, estb. 1994) is a publicly-funded teaching and research varsity steadily rising in the annual World University Rankings (WUR) of the authoritative London-based higher education institution rating and ranking agencies Quacquarelli Symonds (QS) and Times Higher Education (THE). In the QS WUR 2019, CityU is ranked #55 worldwide and #8 in Asia. Times Higher Education ranks the 25-year-old CityU #110 in its latest WUR 2019. Moreover in its Best Global Universities 2019 league table, US News and World Report ranks CityU's study programmes in engineering #15, computer science #11, and maths #59 worldwide.
Established in 1982 as the City Polytechnic of Hong Kong on the lines of the island's first poly — Hong Kong Polytechnic — to provide professional education, CityU was conferred university status in 1994. Currently, CityU's 10 schools and colleges offer 130 English-medium programmes in its 27 academic faculties.
A distinguishing feature of CityU is its international outlook and outreach. 41 percent of its 20,000 enrolled students are from 30 countries worldwide. Its 1,488-strong faculty is also very international — 60 percent of professors are from abroad. Moreover, the university has signed agreements with 370 corporates in 43 countries enabling 65 percent of its students to avail overseas internship opportunities.
Hong Kong. Sited on China's southern coast, Hong Kong (pop. 7.4 million) is one of two special administrative regions of the People's Republic of China (PRC), the other being neighbouring Macau. A former British colony, Hong Kong was returned to PRC in 1997 after 156 years of British rule.
Empowered by a low-crime and low-corruption environment, Hong Kong has developed into a premier global business and financial entrepot, serving as the bridge between multinational corporations and mainland China. It is the world's freest economy and fourth largest financial hub with 3,800 registered multinational companies doing business in the region. With four top-ranked universities, an international culture (620,000 expat managers), high employer activity and affordable living cost, HK is ranked #12 in the QS Best Student Cities 2018 guide.
A melting pot of several cultures, where Chinese temples are juxtaposed with towering steel-and-glass skyscrapers, this island city is famous for its street as well as high-end shopping. From the lively nightlife of Lan Kwai Fong to long distance walking trails in the New Territories, Hong Kong offers students an exciting mix of leisure and entertainment options.
The climate is humid, sub-tropical with temperatures ranging from 10°C in winter to 33°C in summer.
Campus facilities. Sprawled across a 38-acre green campus in the heart of the Kowloon peninsula, the modernist CityU campus provides state-of-the art academic, laboratory, residential and sports facilities. Campus highlights and landmarks include the Run Run Shaw Creative Media Centre, State Key Laboratory of Millimetre Waves, State Key Laboratory of Marine Pollution and Biofuel Research Centre. Moreover the striking Run Run Shaw Creative Media Centre, designed by renowned architect Daniel Libeskind, is ranked among the Top 10 most spectacular university buildings of the world by Emporis, a Hamburg (Germany)-based real estate data mining company. The library collection comprises 1.4 million print volumes, over 2 million electronic journals and 219,600 bound periodicals.
Sports facilities are top class and include a multipurpose hall for badminton, basketball, handball and volleyball, two gymnasia, table tennis rooms, golf driving/simulation rooms, indoor sports climbing wall, well-equipped physical fitness rooms and a 50-metre Olympic-size swimming pool. A sports centre jointly managed by CityU and two other universities provides students access to an 11-a-side standard soccer field, all-weather running track, a multi-purpose court for basketball, volleyball and handball, tennis courts, among other sports and games. Moreover, 60 student associations and societies organise social and cultural activities through the year.
Admission. The minimum eligibility criteria for admission into CityU's undergrad programmes are an average score of 75 percent in the class XII board exam and proficiency in the English language (79 in the Internet-based TOEFL/ overall band score of 6.5 in IELTS). Application forms should be submitted online (www.admo.cityu.edu.hk/apply) with supporting documents (academic transcripts and proof of non-academic/co-curricular achievements) together with a non-refundable fee of HK $450 (Rs 3,950) by early January for admission into the term beginning September.
For the varsity's 50 postgraduate programmes, applicants must have a bachelor's degree and submit proof of English language proficiency (IELTS/ TOEFL scores).
For further details, contact Admissions Office, City University of Hong Kong, 5/F, Fong Yun-wah Building, at Chee Avenue, Kowloon, Hong Kong; Ph: (852) 3442-9094, Fax: (852) 3442-0266; website: www.cityu.edu.hk
Accommodation. CityU provides on-campus accommodation for first and second year students with acclimatised third and fourth year students provided rented private accommodation. Eleven on-campus halls provide furnished single, double and triple rooms with adjacent washrooms. Other facilities include a gymnasium, cafeteria, laundry room, piano room, common floors and a skygarden.
Degree programmes. CityU offers 130 study programmes through its 10 schools and colleges.
SCHOLASTIC OPTIONS AT CITYU
City University of Hong Kong's 10 schools and colleges offer 130 undergraduate and postgrad programmes. They include:
College of Business. Global business, accountancy, business economics, finance, information management etc
College of Engineering. Architecture and civil engineering, biomedical, computer science, electronic, materials science engineering, mechanical etc
College of Science. Chemistry, biology, environmental science, computational mathematics, mathematical modelling, probability and statistics, etc
College of Liberal Arts and Social Science. Asian and international studies, linguistics, public policy, media and communication, social and behavioural sciences
Jockey Club of Veterinary and Life Sciences. Veterinary medicine, biological sciences etc
School of Creative Media. Creative media, news media etc
School of Data Science. Data science, data and systems engineering
School of Law. Law, arbitration and dispute resolution
School of Energy and Environment. Environmental science and engineering, sustainability, energy technology etc
Chow Yei Ching School of Graduate Studies
Tuition fees (annual): HK$140,000
Living expenses: HK $36,000
Accommodation: HK $15,400
NB: HDK = Rs 9
SRUTHY SUSAN ULLAS