Promoted in 1994, Daffodils Public School is a group of three well reputed co-ed day schools — two K-8 institutions located at Narghat and Sankat Mochan, and a CBSE affiliated K-12 institution at Lohia Talab — that together provide high-quality English-medium education to 2,470 students mentored by 130 teachers in the ancient holy city of Mirzapur (Uttar Pradesh).
Over the years, the school has established an excellent national reputation for pioneering holistic K-12 learning rooted in strong Indian values in the educationally underserved city of Mirzapur.
"The mission of Daffodils Public School is to hone the young, inquisitive minds with an holistic approach to convert their passion and dreams to reality and infuse in them love towards nation, fellow beings, nature and spirituality with strong value systems to be honest and transparent the community to be immaculate, to safeguard the environment by inculcating the 3Rs, promote afforestation, learn to care and share and make their life worth living and strive to make this Earth and a better and safe," says Amardeep Singh, director of Daffodils Public School.
A hospitality management graduate, Amardeep Singh ran a successful indigenous carpets export venture alongside his hotel business before promoting the flagship Daffodils Public School, Narghat in 1994 (with a modest student strength of 30) along with Aprajita Singh, director of Daffodils Public School. A postgraduate in Psychology (M.A.) with a B.Ed qualification, Aparajita Singh is committed to provide the best quality education and groom the students to be better citizens of tomorrow.
Daffodils Public School has been ranked #1 in Mirzapur by the annual EducationWorld India School Rankings for four consecutive years (2016-2019). The school has also been awarded the EducationWorld Grand Jury Rankings Social Impact Award 2019.
Holistic, child-centred curriculum
The school's child-centred curriculum has been framed in such a manner that it can provide an opportunity for nourishing physical, emotional, social, leadership, artistic skills and provide a platform to involve in the community services, literary club activities and plantations.
The primary classes are equipped with LED TV's to enable instruction through the audio-visual mode. Senior classes have Smart learning facilities. All the classes have access to the composite science labs – Physics, Chemistry, Biology and Mathematics to ensure hands-on learning. Language labs take care of the students' linguistic skills. Incidental learning, embodied learning, cross over learning are catered to by the language and social science teachers. Meditation and yoga classes are held for the spiritual and emotional nourishment of the students.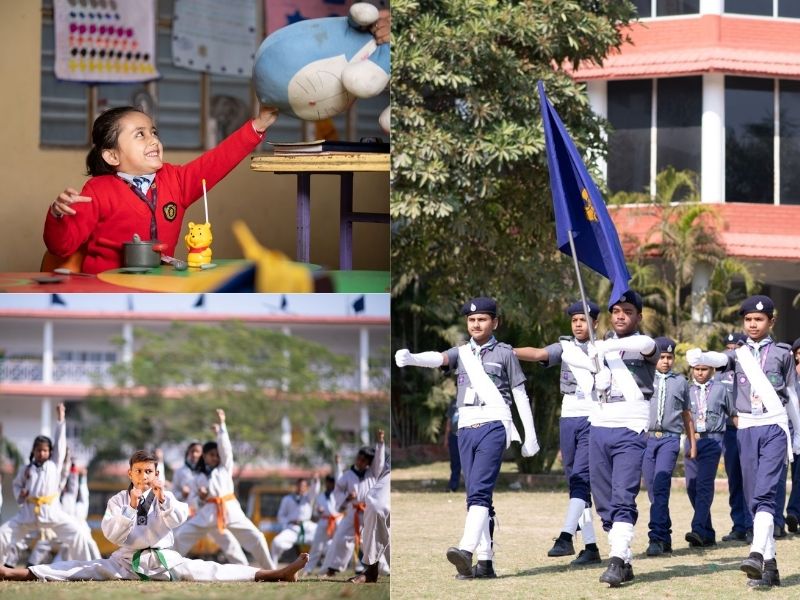 Daffodils Public School hosts a spacious and well equipped ground for a wide range of sporting disciplines. Besides, the school also teaches western dance, tabla, vocal music, kathak, casio, guitar and drawing to nurture the artistic talents of students. Debates, extempores, poem recitation and shloka recitation are conducted regularly to hone students' oratory skills and to inculcate leadership qualities in them. Under the science clubs and mathematics club, the school conducts science, maths and arts exhibition every year. Children are also encouraged to engage in plantation activities.
As part of the Share & Care Club, the students are taken to orphanages and old age homes for the distribution of clothes, blankets, fruits and other necessity items.
Adapting to the Covid-19 pandemic
Amid the novel coronavirus pandemic, the school has taken several measures to provide financial relief to the parents including relaxation of atleast 20 percent in the admission fees and 25 percent in the tuition fees.
To ensure the safety of parents and students, the school conducted online interviews for admissions, ensured home delivery of the books and encouraged online transactions. The school also distributed more than 12,000 kg of food ration to the needy and over 12,500 food packets to the district hospital during the covid 19 pandemic.
Also read: Edupreneurs Empowering Small Town India
Campus
,
News