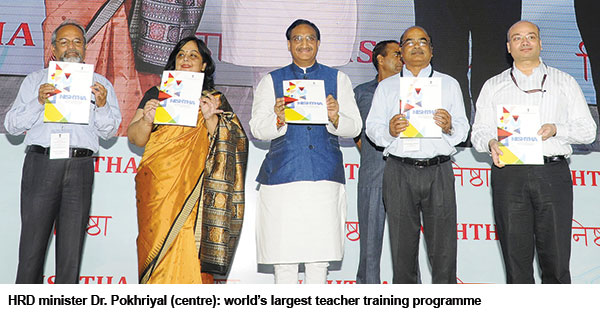 The sustained effort of EducationWorld (estb.1999) to "build the pressure of public opinion to make education the #1 item on the national agenda" seems to be bearing fruit. Although education and human capital development was given step-motherly treatment in the first term of the BJP/NDA government at the Centre (2014-19), in its second term the BJP-led NDA coalition seems to be more serious about developing the country's abundant human capital. Under the newly appointed author-essayist Union HRD minister Dr. Ramesh Pokhriyal, the ministry has quickly finalised and released EQUIP (Education Quality Upgradation and Inclusion Programme) — a five-year plan for upgrading higher education.
The plan has been prepared by a group of 80 experts split into ten focus groups chaired by former revenue secretary Hasmukh Adhia. According to a HRD ministry statement issued by the government's Press Information Bureau, "the ten Expert Groups drawn from senior academicians, administrators and industrialists have suggested more than 50 initiatives that would (sic) transform the higher education sector completely".
Among the initiatives: doubling GER (gross enrollment ratio) in higher education; to position at least 50 institutions among world's Top 1,000 universities; governance reforms for well-administered campuses; accreditation of all higher ed institutions; promoting research and innovation ecosystems for placing India among Top 3 countries worldwide in knowledge creation; doubling the employability of graduates; harnessing new technologies for expanding reach and improving pedagogy; promoting India as a study destination, and "quantum increase in investment in higher education".
Within 60 days of releasing the EQUIP five-year plan for revamping higher education, on August 28 Pokhriyal announced the launch of a national mission to improve learning outcomes in elementary education (class I-VIII). Under this initiative, a massive in-service teacher training programme named the National Initiative for School Heads and Teachers Holistic Advancement (NISHTHA) was formally launched in New Delhi on August 21 by Pokhriyal. In addition to a dedicated website, a NISHTHA mobile app was also launched at the event. Billed as the world's largest teacher training programme, NISHTHA will upskill 4.2 million elementary teachers of government schools across the country.
Pokhriyal describes the NISHTHA initiative as unprecedented in as much as standardised teacher training modules will be developed by the Centre for all states and Union territories. However, states can contextualise the training modules by inserting local material and resource persons. "It is the prime minister's dream that the quality of our teachers should be such that they should command worldwide respect. This mass teacher training programme is a step in that direction," says Pokhriyal.
Although NISHTHA is as overdue as it is welcome — the 484-page National Education Policy 2019 draft submitted by the Kasturirangan Committee to the HRD ministry late last year and released by the ministry on May 30, devotes an entire chapter to upskilling teachers who "form the very heart of the education process" and commented that "teacher education is severely lacking and indeed in a crisis at the current time".
However, Geetanjali Kumar, a renowned Delhi-based teacher trainer and counselor, cautions that the NISHTHA initiative will face implementation problems if teachers are not taken into confidence. "If the intent is to make differential change in classrooms, the work environment of government primary school teachers has to improve through elimination of multigrade teaching, and reduction of non-teaching work and duties. If this programme is to succeed, teachers need to be motivated by allowing them autonomy in classrooms and creation of congenial work environments," says Kumar.
Be that as it may, the newly inducted Pokhriyal has exhibited commendable urgency in introducing ambitious reforms in elementary and higher education. But academics and monitors of India's laggard education system are unwilling to bet whether his newly-energised ministry's programme implementation capability matches his ambitious vision.
Autar Nehru (Delhi)