'Corn'ucopia
Anitha Bennett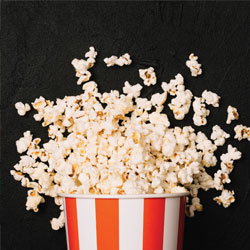 How about a brimming cup of popcorn to go with your movie? Sounds just good? Grab a pack of the buttered corn and pop it in a microwave oven. When the corn's popping, get your 'cornucopia' out to fill. Here's how you can make a popcorn holder.
Things needed
• Corrugated cardboard — 14×7 inch sheet
• Thick chart paper — one sheet
• Yellow crepe paper
• Cellotape
• Markers — for decoration
How to make it
1. Tape the two short ends of the corrugated rectangle together. You will get a stiff cylinder.
2. Place the cylinder shape on the chart paper and trace the bottom on it with a pencil. You will get a perfect circle. Cut out the circle carefully.
3. Place the circle on top of the cylinder and carefully tape it to the cardboard.
4. Once the paper is secured, invert the cylinder. The paper part will be the bottom.
5. Tear off strips of yellow crepe paper and crumple roughly to make balls. They should look like popcorn.
6. Make two dozen balls and stick them all over the container.
7. Write the word 'Popcorn' in bold, black letters on the container. You can even make a container for each member of your family and personalize it with their names. Line it with butter paper so that you can reuse it several times. Just change the butter paper each time.
Now pour the popped corn into your 'cornucopia,' close the blinds and curl up for that great movie.
Day for others
The Sound of Music is often recommeded as the greatest children's movie of all time. Here's some trivia about it.
1. The original movie ran for five uninterrupted years at the box office when it was first released!
2. The movie was not just a figment of imagination. There really was a Von Trapp Family of singers who sang everywhere as a family, but who refused to sing for German dictator Hitler, and emigrated overnight as portrayed in the movie!
3. The seven children got along so well with each other during the making of the movie that people thought they were indeed from the same family! But shooting this hit film was not fun all the way.
4. The littlest girl in the movie Gretl, nearly lost her life by drowning in a lake when her boat capsized.
5. Martha, the second youngest, lost loose teeth while filming and wore uncomfortable false teeth to cover up. But despite these and other problems, the cast and crew made the movie a great success!