Category: Health Education
Docterz at School, a division of the Mumbai-based health technology solutions provider Docterz – promoted in 2015 by a group of medical practitioners — is a holistic school healthcare programme focused on promoting the physical, mental, emotional and psychological health of children. Launched in 2016, the programme leverages technology and the expertise of over 2,000 highly qualified paediatricians across the country to transform schools into "safe and secure health-promoting institutions". Services provided include health emergency management, safety and accident prevention, drug and screen-time abuse, and physical and emotional rehabilitation.
Since its launch four years ago, Docterz at School has addressed the healthcare needs of over 200,000 students in 100 schools across 20 cities countrywide.
Docterz at School leader
Dr. Atish Laddad
Founder-director
A gold medalist (paediatrics) of Seth GS Medical College and KEM Hospital, Mumbai, Dr. Atish Laddad is founder-director of Docterz, chief mentor, Docterz at School and principal architect of The Pediatric Network. Moreover, Dr. Laddad is head of department (paediatrics) of Kohinoor Hospital and assistant professor at Sir JJ Group of Hospitals, Mumbai.
Parameters
Concept Ideation
Comprehensive healthcare programme focused on students' physical, psychological, mental and social well-being.
Leverages the expertise of over 2,000 highly-qualified paediatricians countrywide.
Using offline and online resources, the programme optimises available healthcare resources for the benefit of children.
Training support
Well-trained nurses manage on-campus intensive care and health emergency situations.
Provision of first-aid on school campuses.
Monthly/daily visits by a paediatrician to review casualty room infrastructure and documentation of schools.
Collaboration agreements with paediatrics hospitals and ambulances in the neighbourhood, to deal with emergencies.
Online back-up team of paediatricians.
24/7 helpline number for students.
Programme quality
Leverages latest technologies for assessing and analysing health parameters of each student followed with customised guidance.
Promoted and managed by a team of practising paediatricians.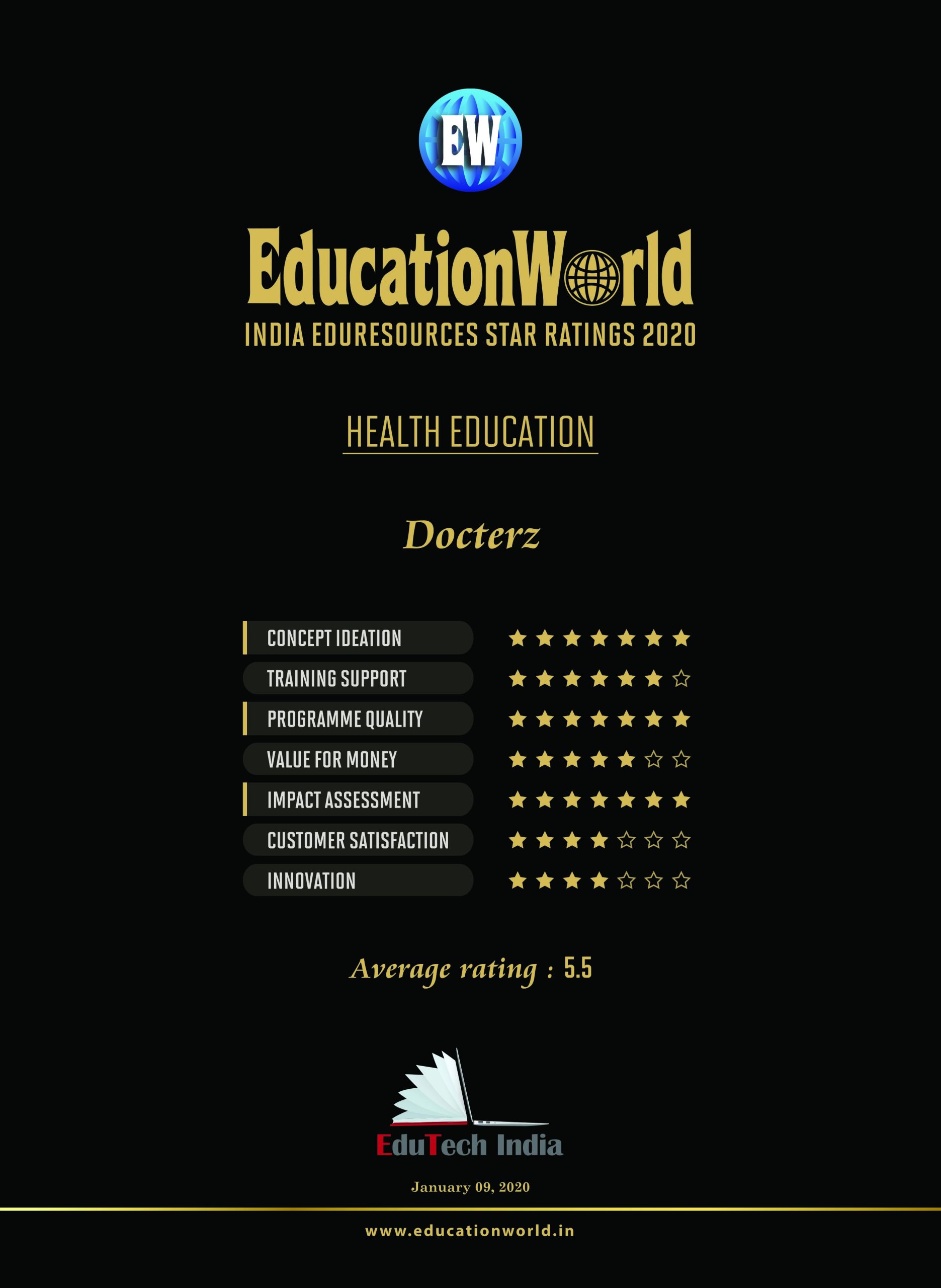 Impact assessment
Pre-empts potentially dangerous health problems through continuous assessment of physical and mental health of children.
Promotes development of a healthy future generation.
Customer satisfaction
"We are very satisfied with the healthcare facilities and services provided by Docterz at School. The nurses are well-qualified, highly experienced and caring. Recently, Docterz at School conducted a successful health check-up camp for students. I wish them all the best!" — Rajeev Garg, principal, Datta Meghe World Academy, Airoli, Navi Mumbai.
"Docterz at School conducted an excellent health check-up camp for our students. Every child was thoroughly examined by qualified doctors who prepared a comprehensive health analysis report which was shared with parents." — Sharvari Deshpande, principal, South Indian Association Primary School, Dombivli, Mumbai.
Value for money
Nominal charge of Rs.1-1.50 per day per child.
Ensures year-round health and safety of students.
Promotes importance of health and physical well-being among faculty and staff.
Innovation
Qualified ICU-trained nurse at standby during school hours.
Training for school staff to assist in medical emergencies.
Process review and reinforcements by a team of lawyers and paediatricians.
Legal assistance in case of medical mishaps on-campus.
Contact details
www.docterzatschool.com
[email protected]
+91 98196 20035