– Dipta Joshi
EduBridge India (estd. 2009) has launched a placement focused digital portal, 'E-ON' to offer a wide range of skilling courses catering to over one million youth over the next two years. The Mumbai-based skill development and vocational training organisation offers students support across their entire career development continuum from counseling to training and certification to placements.
Catering to youth in the 18-30 age group, EduBridge has been active in the 75 locations in tier 2 and tier 3 towns across 17 states through its brick-and-mortar career academies. Since its inception, EduBridge has trained more than 1.5 lakh youth offering them over 90 market aligned courses in sectors such as retail, information technology, banking and finance etc.
EduBridge has been keen on tapping the high potential market for online education and skills development – the government has proposed a budget of Rs 99,300 crore for the education sector and another Rs 3,000 crore for skills development sector. The company is working towards including several new modules suitable to post-COVID-19 job scenario. The company hopes to offer 250 online courses and take its total of tutors from the current 800 to 5000 trainers at the end of two years.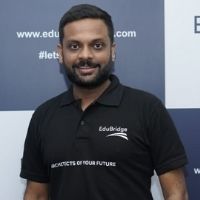 "Our government data shows more than 15 million youth that are ready to enter the workforce each year are not employment ready. The current COVID-19 pandemic has further aggravated the unemployment problem. With the global shift towards virtual learning, there is a clear need for online training of our potential workforce. We also want our youth to get their dream jobs. Leveraging on the digital acceleration in the COVID times, we decided to launch EduBridge as a placement focused online learning portal. This will help us in creating a much bigger impact in skill development of young Indians," says founder Girish Singhania, CEO, EduBridge India.
An Indian Institute of Management (IIM) Bangalore alum, Singhania has created E-ON as a blended curriculum combining technology-driven as well as traditional methods of teaching. The curriculum includes both domain-specific skills and soft skills that encourages holistic or 360-degree learning for the participants. The industry-recognized certificates and dedicated placement assistance will help students achieve their professional goals. The average cost of courses offered by EduBridge is Rs 10,000. The company has partnered with 500 corporate partners including Citibank, Voltas and Capgemini to offer placement options as well as subsidies in course fees for learners under corporate social responsibility (CSR) programmes.
The E-ON portal offering high-end skill and career development programs to youth across the country, was launched on September 5 this year.
Corporate
,
News