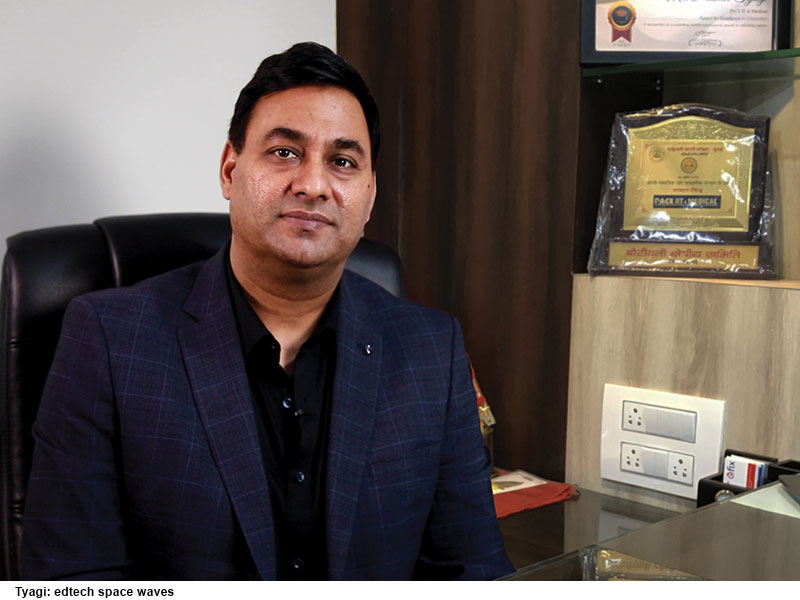 Praveen Tyagi is the Mumbai-based managing director of PACE (estb.1999) and co-founder (with Jatin Solanki) and CEO of EduIsFun Technologies Pvt. Ltd (ETPL, estb.2015). Involved with Indian education for the past 22 years, Tyagi is the driving force behind PACE's good track record in preparing school-leavers for admission into the Indian Institutes of Technology (IITs) and medical colleges, which typically admit 2-3 percent of entrance exam toppers.
Moreover, after establishing 11 junior science colleges, 40 coaching institutes and a residential K-12 school, this energetic edupreneur is set to make waves in the edtech space. ETPL's gamified learning STEP app (student, talent, enhancement programme application) provides personalised, interactive and adaptive gamified learning in maths and science mapped with the primary-secondary syllabuses of the pan-India CBSE, CISCE and several state boards including the Maharashtra Secondary School Certificate (SSC) examination board.
Newspeg. The number of STEP app users has increased by 300,000 during the on-going schools lockdown period with 2 million downloads on Play Store and App store since it was launched last December. ETPL's team of 400-plus highly qualified technologists are currently preparing course content to integrate social sciences and language subjects into STEP app after which it will be relaunched.
History. An alum of the top-ranked IIT-Delhi, Tyagi and IIT-Bombay grad Jatin Solanki co-promoted the first PACE test prep institute in 1997. In 2009, they pioneered the PACE concept of integrated junior college-cum-coaching class system to prepare students to write IITJEE and MCI (Medical Council of India) entrance exams — reputedly the toughest college entrance exams worldwide. This strategy of siting PACE prep classes within junior college premises has proved very successful, as they prepare students for competitive public entrance exams while meeting the college's mandatory attendance requirements.
By 2009-10, the duo had established 11 PACE junior science colleges (classes XI and XII) in Mumbai and Pune that boast an annual enrolment of 3,500 students per year. Moreover, in 2016 Tyagi promoted the wholly residential K-12 Vagad Pace Global School in Virar — 81 km from Mumbai's central business district — on a 27-acre campus.
Direct talk. "Over the years we have increasingly become aware of the widening gap between students who can pay for coaching and those who cannot afford test prep tuition fees. Therefore, we turned to technology to make quality test prep education affordable. STEP app was designed to provide every child in India affordable tests prep education using gamification and technology. We intend to build a bank of highpotential young achievers. Once we identify them, we will handpick the finest brains of our country and nurture them into national assets," vows Tyagi
Future plans. To build the national bank of talented children, ETPL has announced a Rs.50 crore scholarship programme — a Kaun Banega Crorepati style contest for the current year (2020- 21). Open to all VI-XII class students who subscribe to STEP app, the company intends to award scholarships of Rs.1 crore to every top-ranked child. Moreover, another 50 students will be awarded Rs.1 lakh scholarships, and 10,500 students given awards of Rs.5,000-10,000
"Unfortunately, our plans have had to be put on the backburner in the wake of the Covid-19 lockdown since we might not be able to hold a written examination for our students this year. The contest, however, will continue next year," says Tyagi.
Wind in your sails!
Dipta Joshi (Mumbai)