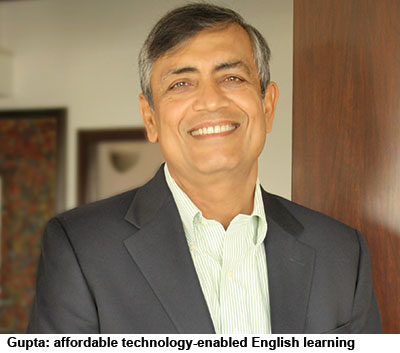 Sanjay Gupta is the Gurgaon (India)-based global CEO of EnglishHelperInc, a Massachusetts (USA)-headquartered social enterprise which is using technology to improve the English language proficiency of children in government schools.
Newspeg. In July, EnglishHelper signed an agreement to introduce its Right to Read programme in 65,000 government schools of Maharashtra over the next two years. The company has also signed an agreement with the Sri Lanka government to introduce its English learning programme in 10,000 schools.
History. EnglishHelper was founded in 2010 by Dr. Venkat Srinivasan, a Boston-based social entrepreneur, cognitive scientist and former founder-CEO of RAGE Frameworks, USA, to enable children from economically disadvantaged households to learn English — the international language of business and commerce. The company's flagship Right to Read programme was launched in 2013 on a pilot basis in 100 government schools in six states across India. Currently, 15,000 government schools are using this software.
"Language is learnt by children through multi-sensory interaction without their necessarily having been exposed to writing. The ReadtoMe software provides recordings of English language textbooks in familiar Indian voices. Students read in groups, clicking unfamiliar words for contextual pictures and vernacular translation. The teacher is the leader and facilitator for helping children improve their English skills. Our assessment studies have shown 30-50 percent improvement in reading capabilities of children using ReadtoMe software," says Gupta.
An alumnus of St. Xavier's College, Kolkata, and a chartered accountant, Gupta built up an impressive résumé working with top-ranked companies of the Tata Group, Eicher-Mitsubishi, Pepsico and Motorola prior to signing up with American Express in 1996. After serving with the blue-chip American Express in New Delhi, New York and Singapore, Gupta chucked up his corporate career and accepted the position of founder-CEO of EnglishHelper.
Direct talk. "English is the language of international diplomacy, business and commerce which opens the doors to higher education, social empowerment and well-paid jobs. Our mission is to use technology to make affordable English learning pedagogies accessible to economically disadvantaged children and youth in India and developing countries. Therefore, currently we have mainly focused on government school children in India," says Gupta, who adds that state governments pay a nominal Rs.10 per student per month for installing the software programme.
Future plans. With English proficiency valued as an employability enhancing and socially empowering skill, EnglishHelper is looking to scale up to reach 20 million government school students in India. "We are getting enquiries from several state governments and are in the process of rolling out our Right to Read programme in 65,000 government schools across Maharashtra. We are also targeting government schools in Nepal, China and Africa," adds Gupta.
Right on!
Autar Nehru (Delhi)