The EWIHER 2023-24 league tables ranking India's best private and public universities are presented at a time of great flux in Indian education, especially higher education. NEP 2020 mandates that all colleges and universities gradually transform into multidisciplinary, autonomous higher education institutions, writes Dilip Thakore and Summiya Yasmeen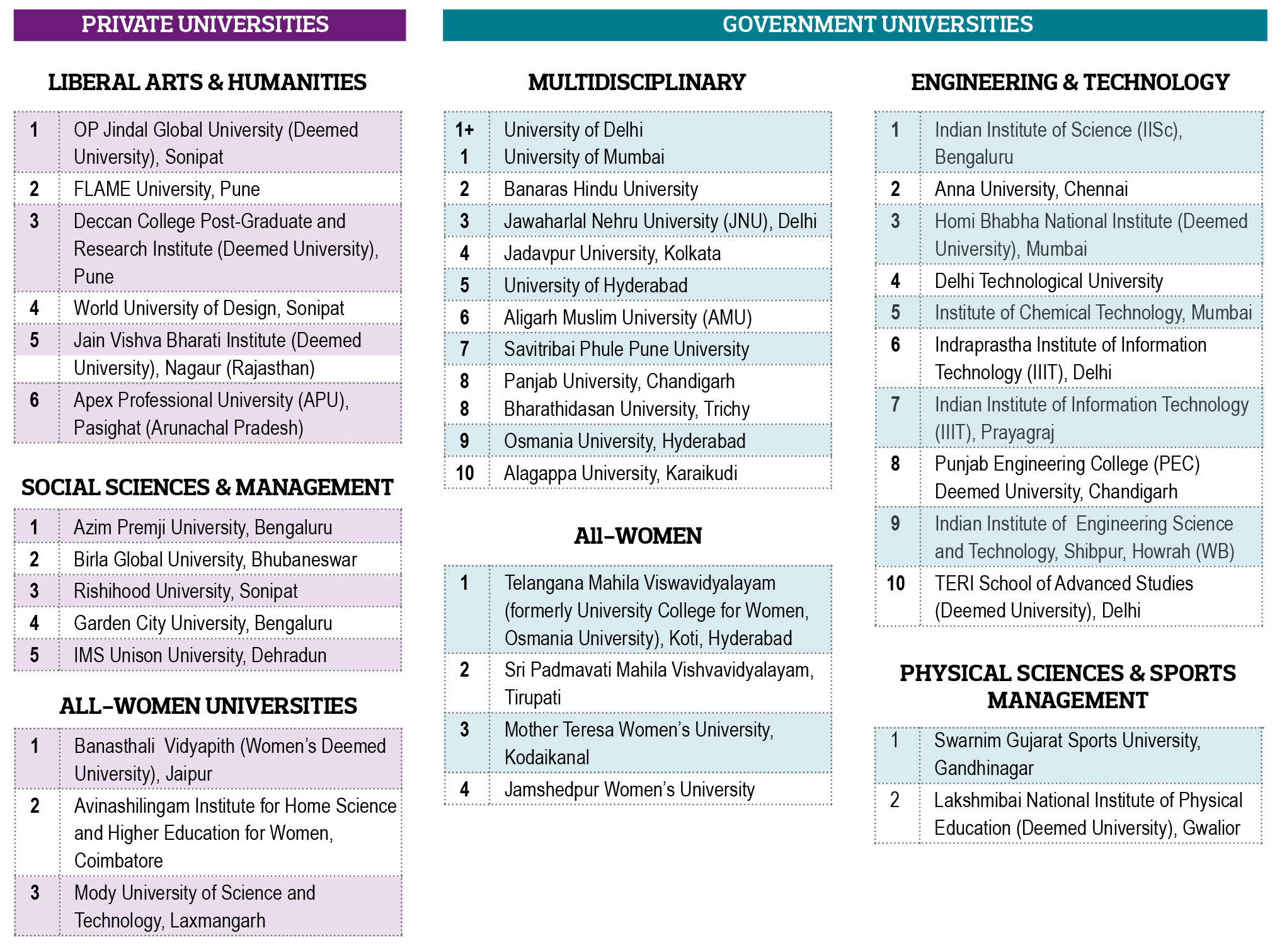 Almost imperceptibly, Indian education is experiencing a sea change. The logic of the belated liberalisation and deregulation of the Indian economy in 1991 is being applied to the education sector. Suddenly without fanfare and trumpeting, foreign school chains and universities are (as reported in detail by EducationWorld, see cover feature www.educationworld.in/1991-inflection-point-for-indian-education/) setting up shop in school and higher education. Even if globalisation of Indian education is happening three decades after unshackling of the economy in 1991 which immediately doubled India's annual GDP growth mired in the rut of 3.5 percent for over 50 years after independence to 7 percent, and lifted 400 million citizens out of debilitating poverty, better late than never.
The greatest impact of liberalisation of Indian education is likely to be felt in the higher education sector. On January 5, the University Grants Commission issued its long awaited draft University Grants Commission (Setting up and Operation of Campuses of Foreign Higher Educational Institutions in India) Regulations, 2023, which permits foreign universities ranked among the global 500 by respected ranking agencies such as QS and Times Higher Education, to establish greenfield campuses in India.
Following this green light, Deakin University, Melbourne (Australia) is all set to establish its independent campus in the Gujarat International Finance Tec-City (GIFT), Gandhinagar. Several other universities from the UK, US and other countries are testing the waters of India's notorious education regulatory system.
And although the prime intent of this liberalisation initiative — to attract globally top-ranked American and British universities to establish campuses in India — is unlikely to fructify because they would rather that Mohammed came to the mountain than the other way around, UGC chairman, Mamidala Jagadesh Kumar is unfazed. "Why this particular emphasis on Ivy League universities? If they come, it is alright, but there are several (other) excellent universities around the world," he told Indian Express (April 2).
Certainly the demand for degrees issued by offshore, especially Western universities, is high within India. Every year, an estimated 800,000 school-leavers and especially college graduates, leave for foreign shores in quest of meaningful higher education, and expend a massive aggregate sum estimated at $16 billion (Rs.1.3 lakh crore) per year — a sum greater than the annual education budget of the Government of India. And given that undergrad study programmes abroad are typically of three-four years duration and postgrad two-three, they spend a huge aggregate amount for high quality higher education in hard currency. This notwithstanding that all Western varsities levy differential higher tuition and residential accommodation charges on foreign students.
Indeed, but for high enrolments from India (and China), a large number of higher education institutions in several Western countries would have to shut shop. It is now well-documented that Chinese and Indian students in that order, contribute the largest contingents of overseas students in the US, Australia, Canada and in 2022, the number of Indian students in the UK (118,000) exceeded the number of Chinese students for the first time.
The huge hard currencies expense incurred by middle class households because of the annual exodus of students from India to foreign higher education institutions (HEIs) despite India hosting 42,000 undergrad colleges and 1,113 universities — some of them of over 150 years vintage — is the outcome of the vice-like grip maintained by successive governments at the Centre and to a lesser extent in the states, over higher education institutions.
Under the regulatory regime all undergrad colleges and universities and their syllabuses/curriculums have to be approved by UGC, and for technical HEIs by the All India Council for Technical Education (AICTE) — both manned by Central government appointees. Similarly, official quality gradation of HEIs is the province of the government appointed NAAC (National Assessment and Accreditation Council) which in the 39 years since it was established, has accredited a mere 9,480 colleges and universities (assessment is voluntary).
The concept of academic autonomy is absurd and outlandish to India's Central and state governments in which education ministries are dominated by politicians and bureaucrats from India's most educationally backward BIMARU states.
The vice-like grip of government over HEIs was loosened in the post-Emergency 'magazines boom' of the 1980s. Several new-age, irreverent periodicals including India Today, Business India and Business World began publishing annual rankings of colleges and universities based on informed public opinion solicited by using market research and opinion polling techniques. These rankings polls indicated a wide variance between official NAAC ratings and public opinion.
Not that the neta-babu brotherhood which continued to lord it over Indian higher education cared. Despite the radical liberalisation of Indian industry and the economy in 1991, the education sector continued to remain subject to the control-and-command raj of the brotherhood.
Meanwhile in distant London, Nunzio Quacquarelli, a maverick edupreneur, launched the Times Higher Education Rankings which rated universities worldwide on several rational parameters of higher education excellence, totalled their scores and ranked them inter se globally. The reality that not a single of India's 1,000 universities was ranked among the prized Top 200 category in the THE or QS (Quacquarelli fell out with the THE management and introduced his own QS global university rankings in 2010) was mutely accepted by "we are like that only" government and Indian academia.
But this was not acceptable to the editors of EducationWorld – India's first education focussed news and features magazine promoted at the turn of the new millennium. We repeatedly questioned the global pecking order and demanded accountability from the Academy. And one of the panaceas we suggested was to permit the entry of foreign universities into India. Way back in 2005, we wrote a cover story (EW March) predicting and supporting the entry of foreign varsities into India to stem the expensive outflow of Indian students to offshore campuses, and to raise rock-bottom standards in India's HEIs. That it's taken 18 years for this proposal to fructify is a commentary on how tardily the country's educracy welcomes new ideas and proposals.
Simultaneously around the turn of the new century, a bunch of clever lawyers somewhat belatedly discovered that education was a 'concurrent' subject under the Constitution of India, i.e, that the States also had the right to initiate education legislation, and particularly sanction new greenfield private universities.
The first globally-benchmarked private university to be established under specially enacted legislation by the Uttar Pradesh government was promoted in 2005 in Noida by Dr. A.K. Chauhan, the Dusseldorf-based most successful Indian-origin businessman in mainland Europe who relocated to India. Since then, the number of Amity universities has multiplied to 11 in India and 11 overseas, transforming Amity into India's premier higher education multinational providing world-class higher education to 100,000 students mentored by 10,000 faculty.
Following Amity's example, a spate of private varsities modelled on America's prestigious Ivy League universities including Jindal Global, B.M.L. Munjal, Ashoka and Bennett (Haryana), Flame (Pune), Ahmedabad University, Krea (Andhra Pradesh), Presidency (Bangalore) and Plaksha (Mohali) among others, have sprouted countrywide, completely transforming India's higher ed landscape. For the first time in the history of post-independence India, school-leaving and postgraduate students have the option of availing globally-benchmarked undergrad, and in some cases postgraduate, education in India at half or less prices abroad.
Not only have your editors enthusiastically welcomed this new crop of private universities with detailed cover features, in 2013, after the runaway success of the annual EW India School Rankings introduced in 2007 (which have since emerged as the most detailed and comprehensive schools rankings survey worldwide), we introduced the elaborate EW India Higher Education Rankings (EWIHER). Since the past ten years, EWIHER has been ranking undergrad colleges and universities in two separate issues of this publication — one ranking the country's best undergrad colleges and the other most respected universities.
As per established practice, to rate and rank India's best HEIs, we partnered with the Delhi-based Centre for Forecasting & Research (C fore, estb.2000), the highly respected market research and opinion polls company, to draw up a sample respondents database representative of informed public opinion. Accordingly, C fore drew up a database of 2,417 university faculty, 1,310 final year university students and 766 industry representatives.
"They were interviewed by our field personnel and persuaded to rate government and private universities on ten parameters of higher education excellence, viz, competence of faculty, faculty welfare and development, research and innovation, pedagogic systems and processes, industry interface, placements and infrastructure on a scale of 1-300 — with research and innovation accorded highest weightage. The scores awarded by respondents under each category were totalled to rate and rank public and private universities separately to create level playing fields. Low-profile universities and HEIs ranked by less than 25 respondents are eliminated from the rankings," says Premchand Palety, promoter-CEO of C fore whose clients include Mint, Nestle and the Congress party.
The EWIHER 2023-24 league tables rating and ranking India's best private and public universities that enable students and parents to choose aptitudinally suitable HEIs for further study, are presented at a time of great flux in Indian education, especially higher education. The National Education Policy (NEP), 2020 mandates that all colleges and universities gradually transform into multi-disciplinary, autonomous higher education institutions universities.
Obviously the lead in this direction will be taken by colleges and universities ranked in various categories in EWIHER 2023-24. Some like the crowd-funded private liberal arts Ashoka University have already begun this process by introducing science and engineering courses.
Likewise, most autonomous colleges have introduced self-financed skilling courses. Moreover, NEP 2020 encourages a breakaway from narrow streaming — arts, engineering, commerce programmes — by advocating inter-disciplinary learning, multiple entry and exits from study programmes and establishment of a digital Academic Bank of Credits (ABC).
Therefore, school and college leaving students are advised to carefully study the EWIHER 2023-24 league tables. The broad categories of private and government universities are sub-divided into multidisciplinary, liberal arts and humanities, engineering and technology, all-women, agriculture, social sciences, medical, etc, to enable students to choose HEIs which indicate capability to evolve with the temper of the times.
On January 5, the University Grants Commission permitted high-ranked foreign universities to establish greenfield campuses in India
For the EWIHER 2023-24 league tables rating and ranking the country's most admired government and private universities in 15 classified league tables, please click here.