One of the seven sister states of north-east India, Mizoram offers a rich mix of tribal traditions, folk tales preserved in song and dance culture, exotic flora and fauna, pleasant climate and hospitable people.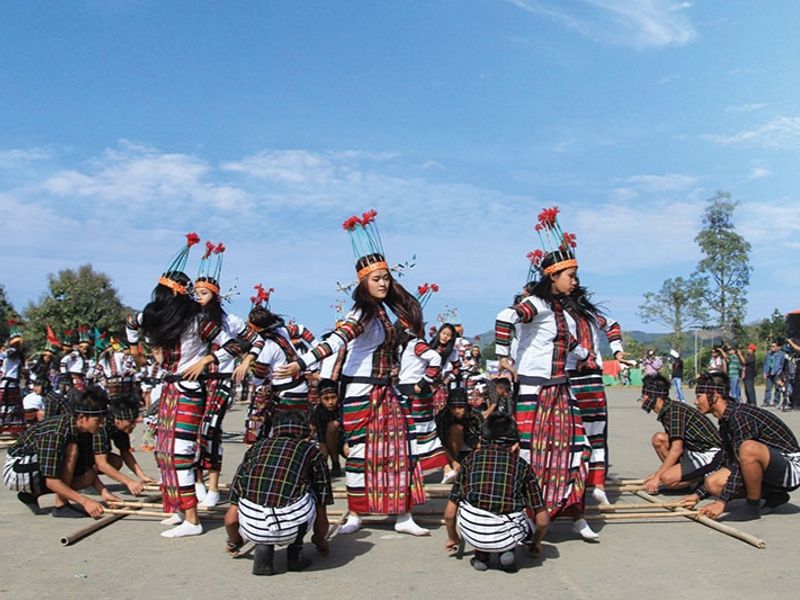 Strategically and precariously perched between the somewhat less-than-friendly nations of Myanmar and Bangladesh, the tiny hill state of Mizoram aka Hill People's Land (pop. 1 million) is one of the 'seven sister' states of north-east India. Watered by the Tlawang, Sonai, Tuivawl, Kolodine and Kamaphulr rivers, this misty hill state offers visitors alpine forests, high mountains, deep valleys and enchanting lakes interspersed by quaint tribal villages. This lonely north-eastern state's rich tribal traditions and folk tales preserved in song and dance culture, pleasant climate and the hospitality of its people are fast transforming the hitherto neglected outpost into a year-round tourism destination.
The Mizo people are the original inhabitants of this scenic region (area: 21,087 sq km). Etymologically Mizoram is a compound of two words: mi meaning 'man' and zo meaning 'hills'. Hence Mizoram is known as the Hill People's Land. Unsurprisingly, a high hill range (3,000-7,000 ft) cuts right across the state in a north-south direction, with sparse plains located to the east. Mizoram's highest peak Phawngpui or 'blue mountain' is 7,145 ft high and is also known as the 'vast meadow'. The Tropic of Cancer runs through Mizoram with its latitudinal location bestowing the region with a pleasant climate — cool summers and cold, rain free winters.
A fully-fledged state of the Indian Union, Mizoram is governed by a single-chamber Legislative Assembly of 40 elected MLAs and sends two members to Parliament in New Delhi. With its administrative capital in Aizwal, Mizoram is divided into eight districts — Aizwal, Lunglei, Kolasib, Mamit, Champai, Serchhip, Siaha and Lawngtlai. Despite the low profile — or perhaps because of it — the state maintains in New Delhi and the Indian subcontinent in general, Mizoram enjoys high literacy (91.58 percent) — third highest (after Himachal Pradesh and Kerala) in India. This is mainly because of the efforts of missionaries in this largely Christian state who have promoted a network of schools and education institutions.
According to ancient legend, Mizo ancestors emerged from under a large rock known as the Chhinglung. Two of them were talking loudly to the extent of misleading God to believe that there were enough people to fill Mizoram prompting him to close the rock face which has since grown into a mountain. However historians say that Chhinglung is actually the Chinese city of Singlung or Chinlingsang situated close to the China-Myanmar border.
Little is known of Mizoram's early history. According to historians, between 1750 and 1850 members of the Lushai tribe migrated from the Chin Hills, bordering Myanmar and China, subjugated the indigenous population and assimilated into their society. A network of tribes morphed into an autocratic political system of 300 hereditary chiefs extending across the north-east which became the territory of Assam. The British annexed Assam in 1826 under the Treaty of Yandabo and in the early stages of British rule, the Lushai hills were in the jurisdiction of Assam whereas the southern half remained under Bengal. In 1898 both these parts were amalgamated into one district called the Lushai Hills under the chief commissioner of Assam. In 1972 Mizoram became a Union territory and was granted full statehood in 1987.
The original inhabitants of Mizoram — Mizos — are known to be happy-go-lucky people. Indeed the guiding code of ethics, the Tlawmngaihna, enjoins all Mizos to be unselfish, hospitable and cooperative. As all the people in the north-east, Mizos have a rich variety of community dances, passed down through the generations. Moreover a striking feature of Mizo culture is a casteless society which practices gender equality.
Contemporary Mizoram has a lot to offer to nature lovers in terms of exotic flora and fauna. A wide array of orchids, several species of insects, molluscs, crustaceans, butterflies, moths, beetles, owls, pheasants, eagles, bulbul, egrets, herons, sloth bear, leopard, hoolock gibbon, otters, porcupine and mongoose inhabit the green jungles of the state.
The best time to visit Mizoram is between November and March when skies are clear and the weather is cool. Warm clothing is required for winter and rainwear is mandatory from June to September.
Aizwal
Sited at an altitude of 3,500 ft above sea level, Aizwal (pop. 293,416) is the administrative capital of the state of Mizoram and famous for its handicrafts. Blessed with striking natural beauty, Aizwal is situated towards the centre of the state and is flanked by rivers and rapids. The Durtlang hills with their high ridges to the south constitute a natural barrier while in the north, Mizo villages provide pleasant rambling countryside. Aizwal is also famous for its street music and most street corners feature local youth strumming on guitars and singing pleasing tunes.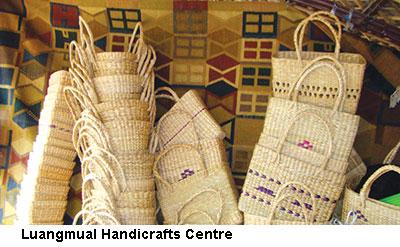 The Mizoram State Museum and Bora Bazar — the main shopping area — are the first stops of most visitors. The Weaving Centre and Luangmual Handicrafts Centre produce intricately designed hats and Mite shawls. The Viewing Gallery of Aizwal is also an important landmark. Other attractions in the town include the Zoological Garden, Bung picnic spot, MAHCO showroom, Treasury Square, Vengthlang, and Bethlehem.
Shopping. Mizos are adept in weaving, cane and bamboo work. Also worth buying are shawls woven in intricate traditional designs.
Excursions ex Aizwal
Upcountry Mizoram does not yet boast a well-developed tourism infrastructure. Therefore most visitors make Aizwal their base from which they make day trips to other destinations in the state. Among them: The Luangmual Handicrafts Centre (7 km) is about half an hour's drive from downtown Aizwal. Its Khumbou bamboo hats presented to honour people, are famous across the north-east.
Tamdil lake (83 km) is a scenic picnic spot sited to the east near the village of Saitual. It is also a fish farm offering serene vistas of the surrounding hills. The lake has boating facilities for visitors. No-frills but clean and comfortable lakeside tourist cottages are available for visitors staying overnight.
Dampa Tiger Reserve on the tri-junction of Bangladesh, Tripura and Mizoram, is 133 km from Aizwal. This wildlife sanctuary which sprawls over 572 sq. km is home to a variety of eastern Himalayan wild animals including bears, bison and deer. Numerous species of butterflies, birds and flowers are also found here.
Vantwang (137 km) is the most spectacular waterfall in the state. Water cascades down from a height of 715 ft amidst verdant bamboo forest. The nearby town of Thenzawl has a lively bazaar featuring a wide array of imported goods and handloom products. Unostentatious but clean and modestly priced residential accommodation is easily available in Thenzawl.
Entry formalities for Mizoram. Domestic visitors should obtain an inner line permit from the Mizoram state government by applying in the prescribed form which requires two passport size photographs. Government appointed liaison officers to assist visitors are posted in Kolkata, New Delhi, Guwahati, Shillong and Silchar.
Foreign tourists are required to register themselves at the office of Superintendent of Police (CID/SB) Mizoram who is the designated Foreigners Registration Officer (FRO) of the state, within 24 hours of arrival. Citizens of Afghanistan, China and Pakistan, as well as foreign nationals having their origin in these countries, would continue to require prior approval of the Union ministry of home affairs before entering the state.
Getting there. Air. Air India operates flights from New Delhi, Bangalore, Hyderabad, Kolkata, Silchar and Guwahati to Aizwal.
Road: All north-eastern states are linked to Mizoram by a passable network of roads. Frequent buses ply from Guwahati, Imphal, Kohima, Shillong and Agartala to Aizwal.
Rail: The nearest railway station is in Silchar, 180 km from the state capital.
Accommodation. Aizwal offers budget and mid-range accommodation options. The most recommended hotels are: Tourist Lodge (Rs.6,800-8,500 per night), Hotel Regency (Rs.2,700-3,200), Hotel Ritz (Rs.2,100-3,000).
Other destinations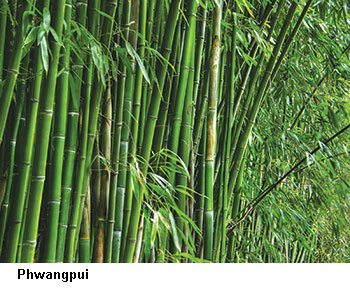 Champhai (192 km) to the east of Aizwal on the Indo-Myanmar border is a busy commercial centre. The village affords superb vistas of hills of neighbouring Myanmar particularly when the rhododendrons are in bloom.
Ruantlang near Champhai is a traditional Mizo village, where time seems to have stood still and the age-old traditional Mizo lifestyle is still followed by residents.
Accommodation. Chawngvawr Resort (Rs.6,670 per night), Hotel Regency (Rs.2,760-2,820) and Hotel Chawlhna (Rs.2,000-2,200).
Phwangpui or the Blue Mountain rises 7,145 ft above sea level on the southern most tip of Mizoram. Covered with bamboo groves, exotic flowers, orchids, rhododendrons and medicinal herbs, its rich eco-system is protected by the state government and is only open to bona fide trekkers and hikers. Residential accommodation is available at tourist lodges in the foothill town of Sangau and Vawmbuk village at Rs.300-700 per night. A national park sprawling over 50 sq km harbours wild animals and birds like goral, serrow, barking deer, sambar, leopard, khaleej pheasant, hoolock gibbon, common langur, rhesus macaque, stumped tailed macaque and a variety of birds.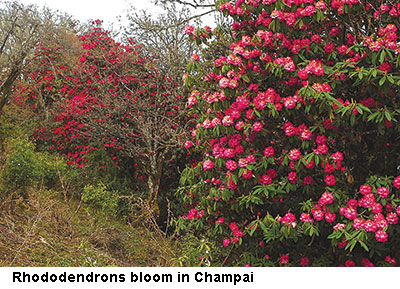 Accommodation. Hill Taj Resort (Rs.700 per night), Moti Mahal (Rs.620), Hotel Green Castle (Rs.540).
Saiha. Sited 378 km from Aizwal, Saiha is the district and political headquarters of the Mara Autonomous District Council in south Mizoram. The town is also one of the most important cultural melting pots of the state and a favourite fishing resort. The Chhimituipui river which flows through the town teems with fish.
Accommodation. Rudimentary residential accommodation is available. Hotel Elite (Rs.1,858 per night) and Tourist Lodge (Rs.400) are the most recommended.
Wildlife destinations
The Ngengpui Wildlife Sanctuary sprawls over an area of 120 sq km of protected and mature rainforest deep in the valley of the river Ngengpui in south
Mizoram. This sanctuary, close to the Indo-Myanmar and Indo-Bangladesh borders offers rich biodiversity and hosts elephants, leopards, gaur, barking deer, wild leaf monkeys, and birds. The forest is also the habitat of 70 species of rare herpetofauna.
The Khwanglung Wildlife Sanctuary sited about 170 km from Aizwal in the Lunglei district of central Mizoram, also offers a unique biodiversity of wild animals, birds, and exotic flowers.
The Tawi Wildlife Sanctuary spreads over an area of 36 sq km and is about 101 km from Aizwal in central Mizoram. This sanctuary hosts varied species of wild animals, birds, herbs, climbers, ornamental flowers and orchids and attracts a growing number of trekking and wildlife enthusiasts.
Palak Lake Reserve Forest. A virgin forest 378 km from Aizwal in the Sahai district of south Mizoram, the Palak Dil lake is the largest still water body in Mizoram. Here one may see elephants, tigers, leopards, birds, reptiles, amphibians and a wide range of insects in their natural habitat and the forests on its banks have a rich collection of herbs and medicinal plants. The Palak lake is a fishing resort as well with modest but well-appointed facilities for overnight visitors.
Murlen National Park. Sited 245 km from Aizwal close to the Indo-Myanmar border in Champhai district, Murlen National Park is protected and preserved by the state government. The park hosts a vast population of wildlife including tigers, leopards, Himalayan black bears, hoolock gibbons, sambar, barking deer, wild boar etc.
Caves of Mizoram
Mizoram's mountainscapes are replete with prehistoric caves. The caves, known as puk in the local dialect, have fables and folk tales associated with them. Milu Puk or festivals
The festivals of Mizoram are sprightly pastoral given the state's mainly agrarian economy. Mini Kut is the maize festival celebrated every September after the harvest and is dedicated to departed souls. Pawl Kut is observed in December — a harvest festival devoted to children's welfare. Mizos sing, dance and feast during these occasions.
Other festivals include Chapchar Kut (February-March), Cheraw (Bamboo Dance Festival), Khullam (dance for visitors or guests), Chheihm Lam (at the end of a day's work) and Solankar (prevalent among the Mara and Pawl tribes).
For further information contact Mizoram House in Delhi (tel: 011 23015951) or Calcutta (tel: 033 24757887) or Guwahati (tel: 0361 2529411). Also visit www.mizoram.nic.in.