Category: Information & Communication Technologies
First in Math India Pvt. Ltd (FIMI, estb. 2014) is a partially owned subsidiary of the Pennsylvania (USA)-based Suntex International Inc (estb.1988), a company founded by renowned math guru, inventor-game designer Robert Sun. Committed to the propagation of innovative math education pedagogies worldwide, it provides a scientific game-design online math programme to stimulate interest and love of math in children from Pre-K to Grade 8. The First in Math® (FIM) programme has been accessed by over 20 million students worldwide.
In 2015, FIMI launched the First in Math® online programme in India and students of more than 225 schools countrywide have enroled in the programme. Moreover, FIMI has signed a collaboration agreement with the Jharkhand state government under the Central government's Digital India initiative and successfully embedded FIM in primary and secondary schools across rural districts. They are successfully replicating this model in collaboration with SCERT – department of school education, Punjab, in rural middle schools.
FIM Leader
Monica Patel
CEO
A double graduate in special education and technology-based teacher education of Lehigh University, Pennsylvania (USA), Monica Patel is CEO of First in Math India Pvt. Ltd. An expert in designing innovative math pedagogies for large school districts, Patel has been serving as an implementation strategist at FIM's parent company Suntex International since over a decade. In 2015, she launched FIM in India after she saw the life-changing impact of the innovative math education programme on her son and other students and was appointed its CEO.
Parameters
Programme quality
Objective is to help students overcome fear of math through scientific method of enjoyable hands-on practice and move on to higher order thinking skills.
Teach and measure students' logical reasoning, problem-solving and computational thinking.
Support teachers with over 200,000 levelled activities to bridge student learning gaps through math remedial programmes.
Develop love of maths within the entire school community, by incorporating Social Emotional Learning.
Students learn self-assessment, goal setting and self-monitoring, to take ownership of achieving objectives.
Technical support
FIM content and activities can be accessed 24/7 on computer desktop/laptop/tablet/mobile phone using any operating system. No set-up or download required.
Online links available for demo requests, on-demand webinars, short-term pilots and in-person visits.
Research-backed teacher training programme is hands-on, with certified outcomes.
SMEs custom create annual goals for schools, based on their pre-test data and teacher capabilities.
Schools can select annual academic goals from relevant sections of NEP 2020.=
Teachers spend only five minutes a week troubleshooting technical errors, with strong implementation support and on-demand reports.
User interface design
Nine modules representing nine core math skills designed for pre-K to class VIII students.
Each skill module has content for competency-based learning and gives children the mastery experience.
Innovative game-design combining the science of 'Optimal Flow' and 'Deep Practice' aligns to current skill level of the child. Blends with all curriculum and standards of mathematics.
Web design is clutter and cartoon-free.
Real-time data can be accessed at 5 levels – student, parent, teacher, principal and management.
Over 150 Virtual auto-recognition provides badges and Certificates for skills completed.
FIM is Privacy and Safety certified by three organisations, including the Children's Online Privacy Protection Act (COPPA), USA.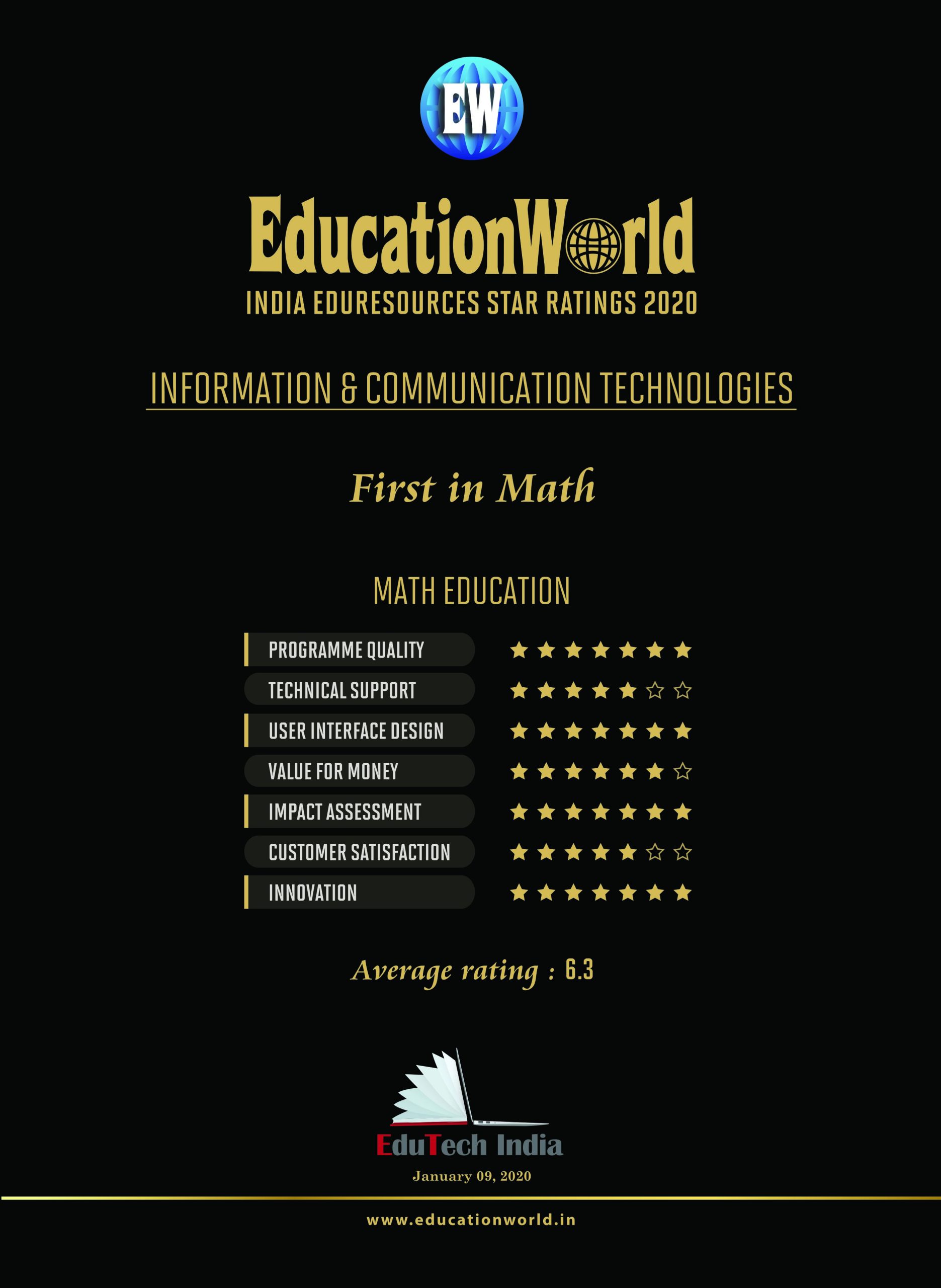 Customer satisfaction
"FIM conquers the fear of maths. The content and activities develop deep critical thinking and logical reasoning skills. FIM's scientific deep practice design changes how children learn."— Seema Jerath, principal, DLF Public School, Ghaziabad.
"My daughter was uninterested in maths. But just three months after she signed up with FIM, she developed interest in math and stopped playing video games. Her ability to solve complex math problems has improved hugely." — Ms. Vishakha, maths teacher and mother of Nirja (class V), School FIM-topper.
Value for money
Definable, measurable gains in student learning outcomes with 'Deep Practice'.
Monthly additions to existing library of 260 topic and skill-based activities at no additional cost.
Students can access content two grade-levels below and above their current grade level.
'Computational Thinking & Coding' module for Pre-K to 8, to develop mathematical thinking from early foundational years.
Family Link™ – Parents get one free login ID to play alongside, 'talk math' with their child.
Teachers are trained to achieve NEP 2020 objectives and certified at no extra cost to schools.
Real-time formative, diagnostic, progress and summative reports for principals, teachers and parents at no additional cost.
Built-in Messaging, Assignment and Recognition (MAR) tool for teachers to communicate with parents and students.
Robust sports-style Leader board and recognition for teachers, parents, students and schools – featuring at national and international levels.
Offline activities for KG to class 5 students, provided to schools that lack infrastructure to support online learning.
Innovation
Continuous updating of content and tools based on FIM case studies and inputs from education leaders of India and the US. New pedagogies and programmes introduced annually.
Teachers can custom-create on demand assessments in 2021 – a collaborative project with CBSE, Cambridge and ICSE schools.
The only programme to incorporate Social Emotional Learning through a goal-setting tool that connects principals, teachers, students and parents.
'Very Important Facts™ System' combines instruction and digital practice, interspersed with assessment games to teach students mental maths in an easy way.
Early Childhood Education – STEM package: Research-based developmentally appropriate play, comprising of puzzles, logical thinking and problem-solving.
'Computational Thinking & Coding' module for Pre-K to 8, to develop mathematical thinking from early foundational years.
New series of logic-building games, honing the 4 Cs of 21st century skills and developing qualities of lifelong learners.
Unique value promise
FIM is designed as an experience to energise all children, regardless of skill level or geography.
The company culture prioritises love, support, empowerment and collaboration.
Current partner schools in India include all categories – premier residential schools; stand-alone day schools; group schools; school chains; budget schools in tier III and tier IV cities; government schools and aided-private schools.
Short and long-term pilots are offered with an impact analysis report on three measures – math problems solved, increase in foundational numeracy skills, identification of talent cohort.
Impact assessment
Sequential assessment allows students to graduate from 'easier' to 'challenging' to 'rigorous' activities.
Students in rural primaries in Jharkhand scored higher grades in maths within six months of enrolling in FIM.
Stanford Research Institute (SRI) study findings indicate 50 test score points improvement after 20 minutes daily FIM practice.
Double-digit gains in student proficiency on Statewide assessment, demonstrated in a research study by Lehigh University published in 2020.
In a double-blind study conducted by the San Francisco-based WestEd, FIM had significant impact on California Standards Test (CST) student achievement scores across each grade level.
WestEd qualitative surveys reveal a change in attitude and mindset toward mathematics.
NEP 2020 Objectives and Outcomes
Highlights of 2019-2020 case studies:
Lehigh University's research study on the successful use of First In Math at Marvine Elementary, a Title 1 school that achieved a 24.8 percent increase in PSSA math scores, has been published in the Mathematics Teaching Research Journal, Spring 2020. Based on this performance, the U.S. Department of Education recognised the school among Pennsylvania's highest performing schools in closing achievement gaps of students and nominated it a 2020 National Blue Ribbon School.
Contact details
www.firstinmath.in
[email protected]; [email protected]
Nirdosh @ 96504 46419
Also read: COVID19 Challenge: First in Math online learning success story