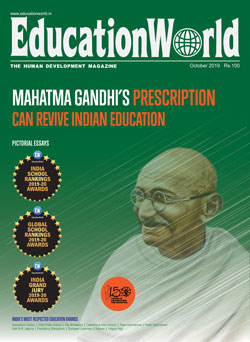 I was delighted to read your cover story 'Mahatma Gandhi's prescription can revive Indian education' (EW, October). It is superbly written, insightful and exhilarating to read about the Mahatma's organic and still relevant education philosophy.
Apart from being a highly accomplished political leader and social reformer, Gandhiji was a highly influential journalist — he edited Harijan and Young India. The cover story by Dilip Thakore is a tribute from a distinguished journalist to a celebrated journalist.
Dr. (Prof.) A.S. Seetharamu
Bangalore
Relevant philosophy
Your well-researched cover story (EW, October) on Mahatma Gandhi is a befitting tribute to the father of the nation on his 150th birth anniversary. His nai talim philosophy of educating the heads, hearts and hands is very relevant and applicable in the 21st century.
Education policymakers and school leaders need to adopt Gandhiji's education philosophy to develop socially responsible citizens.
Brinda Mudgal
Delhi
Brilliant cover story
I congratulate EducationWorld for a brilliant cover story on Mahatma Gandhi (EW, October). You've faithfully reported Gandhiji's social and education reforms. Though he is credited with freeing India from British rule, few people give him credit for striving towards creating an educated and enlightened society.
I hope this cover story will be widely read.
Dr. Meera Sampath Kumar
Bangalore
Surprising omission
Re the EW Global School Rankings 2019-20 under which you have ranked Sri Lanka's most respected schools. I'd like to bring to your notice that you have omitted the Stafford International School (SIS), Colombo, one of the country's oldest and finest international schools. SIS has achieved top results in the Cambridge International O level exams and boasts distinguished alumni who have featured in the Forbes '30 Under 30' list.
Therefore, we were surprised that SIS is not ranked among Sri Lanka's most respected schools. What is the criterion to be ranked?
Suvin Wettimuny
Stafford International School, Colombo
A well-informed jury of education experts ranked the Top 10 primary-secondary schools in Sri Lanka bearing in mind the 14 parameters of school education and excellence conceptualised by EducationWorld. Academic reputation is only one of the parameters of school education excellence — Editor
Ranking method query
The EW Global School Rankings 2019-20 ranks only eight schools in the Emirate of Ajman, and has omitted Habitat School, al Jurf Ajman, the largest CBSE senior secondary in Ajman founded in 2014. As this 'ranking' is in the public domain and makes certain claims about schools in the UAE and Ajman in particular, please let us know how you conducted this 'ranking' and what were your sources of information and methods?
As far as I understand, no one from your magazine established any contact with our school, sought our consent for this survey and most importantly sought information/data.
Bala Reddy Ambati
Principal, Habitat School, Al-Jurf, Ajman
Schools in Ajman have been ranked by a jury of eminent education experts familiar with CBSE and CISCE, Delhi-affiliated schools in GCC countries i.e., the kingdoms of the United Arab Emirates, Oman, Qatar, Kuwait, and Bahrain — Editor
Assessment report request
Re the EW Global School Rankings 2019-20 — Qatar's premier schools, we request a copy of the detailed assessment report along with the list of jury members. We feel the achievements of M.E.S. Indian School, Doha have not been accurately assessed in the survey, which is very disappointing. Moreover, please inform us about the authenticity of the data you received on behalf of our school.
It would have been highly appreciated if your jury members could have personally visited the school to know more about its functionality and requested supporting evidence.
Hameeda Kadar
Principal, M.E.S. Indian School, Doha
See Editor's response above. If jury members had to visit every school, it would take years to complete the rankings league table. The jury comprised education experts and consultants familiar with schools in GCC countries — Editor