Shreyosi Chakraborty
Promoted in 1971 by the Guru Nanak Educational Society (GNES, estb. 1970) to commemorate the 500th birth anniversary of Shri Guru Nanak Devji, Guru Nanak College (GNC) was established as a minority institution in a plot of land donated by the Government of Tamil Nadu. Presently, the college is run by a small minority community of Sikhs as a non-minority institution in the service of the wider society.
Conferred with 'autonomous' status by the University Grants Commission (UGC) in 2015, GNC was re-accredited with 'A' Grade by National Assessment and Accreditation Council (NAAC) in 2013, is driven by the mission statement "to provide quality education to all, irrespective of socio-economic background, caste, creed or religion".
Nestled amidst 25 lush green acres between the Raj Bhavan and the IIT-Madras campus and facing the Guru Nanak Salai, GNC is located in Velachery, South Chennai – the gateway to the IT expressway of Tamil Nadu.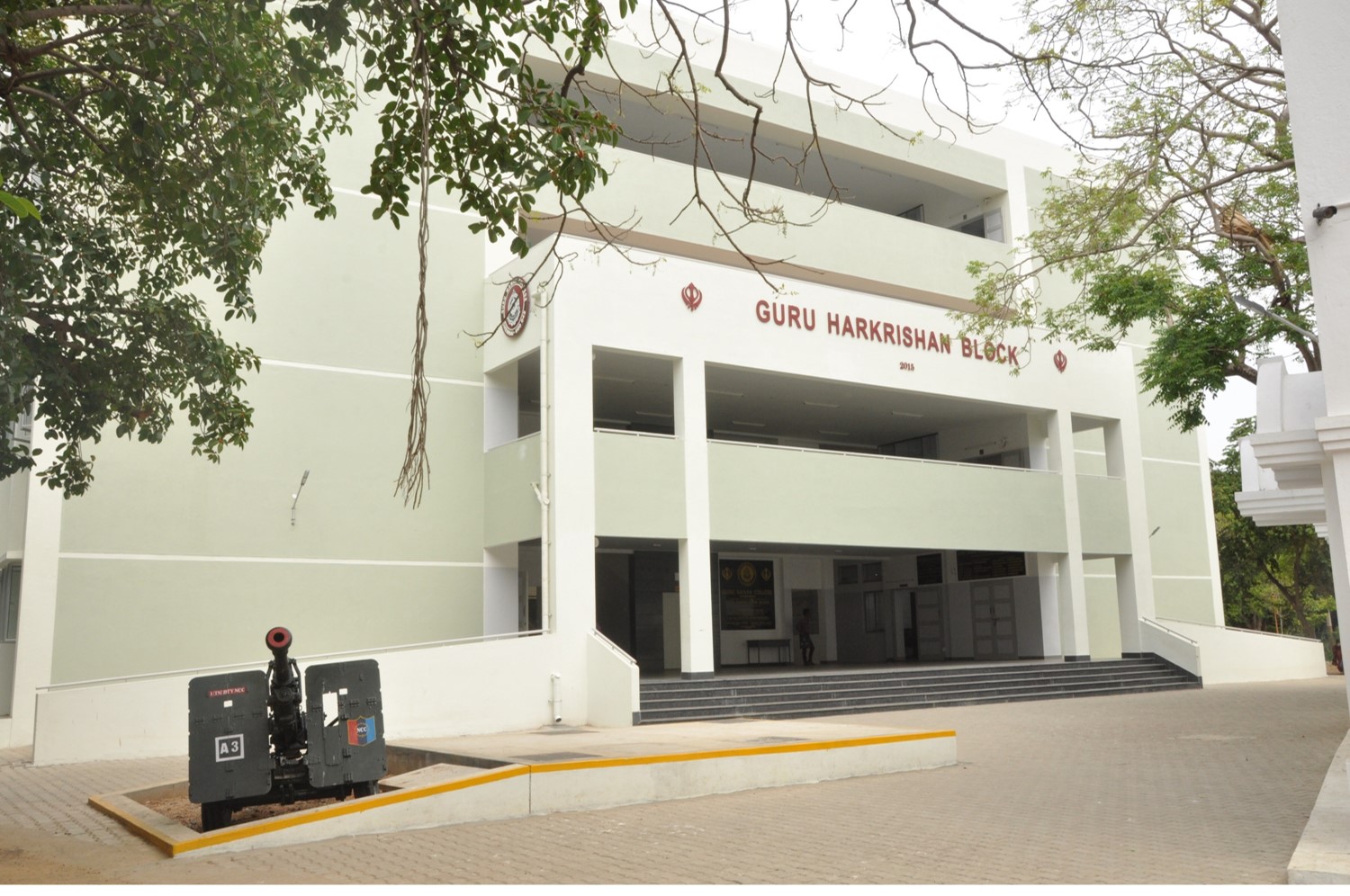 Late Lt. Col. G.S. Gill, founder GNES and founder-president GNC, Late Padmashree P. N. Dhawan, general secretary GNES and Late Sardar Manohar Singh Sabherwal, treasurer GNES – who made Tamil Nadu their home after they relocated from Punjab following India's partition in 1947 were the founding members of the college governing council.
Hailing from Faridkot, Punjab, Lt. Col. G.S. Gill graduated in medicine from Edinburgh University in 1919. After relocating to India in 1923, Dr. Gill joined the Indian Medical Service (IMS). With the IMS being abolished in 1930, he opted for prison service and assumed office as the Inspector General of Prisons, Madras. Subsequently, driven by his passion to contribute to national development through the provision of quality education, he founded the Guru Nanak Educational Society in 1970 and the established Guru Nanak College in January 1971.
Education aligned with evolving industry needs
Education in Guru Nanak College is oriented towards achieving overall excellence. From its humble beginnings in 1971 with pre-university classes and 3 under graduate course with a student strength of 450, Guru Nanak College has gone a long way.
Today, in its Golden Jubilee year Guru Nanak College has 28 UG, 9 PG and research leading to Ph.D in 8 disciplines. The courses are designed and periodically revamped to meet the constant change in industry demands. It is the only autonomous institution to offer Defence and Strategic Studies in Tamil Nadu in both the undergraduate and postgraduate and PhD programmes too. New courses like Master of Social Work (MSW), B.Sc. Biotechnology, B.Sc. Visual Communication, B.Sc. Information Technology, B.Com. (professional accounting), B.Com. (Computer Applications) B. Com. Honours, and B.Sc. Data Analytics have also been introduced.
GNC is also the only institution in Chennai to offer Data Analytics at the undergraduate level in partnership with Statistical Analysis System (SAS). GNC also offers graduate and postgraduate programmes in all the basic sciences such as Mathematics, Physics, Chemistry, Plant Biology and Biotechnology, Advanced Zoology and Biotechnology.
School of Excellence
GNC introduced the School System in January 2019 with the objective of enriching the academic curriculums and to foster inter-disciplinary and multi-disciplinary studies.
School of Languages
Catering to Tamil, English, Hindi, Sanskrit and French languages, GNC's School of Languages provides ample opportunities for students to hone their communication skills and develop their personalities. It believes in the policy of PIMI – plan, implement, monitor, and improve – in all aspects of higher education management (i.e., curriculum design, teaching- learning and evaluation process, research innovations, and student support and progression).
The School's world-class infrastructure includes smart classrooms, language labs, ICT tools, separate departmental libraries, audio-visual aids, among other facilities.
School of Humanities
Comprising the department of Economics and the department of Defence and Strategic Studies and offering programmes such as master of Social Work, bachelors of English Literature and bachelor of Sociology, the School of Humanities of Guru Nanak College was established with the objective of creating "socially responsible global citizens with all-round personality development and to provide the best quality education (not only acquiring knowledge but also finding solutions to local, national and international problems)".
Among the courses offered by the school are eco-tourism, forensic science, digital marketing and mass media & performing arts. Over the years, the School's alumni have secured excellent placements in India and abroad.
School of Sciences
GNC's School of Sciences strives towards creating a scientific workforce with sound theoretical as well as skilled knowledge by administering the latest ICT-enabled tools for teaching and learning. An interdisciplinary approach is followed through the programmes such as Mathematics, Physics, Chemistry, Plant Biology and Plant Biotechnology, Advanced Zoology and Biotechnology, Biotechnology and Visual Communication.
The School of Science offers various skills-based vocational training courses such as food processing, organic farming and vermicomposting, mushroom cultivation, forensic science, wildlife photography, ecotourism and sericulture, hygiene products making, ornamental fish breeding, simple chemicals manufacturing etc, to motivate the students to become entrepreneurs. Regular workshops are conducted for the students to acquaint them with identifying adulteration, making of detergents and disinfectants, aquaculture and assembly of solar panel, etc.
To nurture inquisitive minds, the School's well-designed research laboratories are equipped with the latest types of equipment.
Moreover, the department of Biotechnology, New Delhi, has sanctioned a grant of 107 lakh in 2018, under the Star College Scheme for the quality enhancement of undergraduate science courses.
School of Commerce
The commerce courses are industry-oriented with a right amalgamation of knowledge in key areas of Commerce such as accounting and finance, taxation, banking, secretarial Practice, commercial law, personnel management and marketing management.
The students can find themselves placed via campus placements or they can become entrepreneurs or they can further deepen their knowledge through the PG programs offered on the campus such as M.Com., MBA, MCA, MSW, etc.
It runs its own mock company GNC endeavour in which the students are assigned various roles and responsibilities to attain business knowledge in a realistic sense. Students learn the actual setup of a company with the pre – IPO stage and related aspects in running a company.
School of Management
GNC's School of Management boasts highly qualified faculty members of whom nine hold doctorate degrees. The School offers courses on different management specialisations aligned with corporate requirements. As an institutional member of the Madras Management Association, GNC provides students ample opportunities for industry exposure.
School of Information Technology
Focusing on the all-round personality development of students, the School of Technology prepares them to meet the ever-changing technological and social challenges in their career with self-discipline, hard work, and a creative approach to problem-solving.
The School's well-balanced curriculum covers programming languages, database management systems, operating systems, software engineering, software testing, IDEs, and tools.
Research and placements
GNC is the only institution in Tamil Nadu to have an autonomous body dedicated to research, the Gill Research Institute. Recently, the college has established the Guru Nanak Centre for Research with IPR cell, Data Analytics Lab and Incubation Centre to mobilize all the research activities under one umbrella.
Virtual Learning in the Covid 19 era
Since the onset of the pandemic, GNC has witnessed a smooth transition to online teaching-learning. As per government guidelines for online learning and teaching, the institution offers both asynchronous and synchronous classes. The semester examinations were conducted online using Google Classroom and Google Meet.
Community outreach
Since its inception, GNC has been at the forefront of providing humanitarian aid to the communities worst impacted by natural disasters. During the devastating Chennai floods in 2015, the institution supplied food and provided refuge to people in and around Velachery. The Covid-19 pandemic was one other challenge wherein the institution volunteered to set up a migrant relief camp. More than 4,600 migrant guest workers have been well cared for on the institution campus during the first wave of pandemic. During the second wave the college also set up a Mini ICU Medical Centre with 16 Oxygen facility beds in the sports pavilion for use by patients who needed medical intervention. Besides this, 3000 nutrition meals were prepared and sent for 50 days to Doctors, Nurses and other health care attendants who were serving Covid patients round-the-clock in 7 Government hospitals. The Guru Nanak Educational Society also supported the initiatives of the government of Tamilnadu. Moreover, the Guru Nanak School premises was used as quarantine centres both during the first and second wave of the pandemic.
Admission deadline: As per Tamil Nadu government norms.
Also read:
Interview: Manjit Singh Nayar, General Secretary, Guru Nanak College
Campus
,
News