Over the past decade this de facto capital of Telangana and de jure capital of Andhra Pradesh has witnessed an upsurge in the promotion of internationally benchmarked pre-primaries to meet growing demand from new-age industry professionals. Here are Hyderabad's most admired preschools 2018-19.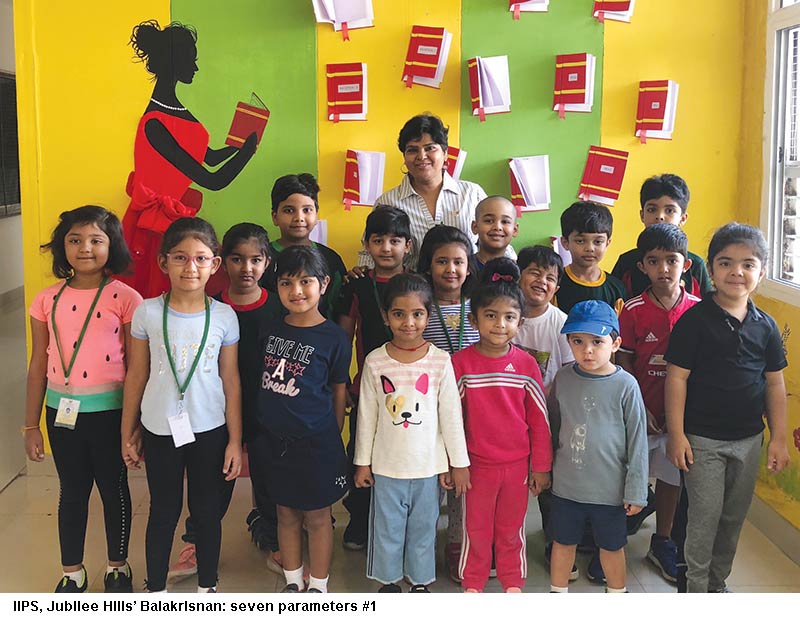 The administrative capital of India's newest state of Telangana (estb.2014) and de jure capital of Andhra Pradesh, Hyderabad (pop. 6.8 million) is a major hub of early childhood and K-12 education. The city of nawabs and pearls hosts several top-ranked schools, and standalone early childhood care and education (ECCE) pre-primaries which provide high quality education to infants in the 0-5 age group. In particular over the past decade, this southern city which has also emerged as a nucleus of the IT and biotech industries, has witnessed an upsurge in the promotion of internationally benchmarked pre-primaries and K-12 education institutions to meet growing demand for excellent schooling from new-age industry professionals.
In the EW India Preschool Rankings 2018-19, informed sample respondents comprising 646 parents with preschool children and 86 principals and teachers rated and ranked 27 of the city's sufficiently well-known proprietary and 39 franchised preschools on ten parameters of preschool excellence. The scores awarded by the sample respondents under each parameter were totaled to rank pre-primaries inter se in each category.
Proprietary/owned Preschools
In the 2018-19 league table of Hyderabad's most respected pre-primaries, Indus International Primary School
(IIPS), Jubilee Hills has dislodged Chirec, Jubilee Hills as the city's #1 pre-primary in the proprietary category. In 2017-18, these two pre-primaries shared the #1 ranking. This year, the 732 informed sample respondents interviewed by C fore in Hyderabad have ranked Chirec #3 jointly with Glendale Edufun, Somajiguda, while Oi Playschool, Jubilee Hills has retained its #2 rank.
Further down the Top 10 table KinderKare, Gachibowli has slipped to #4 (3 in 2018) while Indus International Junior School, Gachibowli at #5, CHIREC, Gachibowli #6, Nasr School, Jubilee Hills #7, First Innings, Banjara Hills #8 and Nasr School, Somajiguda #10 have all retained last year's rankings. The only new entrant in the Top 10 league table of Hyderabad's proprietary preschools is Polka Dots, Jubilee Hills, which has risen in public esteem and is ranked #9 this year (12).
Promoted in 2011 by the Bangalore-based Indus Trust (regstd. 2003), which owns and manages the premier Indus International schools in Bangalore, Hyderabad and Pune (routinely ranked among India's Top 10 international day-cum-boarding schools in the annual EW India School Rankings), IIPS, Jubilee Hills, is top-rated on the parameters of teacher competence and development, treacher welfare, individual attention to students, infrastructure provision, leadership quality, safety and hygiene and innovative teaching across the proprietary and franchised categories.
"We are delighted to be top ranked for the second year in succession and top-rated on seven parameters of early childhood education excellence. This is the outcome of the earnest efforts of our well-trained teachers and staff who have created a safe, caring and stimulating learning environment for our 260 children. I am especially pleased with our #1 ranking on the parameter of individual attention to children. Our 1:9 teacher-student ratio makes it possible for our 41 teachers to deliver differentiated, customised instruction to every child who is encouraged to learn in her own style and pace to develop love for lifelong learning," says Pushpita Balakrisnan, head of IIPS. A commerce graduate of Osmania University with eight years experience in the IT industry before she switched tracks and signed up as a teacher at the Prakk Foundation School, Kodaikanal, and subsequently with Indus International School, Hyderabad, Balakrisnan was appointed head of IIPS in May this year.
Similarly, Prasanna Mandava, an alumnus of IIM-Bangalore and joint managing director of the Hyderabad-based People Combine Educational Initiatives Ltd which has promoted the Oakridge International chain of K-12 schools in peninsular India as also 50 Oi (Open Interactive) playschools countrywide, is satisfied that Oi Playschool, Jubilee Hills, the company's proprietary model preschool has retained its #2 ranking for the third year in succession. "Oi, Jubilee Hills is our flagship pre-primary. Therefore, although it's a matter of pride for us to be consistently ranked among the top two, we are carefully assessing our rating under each parameter and are determined to focus on curriculum improvement and teacher efforts to become the top-ranked preschool of Hyderabad. We accord high importance to innovative teaching and have introduced new play-learn activities for our children," says Mandava.
Beyond the Top 10 table, there's been a rejig in the league table of Hyderabad's proprietary preschools, well-known enough to be ranked (low-profile preschools rated by less than 30 respondents are not included in the league tables). Among the pre-primaries which have improved their ranking are Blue Blocks Self Learning Preschool, Osmannagar ranked #11 (14 in 2017-18), Tulips — The Preschool, Bachupally #12 (22), and Oi Playschool, Manikonda #14 (15).
Moreover, several greenfield preschools have debuted in this year's league table. Among them The Elegancia School, Vasanth Nagar at #15, A'ala Nature Playschool, Shaikpet #17, The Learning Umbrella Preschool & Day Care, Begumpet #23 and Extra Mile Preschool, Nallagandla ranked #24.
Franchised preschools
Since 2015, when the EW India Preschool Rankings were sub-divided into proprietary and franchised categories to avoid apples and oranges type comparisons, Kangaroo Kids, Banjara Hills and Birla Open Minds Preschool, Jubilee Hills (previously Globe Toters) have been monotonously voted Hyderabad's #1 and #2 preschools in the franchised category. This year too, the hi-tech city's 732 informed sample respondents have awarded them the first two ranks with Kangaroo Kids, Banjara Hills (KK-BH) top-ranked on nine of the ten parameters of early childhood care and education (ECCE) excellence.
"We are elated that your knowledgeable sample respondents have voted KK-BH #1 in Hyderabad for the fourth year in a row. A school is as good as its teachers and I am particularly satisfied that we have been top-ranked on the teacher competence and innovative teaching parameters. These are our focus areas. Right now some of our teachers are enrolled in Yale University's online personality development programme. I am happy that our continuous investment in teachers has translated into joyful teaching-learning for our children," says Chandrika Chalasani, an alumna of Jawaharlal Nehru University, Delhi and the University of Texas at Austin and promoter-principal of KK-Banjara Hills. Currently, KK-BH has an enrolment of 400 children aged 18 months to six years mentored by 50 teachers .
While there's no change at the top, further down the league table of Hyderabad's most admired franchised preschools there's been a rearrangement of the seating order. EuroKids, Banjara Hills has improved its ranking to #3 (5 in 2017) even as Birla Open Minds Preschool, Gachibowli has yielded a rank to #4 (3). Bachpan Play School, Sagar Society, Banjara Hills and Bachpan, Miapur — franchisees of the Delhi-based S.K. Educations Pvt. Ltd which has 1,100 owned and franchised preschools across the country — have gained ground and are ranked #6 (7) and #8 (10) this year. Six other Bachpan franchisees are ranked in the EW Hyderabad Preschool Rankings 2018-19.
Swathi Reddy, promoter-director of EuroKids, Banjara Hills (estb.2005), is satisfied that it is steadily ascending higher in the annual EW league table. "We were one of the first EuroKids franchise preschools in Hyderabad. EducationWorld ranked us #1 in Hyderabad in 2010. After that, we slipped to #10 in 2014, rose to #5 in 2015, #4 in 2016 and #5 in 2017. Therefore it's great news that we have stabilised our reputation with our #3 ranking this year. We are ranked #1 under the parameter of safety and hygiene. In my opinion, this is the most important parameter as the safety of children cannot be compromised. Moreover our #1 rank under special needs education is also very satisfying," says Reddy.
The Hyderabad Top 10 league table is completed by Iris Florets, West Marredpally, ranked #7 (10), Oi Playschool Nizampet at #9 (11) and Kidzee, Chanda Nagar at #10 (16) — all of whom have improved on their 2017-18 rankings. The Hyderabad-based Iris Florets chain promoted by Iris Educare Pvt. Ltd, which has 45 franchisee centres across Hyderabad and 135 nationwide and in Nepal, boasts four preschools in the Top 35, while Oi Playschool has six of its franchisees ranked in the EW Hyderabad Preschool Rankings 2018-19.
Smitha Shirish, promoter-principal of Iris Florets, Marredpally (estb.2015) is exhilarated that her school is Iris Educare's top-ranked franchisee in Hyderabad. "This is very good news and a morale booster for our teachers and parents. The management of Iris Florets has provided excellent support by way of a developed, open curriculum and teacher training services. This has enabled us to teach beyond the curriculum and innovate play-based pedagogies and processes," says Shirish, a commerce graduate of Osmania University who worked with Genpact for seven years before promoting Iris Florets, West Marredpally in 2015.
Other national franchisor preschool chains which have a sizeable presence in Hyderabad are the Mumbai-based Birla Open Minds Preschool with seven pre-primaries, EuroKids with three, Tree House with two and the Delhi-based Sesame Street Preschool with two.