Affordable BPS occupy a special and controversial space in India's complex multi-layered K-12 system. Politicians, bureaucrats and leftists love to hate them because they are for-profit and pride themselves as English-medium schools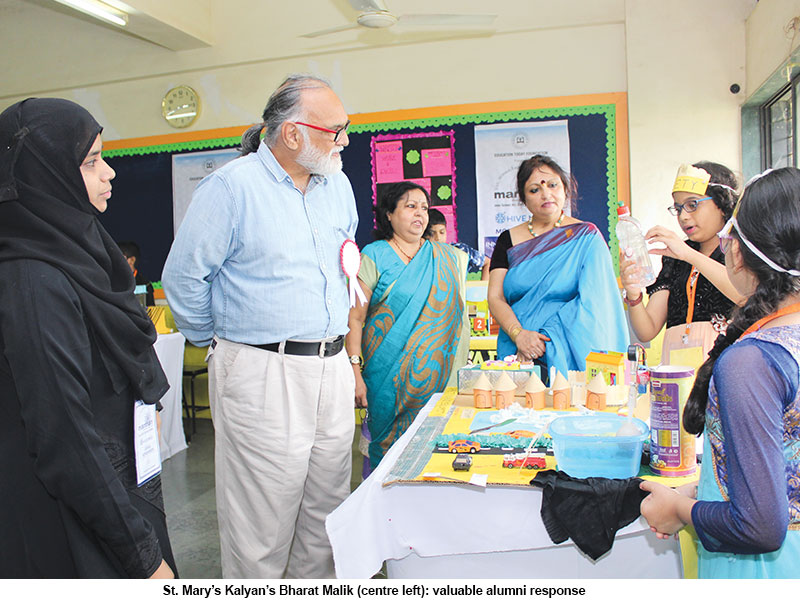 Within India's complex, multi-layered K-12 school system, budget private schools — essentially affordable primaries (with a sprinkling of secondary schools) — occupy a special and controversial space. These are privately promoted, low-priced schools that politicians, bureaucrats and Left intellectuals love to hate because they are for-profit and also because almost all of them pride themselves as English-medium schools.
The country's business illiterate neta-babu brotherhood and lefties hate the word 'profit' and are unanimous in their belief that children learn best in the language their parents speak at home rather than a language imposed upon the country by British imperialists. The fact that contemporary India has 29 official languages spoken in 278 dialects, or the reality that a primary classroom may comprise children speaking over a dozen mother tongues hasn't dented their belief that pre-primary and primary including upper primary school children should be taught in the mother tongue.
Evidently, the vast majority of the population — especially poor aspirational households — don't agree with this holy trinity. Because the number of budget private schools (BPS) across the country — many of them 'unrecognised' by government — has ballooned to an estimated 400,000 with a staggering enrolment of 60 million children. For aspirational working and lower middle-class households, BPS fashioned after private schools and providing English-medium education, offer the best alternative to dysfunctional government schools defined by decrepit infrastructure, chronic teacher absenteeism and English language aversion.
However with establishment opinion ranged against BPS, because they are increasingly drawing children away from government schools, thousands have been issued closure notices for non-compliance with s.19 and Schedule of the Right of Children to Free and Compulsory Education (aka RTE) Act, 2009, which stipulates minimal infrastructure and teacher-pupil ratio norms from which government schools are exempt, and deliberately target BPS.
Moreover, the raging Coronavirus pandemic has hit affordable private schools hardest. With state governments issuing confusing and contradictory circulars to the public to not pay school fees during the pandemic lockdown, even while directing school managements to continue paying teacher and staff salaries, hundreds of BPS have shut down and thousands are confronted with the prospect of bankruptcy. Repeated demands by BPS managements, representative associations including NISA (National Independent Schools Alliance) which has a membership of 60,000 affordable schools, and EducationWorld (see https://www.educationworld.in/dear-prime-minister-why-no-pandemic-package-for-education/)for loans and grants under the prime minister's Rs.20 lakh crore economy stimulus package of May 2020, have failed to evoke any response from the Central or state governments.
In EducationWorld your editors believe that BPS discharge a vitally important socio-economic development role as they provide lower middle and working class households an alternative to dysfunctional government schools. Therefore, earlier this year in a cover story following a national survey, we published elaborate league tables rating and ranking the country's 300 most respected BPS (see https://www.educationworld.in/educationworld-current-issue/educationworld-february-2020/). However because of the disruption of our publishing calendar, we are obliged to publish BPS league tables in this year-end issue's EWISR 2020-21 Part II cover story, which also includes league tables rating and ranking the country's most reputed boarding and international schools.
To compile the EW India Budget Private Schools Rankings 2020-21, the well-reputed Delhi-based market research company Centre for Forecasting & Research (C fore, estb. 2000) interviewed 1,000 SEC (socio-economic category) C, D and E parents and teachers to rate and rank BPS in 73 cities/towns on 11 parameters of school education excellence.
In this year's 173-strong BPS national league table, the sample respondents have voted St. Mary's High School, Kalyan (promoted by Mumbai-based BPS champion Bharat Malik) #1, displacing Muni International School (MIS), Delhi. This year, MIS is ranked #2 jointly with Mukkaram Jah School, Hyderabad (#2 in Feb 2020), Nagarjuna Model School, Kadapa is promoted to #3 (4), SR Capital Public School, Delhi to #4 (5) with Sukhpal Senior Secondary School, Ugala #5 (5) completing the Top 5 table.
"We are delighted to be ranked India and Maharashtra's #1 BPS by EducationWorld. We are especially pleased with our high scores under the parameter of teacher welfare and curriculum & pedagogy (digital readiness) as our teachers have risen to the challenge of the national schools lockdown by swiftly moving to online education. We thank all our alumni, especially Akansha Singh, who came forward to help us and our teachers in digital transformation, making us all learners in the process. It's noteworthy that we have provided our students free-of-charge software to help them access online classes from any digital device at home, enabling high 80 percent full-
time attendance," says Bharat Malik, promoter-director of the flagship K-10 Maharashtra state board-affiliated St. Mary's High School, Kalyan (estb.1989) which has an enrolment of 1,980 students and 30 Microsoft-certified teachers on its muster rolls (annual tuition fee: Rs.22,000).
Similarly Siva Sankar Reddy, an engineering alum of Gulbarga University and chairman of the Nagarjuna Group of Institutions that manages Nagarjuna Model School, Kadapa (NMS-K, estb.1990), is very pleased with the promotion of this affordable BPS (annual tuition fees: Rs.20,000-30,000) to #3 (4) this year.
"I am honoured by NMS-K's national #3 and especially #1 rank in Andhra Pradesh. This is a great morale booster for our teachers. In the midst of the Covid-19 crisis, they have shown determination and capability by designing a system to reach our remotest students through recorded videos, interactive sessions through Zoom app, quiz-based evaluation etc. We are also grateful to our parents for supporting us and playing a critical role in this initiative. We will continuously strive to improve under all 11 EW parameters to take this school forward," says Reddy. Currently, NMS-K has an enrolment of 4,000 students and 200 teachers.
Beyond the Top 5 Shiksha Niketan, Jammu has retained its #6 ranking of February. Yet the most spectacular advancement in public esteem is of Olivia Enlightened English School, Siliguri, from #68 into the Top 10 at #7.
"It is gratifying that your informed respondents have acknowledged the dedicated efforts of our management committee, teachers and students and ranked us among the country's Top 10 budget private schools. We are especially pleased that our school has been rated highly under the new parameter of curriculum & pedagogy (digital readiness), infrastructure and leadership quality.
Olivia Enlightened English School introduced online classes last year for the purpose of classes XI-XII syllabus completion. Therefore with systems and processes in place, our teachers had no trouble at all to switch to digital classes in April this year after Covid-19 struck, forcing national lockdown of schools. We invest in school infrastructure on an annual basis as we believe in providing our students new enabling environments every academic year. Our high rating on leadership does not surprise me as we believe in a hierarchical flow of leadership that percolates from the management to teachers to students," says Sutapa Nandi, a science and education alumna of North Bengal University and promoter-director of Olivia Enlightened School (estb. 2010), sited in the heart of Darjeeling's picturesque tea gardens. Currently the school has an enrolment of 1,600 students instructed by 150 teachers (annual tution fee: Rs.15,600-19,200)
The Top 10 table is completed by Burnpur Riverside, Burdwan (also West Bengal) jointly ranked #7 (10); Little Star English School, Guwahati #8 (7). Little Flower Matriculation Hr. Sec. School, Kundrathur, Chennai #9 (11) jointly ranked with Sri Vijaya Sai High School, Nizamabad (Telangana) #9 (8) and Ashwini Public School, Bengaluru #10 (10).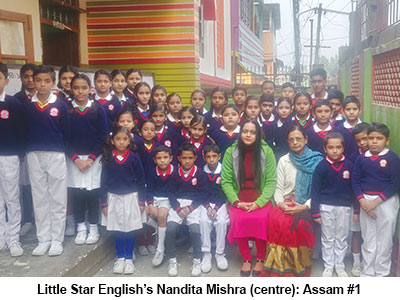 "We are proud to have retained our India Top 10 ranking and especially for being ranked Assam #1. This is due to our teachers managing the Covid-19 lockdown superbly through innovative use of WhatsApp, videos and digital apps such as Zoom. This Top 10 and #1 ranking proves that nothing can stop us from our mission of providing high quality English-medium education to underprivileged children," says Nandita Mishra, an education alumna of Guwahati University and IGNOU, and principal of Little Star English School, Guwahati (estb.1972). Currently, this K-10 school affiliated with the Assam State and CBSE exam boards has 200 students mentored by 25 teachers (annual tuition fees: Rs.12,000-14,000).
Beyond the Top 10, other BPS which have risen high in the national league table of the 173-strong sufficiently reputed budget private schools 2020-21 league table are: Priyadarshani School, Indrayani Nagar, Pune #19 (80); Gnana Bindu Vidyalaya, BG Rd, Bengaluru #42 (97); St. Xavier's High School, Virar, Mumbai #43 (85); Jingle Bells School, Eluru #45 (128); Lewa English High School, Bengaluru #46 (102); St. Francis High, Vasai #49 (104); Brigadier Trivedi Memorial Hr Sec School, Bhopal #26 (86); Drona Public School, Gurugram #53 (125); Navyug Sr Sec School, Kurukshetra #56 (120); Kudla Public School, Sidhatri Enclave, Delhi #57 (107); St. Xavier's High School, Naigaon, Mumbai #60 (124); MD High School, Bari Bassi, Ambala #62 (130); The Dwarka School, Chakan #65 (133); Father Agnelo High School, Malad, Mumbai #64 (123) and Hindavi Public School, Satara #64 (121).