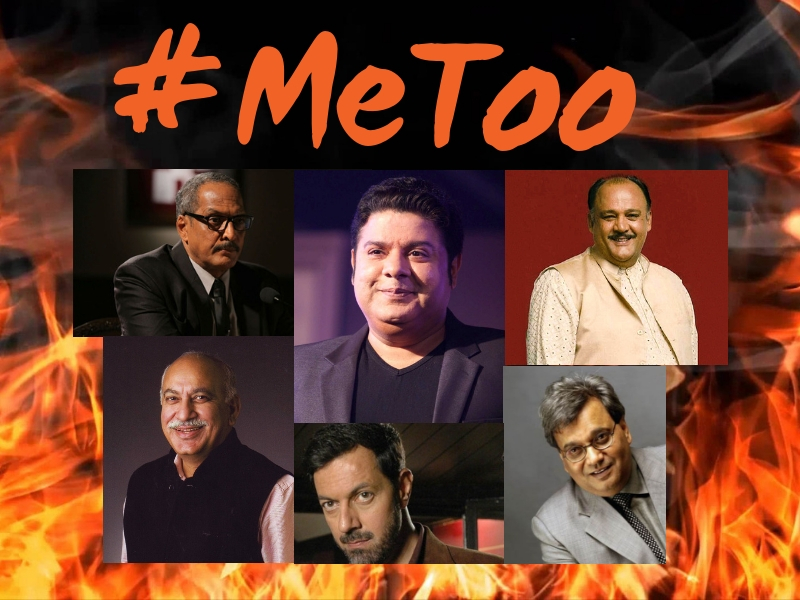 A year after allegations of sexual assault were levelled against Harvey Weinstein propelling the #MeToo into a national movement in the USA, India's much-awaited #MeToo campaign has exposed prominent Indian men with several women mustering courage to share their stories. Media moguls, bigwigs of the entertainment industry and an ex-minister have all been accused of sexual assault.
The #MeToo campaign in India gained momentum in October 2018 when Bollywood actress Tanushree Dutta spoke to the Indian media accusing veteran Bollywood actor Nana Patekar of sexually harassing her in 2008. Dutta's allegations shook not just Bollywood but the entire nation and unleashed the movement in India. Breaking their silence and setting themselves free from fear of social stigma, several women from various walks of life are now waging a war against the sexual predators on social media with their bold revelations.
Here are India's bigwigs who have been facing the wrath.
1. Nana Patekar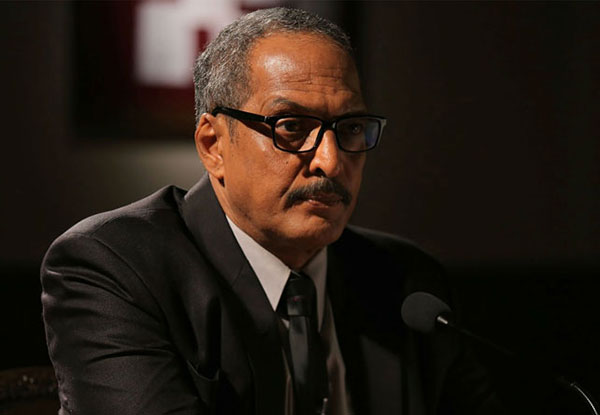 Bollywood actress Tanushree Dutta of the Aashiq Banaya Aapne movie fame who chose to stay away from the limelight for almost a decade has accused veteran actor Nana Patekar of sexually harassing her on the sets of the 2009 romantic comedy film Horn 'Ok' Pleassss. Dutta's allegations actually propelled the #MeToo campaign in India. Dutta said Patekar demanded that she should do intimate dance steps with him in an item song. But when she refused, far right-wing group attacked her car and jumped on the roof and smashed the windscreen. Dutta then walked out of the movie and left Bollywood altogether and has been residing in USA so far.
Dutta also filed an FIR and a case has been registered against Nana Patekar, choreographer Ganesh Acharya, director Rakesh Sarang and producer Samee Siddiqui all part of the same film. On the other hand, Patekar denied all allegations while addressing media and thereafter issued a legal notice to Dutta demanding a written apology. In wake of these allegations, Patekar has pulled himself out of the movie Housefull 4.
2. MJ Akbar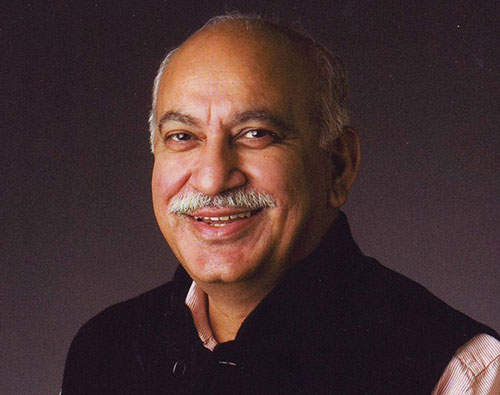 Senior journalist-turned-politician MJ Akbar is the most high profile person to have resigned from his post on October 17 as the Minister of State for External Affairs surrendering to the pressure of the #MeToo campaign. 20 women have accused MJ Akbar of sexual misconduct while he was at the helm of various media organisations. Columnist Priya Ramani was the first person to accuse MJ in a tweet on October 8, followed by journalists Ghazala Wahab and Shutapa Paul and Tushita Patel. Patel, who worked with Akbar for the Deccan Chronicle, narrated incidents when he allegedly tried to kiss her on pretext of work. However, denying the allegations Akbar filed a defamation case against Ramani which will come up for hearing on 31 October. In a yet another recent development, the Editors Guild of India has come out in support of the 20 women journalists, expressing its concern and assured all the other women journalists of full support.
3. Alok Nath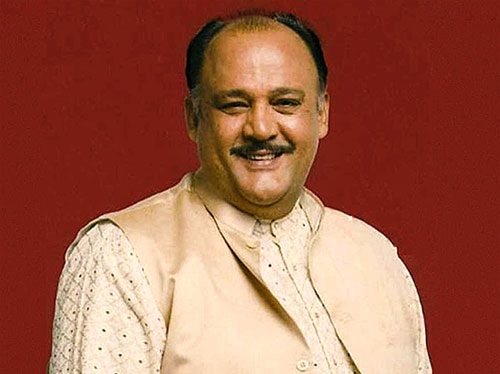 Writer and producer Vinta Nanda accused the actor Alok Nath of sexually violating and harassing her 19 years ago. Actors Sandhya Mridul and Deepika Amin also claimed of enduring Nath's drunkenness and sexual misconduct and spoke of their unsavoury experiences with Nath. Thereafter, film and television associations — Cine and Television Artistes Association (CINTAA) and Indian Film and Television Directors' Association (IFTDA) issued notices to Nath, which he rejected and filed a civil defamation suit against Nanda, demanding for a written apology and compensation of one rupee. On the other side, Nanda has filed a police complaint against the "sanskaari image" veteran TV and film actor.
4. Vikas Bahl
A former female crew member has accused Vikas Bahl, director of the movie Queen, of harassing her. Kangana Ranaut, lead actor of the movie Queen also accused Bahl of inappropriate behaviour. Soon after this episode, actor-director Anurag Kashyap, director Vikramaditya Motwane dissolved the production house Phantom Films that was established in 2011 by Kashyap, Motwane, Bahl and producer Madhu Mantena. Bahl filed a 10-crore defamation suit against Kashyap and Motwane alleging that they have made "slanderous allegations" against him and Bahl has suffered irreversible damage to his reputation. The case has been adjourned for hearing on October 19.
5. Kailash Kher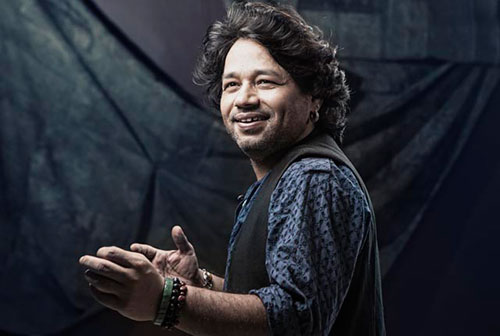 In her tweet, singer Sona Mohapatra had accused singer-composer Kailash Kher of sexual misconduct. Mohapatra accused Kher of placing his hands on her thigh during an official meeting. Recently, singer Varsha Singh Dhanoa has also accused Kher of sexual harassment in a video posted on YouTube. Varsha has alleged that Kher had tried to come in close proximity with her while she looked at Kher with respect and as a guru. However, Kher has denied the allegations and issued an apology saying he would never think of doing something so disrespectful since he respects women.
6. Prashant Jha
Prashant Jha was one of the first high-profile men in Indian media to have stepped down since the #MeToo movement was unleashed in the country. Jha stepped down as a political editor and chief of bureau of national daily Hindustan Times after allegations of sexual misconduct by a former Hindustan Times correspondent Avantika Mehta. In her post, Mehta has accused Jha of making her feel uncomfortable. She has also posted screenshots of Whatsapp conversations from 2017 on a social media platform.
7. Gautam Adhikari
The founding editor of DNA Mumbai and former executive editor of the Times of India, Gautam Adhikari resigned as a senior fellow of the Center for American Progress (CAP) after he was accused of forcibly kissing three women without their consent. In one case, a journalist has recalled what happened in 2006 when she was only 22 years old and Adhikari was the editor-in-chief of DNA. Adhikari has denied these allegations.
8. Vinod Dua
Veteran journalist Vinod Dua, consulting editor of The Wire, was accused by filmmaker Nishtha Jain of sexual misconduct and stalking her 30 years ago in 1989. Dua was the anchor of the television show Janvani way back then. Jain had published a long post on social media accusing Dua of making a lewd joke at her during a job interview and then stalking her for some days. On October 15, the Internal Complaints Committee of The Wire took note of the allegation. Dua issued a statement in the latest episode of The Wire podcast denying the allegations.
9. Varun Grover
Sexual harassment charges were levelled against the writer of Masaan and Sacred Games Varun Grover in an anonymous message in social media. As per the accusation, Grover had touched a junior inappropriately while studying at Banaras Hindu University in 2001. Grover had denied the allegations and has penned down an 'open letter' calling the allegations baseless fabrication. In his open letter, he has stated among the 36 women who studied with him in the university, four were a part of the theatre group. Grover in his defence has stated that all the four women had not only expressed solidarity with him but had also checked with the other women and had found that such an incident did not happen.
10. CP Surendran
Several women have named writer and journalist and former DNA editor-in-chief CP Surendran in their #MeToo allegations. The women were his former colleagues in various media organisations including The Times of India, DNA, Arré and Harper Collins Publishers India. Surendran has been accused of making sexual advances, misconduct and passing inappropriate lewd comments. A freelance journalist Karishma Upadhyay said he had commented on her breasts. This incident happened in the early 2000s while she was working with Bombay Mirror. Surendran has denied these allegations.
11. Utsav Chakraborty
Comedy group All India Bakchod's (AIB) former comedian Utsav Chakraborty was accused of sending nude pictures of himself to women. Chakraborty then apologised for his actions on social media. In the wake of these allegations, AIB decided to de-list all videos featuring Chakraborty. Founder-member Tanmay Bhat stepped away amid allegations that he did not act on complaints against Chakraborty. In a separate case, Gursimran Khamba also a founder-member of AIB who was levelled with allegations of sexual harassment by an anonymous woman was sent on temporary leave.
12. Sajid Khan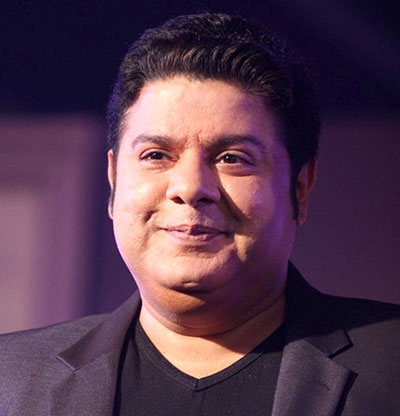 Bollywood director Sajid Khan of the movie Humshakals fame seems to be in deep troubled waters since he has been accused of horrific sexual misconduct allegations by actors Saloni Chopra, Rachel White, Simran Suri, and journalist Karishma Upadhyay and more recently Mandana Karimi. Saloni Chopra had formerly assisted Khan and, in her detailed post, she has shared her dreadful experience and alleged Khan of succumbing her to months of mental torture and sexual misconduct and called it the most awful experience of her life. Chopra has alleged that Sajid had asked her to send bikini pictures of herself so that he could have a look in case if she decides to become an actor while Karimi alleged that she was asked to remove clothes when she went to meet Sajid in his office for a meeting. Suri alleged that Sajid had asked her to strip when she met him for the casting of the movie Himmatwala.
Sajid Khan's sister and famous choreographer Farah Khan also tweeted condemning Sajid's actions and expressing solidarity with the women. Indian Film & Television Directors' Association (IFTDA) issued a notice to director Sajid Khan seeking an explanation. Succumbing to the mounting pressure, Khan stepped down as the director of the Housefull 4.
13. KR Sreenivas
KR Sreenivas who was alleged of sexual misconduct resigned as the resident editor of Times of India, Hyderabad on October 13. On October 8, writer-journalist Sandhya Menon and six other women petitioned to BCCL — the parent company that had bought Vijay Times and turned it into Bangalore Mirror demanding that Sreenivas should be sacked. He was facing several allegations such as sending lewd messages and making sexually laden gestures. Menon had first accused Sreenivas of touching her inappropriately while dropping her home one night in 2008.
14. Subash Ghai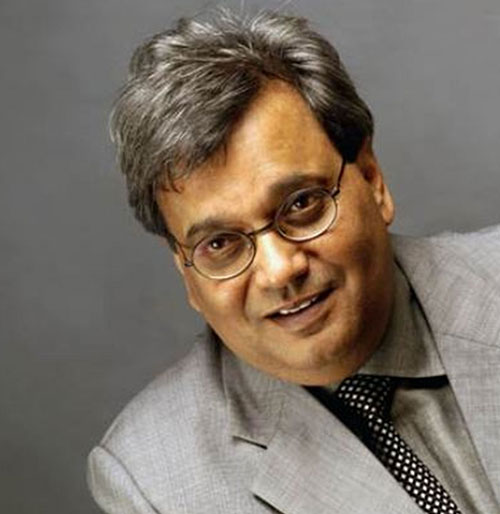 A police complaint has been filed by model and actor Kate Sharma against the famous director Subash Ghai of the Ram Lakhan (1989) Pardes (1997) and Taal (1999) fame. In her complaint, Sharma has alleged that Ghai forced her to massage him in the presence of five people. Sharma also accused Ghai of forcefully trying to hug and kiss her. In another post, an anonymous woman accused Ghai of drugging and raping her. However, Ghai has denied all allegations against him and said that some people were trying to tarnish his image.
15. Rajat Kapoor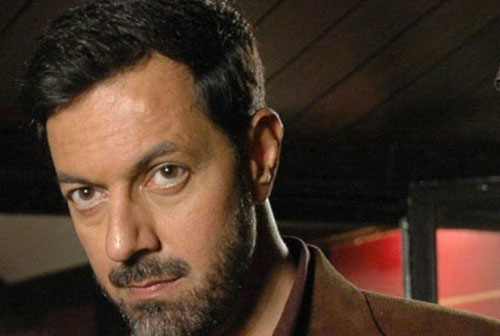 Two women have accused the actor, writer and director Rajat Kapoor of sexual harassment. One of the accusers who is a journalist alleged that during her telephonic conversation with the actor in 2007, he made some sexual comments and made her feel uncomfortable throughout the interview. Kapoor in his defence took to social media to apologise and said all his life he has been a decent man and if he has unintentionally caused trauma to anyone through his actions or words, he sincerely apologises to the concerned individuals.
16. Anu Malik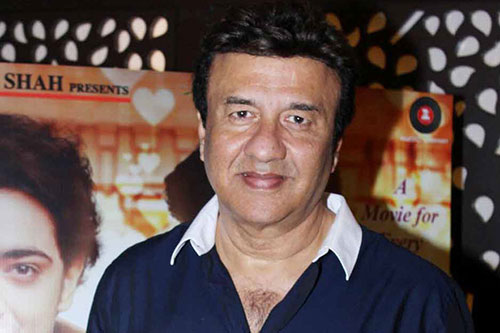 The famous music director, composer and singer Anu Malik is the latest addition to a growing list of men who have been named in the country's #MeToo campaign. On October 17, singer Shweta Pandit took to Twitter and detailed an alleged incident that took place in 2001 when she was 15 years old. Pandit called Malik a "paedophile and a sexual predator" and alleged that he had asked her to kiss her, during a voice test. However, Malik denied all the allegations and his lawyer issued a statement saying that the allegations are false and baseless and the MeToo movement cannot be used as a character assassination mission.
17. Suhel Seth
Many allegations have been levelled against well-known marketing consultant, Suhel Seth. The accusations came from filmmaker Natasha Rathore, journalist Mandakini Gahlot, writer Ishita Yadav, and model and actor Diandra Soares. Soares had posted about being "forcibly kissed by Seth" at a party in Delhi in 2012. Another woman Jasmine Divekar also posted her account of being "groped" by Seth in January 2017. India's giant conglomerate, Tata Group spokesperson said they have "taken note" of allegations against Seth since he is a consultant with the group and will decide on the further course of action.
18. Kiran Nagarkar
The first allegation against novelist, playwright, film and drama critic and screenwriter both in Marathi and English Kiran Nagarkar surfaced on October 5 when a woman told the journalist Sandhya Menon of Nagarkar's misconduct with her during an interview. The second allegation was posted by Poorva Joshi, who had gone to Nagarkar's home for an interview. She has alleged that he made her uncomfortable and made her sit too close to him and later forced her to hug him. The third allegation was made by journalist Shilpi Guha who had met him during a talk in 2015. Guha approached him for an interview and Nagarkar put an arm around her and touched her inappropriately. Nagarkar posted a statement on social media denying the allegations on October 11.
19. Chetan Bhagat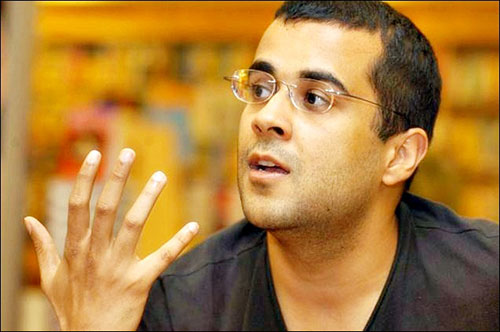 Chetan Bhagat was accused of sexual harassment by writer Ira Trivedi who detailed her own experiences in the Outlook column when she met him at the Jaipur Literature Festival in 2010 during a panel discussion, where Bhagat allegedly made her feel deeply uncomfortable. However, Bhagat refuted her claims and tweeted screenshots of emails sent to him by her in 2013 that ended with the line "miss u and Kiss u". However, Trivedi shot back and tweeted that Bhagat was pulling emails out of context and manipulating pop culture salutations.
20. Jatin Das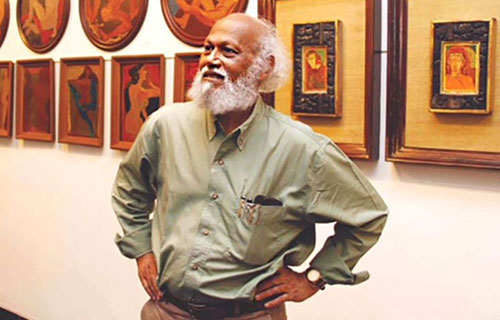 Entrepreneur Nisha Bora who met Padma Bhushan recipient, painter and sculptor Jatin Das during a dinner, took to social media and made allegations of sexual harassment against Das. In her post, she narrated in detail about 2004 incident when Das molested her when she had gone to assist him in a studio in Khidki village. Writer Garusha Katoch in a second allegation said that he had tried to kiss her forcibly in 2013 when she was interning with him at JD Centre of Art, where the painter is the founder-chairman. Actress Nandita Das' father Jatin categorically denied the allegations while Nandita posted that despite the "disturbing" allegations against her father, she would continue to support the women coming forward with stories of abuse and also warned that women need to be "sure" about their allegations before accusing someone.
21. Susi Ganesan
Independent filmmaker Leena Manimekalai had accused Tamil film industry director Susi Ganesan that way back in 2005, he offered to drop her in his car, and in order to save herself from his predations, Leena wielded a knife. Famous Actor Siddharth Suryanarayan of the "Rang De Basanti" movie fame supported Leena in the #MeToo campaign and recently took to twitter alleging that he has received threats from Ganesan for supporting Leena and has reaffirmed that even after the threats he will continue to support Leena. On the other side, Ganesan has denied allegations.
22. Vairamuthu Ramasamy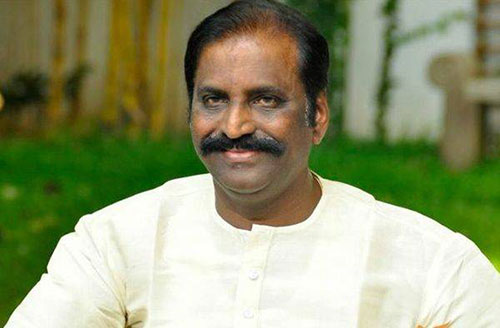 Many women have accused veteran Tamil film lyricist Vairamuthu Ramasamy of sexual harassment. Among them are Sindhuja Rajaram and a California-based musician and singer Chinmayi Sripaada who have made allegations of sexual misconduct against Vairamuthu. Speaking on his stride, Vairamuthu released a video denying all allegations and claimed that he has collected unassailable evidence in his defence and is ready to face his accusers in court.
23. Satadru Ojha
Calcutta Times editor Satadru Ojha has been accused of sexual harassment. On October 8, a woman alleged that when she was working with The Times of India's supplement newspaper between 2013 and 2015, Ojha had sexually harassed her. She claimed that she approached the sexual harassment committee and the police. Her case was dismissed at both the places. Ojha in his defence stated that his ex-colleague had made false allegations against him both of which were dismissed by the police and the court.
24. Arjun Sarja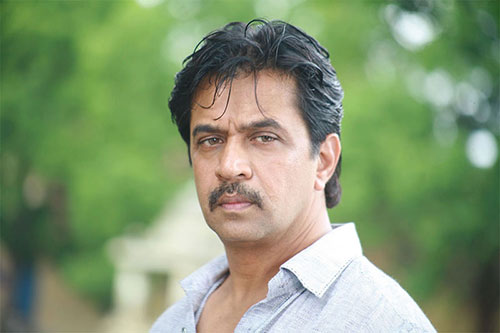 Sandalwood actress Sruthi Hariharan made allegations against popular South Indian multilingual actor Arjun Sarja also called 'Action King' who has acted in over 150 movies including Tamil, Telugu and Kannada. Hariharan alleged that Sarja had touched her inappropriately during the shoot of the movie Vismaya a year ago. On the other side, Sarja has denied the allegations and said he will file a defamation case.
Also read:
Raising male children in the #MeToo era
Gurugram school boy who was named in #MeToo post, commits suicide