Within the small minority of glamorous wholly residential international schools, the vintage Woodstock, Mussoorie, Good Shepherd International, Ooty and Kodaikanal International School continue to dominate the EWISR league table.
Within the small minority of glamorous international wholly residential schools, the Woodstock School, Mussoorie enjoys exalted status. Constructed in 1854 by American missionaries on a scenic 250-acre campus in the Himalayan foothills offering breathtaking vistas, Woodstock has won golden opinions as India's oldest wholly residential international school for setting globally comparable benchmarks for delivery of Western curriculums, pedagogies, pastoral care and excellent co-curricular and sports education. Little wonder that this 165-year-old institution has been consistently ranked India's #1 international residential school in the annual EW India School Rankings (EWISR) since 2015. This year too, the 4,000-plus sample respondents in north India interviewed by field reps of the Delhi-based market research and polling company C fore have voted Woodstock the country's #1 international residential school. More significantly, the knowledgeable sample respondents have ranked the IB-affiliated Woodstock #1 across all categories of international schools (day, day-cum-boarding and residential) on four parameters of K-12 education excellence — co-curricular education, infrastructure provision, internationalism and pastoral care.
"It's an honour to be once again recognised for our academic excellence and holistic approach. At Woodstock, education is balanced, as evidenced by our wide array of co-curricular and extra-curricular programmes on a campus surrounded by natural forest. In the past year, Woodstock has had a major makeover and we are now a full IB (Geneva) school. This will enable us to better prepare our students for entry into the best universities worldwide. In recent years, we have also introduced our Scholars for Peace programme to diversify our campus culture by recruiting students from strife-torn nations around the world. We will continue to upgrade facilities and innovate pedagogies to equip students to deal with the complex problem-solving skills required in the 21st century," says Dr. Craig Cook, the newly-appointed principal of Woodstock. An alumnus of Biola University, California (intercultural studies and theology) and Ateneo de Manila University, Philippines (Ph D in sociology), Dr. Cook brings with him over 30 years of teaching and admin experience in schools and community development projects in the US, Philippines and Indonesia.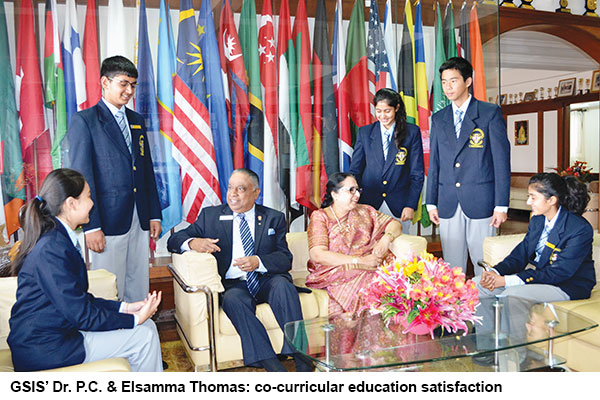 Following Woodstock in the exclusive league table of India's most admired international residential schools — the smallest league table of the EW India School Rankings — is the superbly equipped Good Shepherd International School, Ooty (GSIS, estb.1977) at #2 and Kodaikanal International School (KIS, estb.1901), ranked #3. Sprawled across 180 green acres in Ooty — "the queen of hill stations,"— the CISCE (Delhi), Cambridge International (UK) and IB (Geneva)-affiliated GSIS offers unparalleled academic, sports and co-curricular education to its 800 students, and has displaced the vintage KIS as Tamil Nadu's #1 international residential school. Moreover, GSIS is top-ranked on the parameters of infrastructure provision, co-curricular education and safety and hygiene across all categories of international schools.
"We are pleased that GSIS has retained its national ranking, and that we are top-ranked on the vitally important parameters of infrastructure provision, co-curricular education and safety and hygiene. The top-score for co-curricular education is especially satisfying because GSIS provides the most extensive music and performing arts curriculum of any school in India. Highly-qualified teachers and coaches train students in 17 musical instruments and a wide range of sports and games," says Dr. P.C. Thomas, promoter-principal of GSIS.
Ranked #4 among India's elite international residential schools is the Plus Two (IB Diploma)-only Mahindra United World College, Pune followed by the vintage Hebron School, Ooty, #5. Cathedral Vidya School, Lonavala, #6 and SCAD World School, Coimbatore #7 have exchanged their 2018-19 ranks, while MIT Pune's Vishwashanti Gurukul has retained its #8 ranking.
Although the Hebron School is ranked among the Top 10 international schools (across all categories) on the parameters of life skills education, internationalism, co-curricular education and competence of faculty, Phil Reynolds, principal of this Cambridge International (UK)-affiliated co-ed school promoted in 1899 "to serve the Christian workers community of India and South-East", is sceptical about the elaborate EW India School Rankings methodology. "I would be very interested to visit other residential schools that are ranked higher than Hebron. I have worked in several boarding schools the world over during the past 14 years and I can't imagine a school that provides better pastoral care than Hebron or more competent faculty. This is why we have 28 nationalities among our staff and pupils, and an extensive curriculum for personal development. I find it difficult to believe that any school countrywide is as fully committed to serving its community and building and balancing academic and co-curricular programmes," says Reynolds, an alumnus of Leeds University, UK who has served with several premier boarding schools including Gordonstoun, Scotland and Dame Alice Owen School, UK, before he was appointed principal of Hebron last year.