The status quo has been maintained at the top table with Rishi Valley School, Chittoor and Doon School, Dehradun ranked the country's top legacy boarding schools this year as well
The great churn witnessed in the Top 10 rankings of India's most admired day schools is not replicated in the league table of the country's most respected traditional or legacy boarding schools. The status quo has been maintained at the summit with the new age Rishi Valley School, Chittoor established by seer-educationist J.D. Krishnamurti in 1926, retaining its numero uno position. Although another 'swamiji school' Chinmaya International Residential School, Coimbatore (CIRS) and the previously unranked Birla Public School, Pilani have entered the Top 10 list this year, the remaining seats at the top table have been allocated to India's British-inspired traditional boarding schools with the top two girls' schools — Mayo College Girls, Ajmer and Welham Girls following the blue-chip Doon School, Dehradun ranked second again this year.
But with CIRS and Birla Public entering the Top 10 list, the seating arrangement at top table has been slightly rearranged with the neighbour schools of Lawrence, Sanawar and Bishop Cotton, Shimla sharing fifth place, Daly College, Indore moving down to sixth and Assam Valley, Balipara to No. 7, although this relatively new vintage class III-XII institution (estb. 1995) retains its stellar position as the top-ranked boarding school in eastern India.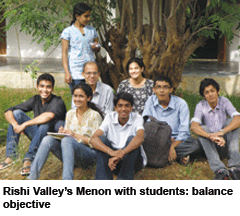 Yet while the public is likely to be impressed by Rishi Valley School (RVS) being ranked the country's most respected legacy boarding school for the second year consecutively, Siddhartha Menon, vice-principal of the school is lukewarm about it. "RVS has never seen itself as being in competition with other schools. With due respect, we question whether school rankings add value to educational work around the country. We have great regard for a variety of sincere initiatives in education, and feel there is considerable scope for schools to learn from one another rather than be seen as pitted against each other," says Menon.
Nevertheless, Menon derives some measure of satisfaction from this year's rankings in which new age schools, and Krishnamurti Foundation schools in particular, have been highly ranked. "Within the parents' community, I sense much anxiety, arising partly out of disillusionment with mainstream education. It's possible that people are becoming increasingly aware of the complex issues we face — socio-economic, environmental, sectarian and even psychological — and are seeking alternative approaches to them," he adds.
Beyond the Top 10, a noticeable feature of the boarding schools league table this year is that military schools promoted by the Indian Army or the defence services have considerably improved their ranking, with the Army Public School, Dagshai (Himachal Pradesh) weighing in at No.11, and the Rashtriya Indian Military College, Dehradun at 12. And in keeping with the broad trend of a swing of opinion in favour of 'swamiji schools', Chinmaya International Residential School, Coimbatore has considerably improved its public reputation rising from No.18 in 2011 to 9 this year, and has established itself as the No.1 boarding school in the southern state of Tamil Nadu (pop. 62 million).
Shanti Krishnamurthy, principal of Chinmaya International, describes the school's ascent in the 2012 league table as ''highly appropriate'' since CIRS (estb. 1996) has successfully implemented its Chinmaya Vision Programme designed for ''integrated development of students with special focus on Indian culture, patriotism and universal outlook''. She is especially pleased that CIRS has been highly rated on the parameters of life skills and conflict management, and parental involvement. "We have a strong emphasis on life-skills education which has been effectively embedded in the curriculum, and we have a strong parents' network. In fact, the CIRS entrance examination held every November in 43 centres worldwide is coordinated by our parents,'' says Krishnamurthy.
Further down the list, eastern India's vintage boarding schools, St. Joseph's North Point, St. Paul's, Darjeeling, and the Himali Boarding School, Kurseong — all within easy driving distance of each other — are ranked among the Top 20, but after the Assam Valley School, Balipara (estb. 1995) which has consolidated its position as eastern India's premier boarding school since 2010. Derek N.A. Mountford, the cheerful headmaster of AVS, is delighted that within less than two decades of its promotion, AVS has confirmed its position as the premier legacy boarding school of eastern India. "It's enormous encouragement and reassurance that the AVS adventure which began a mere 17 years ago has risen so high in public regard. Its top-ranking validates our model of organisational development," says Mountford who identifies "strategic planning, freedom to experiment, and propensity to reinvent operations" as prime features of the AVS organisation development model.
Notable entrants within the Top 30 boarding schools league table this year are KIIT International, Bhubaneswar, ranked No.20 which is also the top-ranked boarding school in the eastern seaboard state of Orissa (pop. 41 million) and Scindia Kanya, Gwalior (21), a sister school which is closing the gap separating it from the Scindia (Boys) School, Gwalior ranked No. 10 this year. Moreover five formerly unranked schools — Genesis Global, Noida; Unison World School, Dehradun; Shah Satnamji Girls, Sirsa (Haryana); St. Thomas Residential, Thiruvananthapuram, and the Sagar School, Alwar (Rajasthan) — have sufficiently impressed sample respondents to debut within the Top 30.
However, in the case of boarding schools as well, inclusion within the Top 1-45 of the all-India league table is becoming incrementally less important than ranking in the states table. Because with the introduction of weekly boarders and relatively liberal attitudes towards exeats and home visits, there is a trend towards sending children to boarding schools within easy reach. Therefore, the rank awarded by respondents in the states league tables are becoming increasingly important and relevant, which is why the regional league tables of yesteryear have been replaced by state league tables.