With the country's cities having transformed into toxic, over-crowded gas chambers, the prospect of sending the children off to boarding schools in the hills to breathe clean air while receiving their unique mix of excellent academic, co-curricular and sports education, has become an increasingly attractive option for SEC 'A' households
With the country's bumbling and self-serving neta-babu brotherhood having made air and water pollution, traffic congestion, slums and health hazards normative conditions in India's ill-planned and over-crowded 374 cities with a population of more than 1 million, boarding school education, which had become unfashionable as American socio-economic lifestyles became popular within India's growing SEC (socio-economic category) 'A' upper middle class households, is making a comeback. Presciently, our British masters who oppressively ruled India for almost two centuries, encouraged establishment of boarding schools in carefully developed hill stations far from the noise and bustle of the hot and crowded cities of the plains. And the silver lining to the clouds that rained poverty and misery on the subcontinent's people for almost 200 years during the British Raj is that India's hill stations continue to host some of the world's best boarding schools, modelled upon imperial Britain's finest.
Most of these vintage legacy boarding schools, some of them promoted 150 years ago, have survived and flourished, despite the sustained criticism and hostility of trendy leftists who dominate academia and the media, and professedly socialist governments at the Centre and in the states. And with the country's cities having transformed into toxic, over-crowded gas chambers, the prospect of sending the children off to boarding schools in the hills to breathe clean air while receiving the unique mix of excellent academic, co-curricular and sports education for which British-inspired boarding schools are globally famous, has become an increasingly attractive option for SEC A households in 21st century India.
The resurgent popularity of India's vintage boarding schools is also attributable to their enlightened boards of governors dominated by conservative businessmen, military brass and progressive principals, who have modernised their infrastructure and significantly improved pedagogies, pastoral care and learning outcomes. Moreover, compared with the country's new genre post-liberalisation international schools equipped with 5-star facilities and affiliated with offshore examination boards, legacy boarding schools tend to be affordably priced. Hence their resurgent popularity.
Against this backdrop and the historical reality that India's legacy boarding schools are modelled upon imperial Britain's best and most famous public (exclusive, private) schools, it is a matter of wonderment and telling evidence of the mental and attitudinal independence of contemporary India's SEC 'A' elite that the Rishi Valley School, Chittoor, Andhra Pradesh (RVS, estb. 1926) has been repeatedly voted India's #1 co-ed boarding school for the past seven years including 2018-19, by different batches of SEC 'A' sample respondents. RVS follows the teachings and tenets of the home-grown philosopher-educationist and seer J. Krishnamurti (1895-1986), and on several markers is the antithesis of British boarding schools (no uniforms, vegetarian meals without great emphasis on sports and games).
Dr. Anantha Jyoti, an English and linguistics alumna of IIT-Madras who taught English to the English in the UK, signed up with RVS as a teacher in 1996 and was promoted to the principal's office in June this year, is uncertain why this home-spun CISCE-affiliated class IV-XII school has attained an almost impregnable top ranking in the co-ed boarding schools league table of the annual EducationWorld India School Rankings (EWISR). On the contrary, she expresses apprehension that parents may get "carried away" by the top rank repeatedly awarded to RVS and may enroll their children in this no-frills, nature-friendly school "without ascertaining if they are in sync with our philosophy". She attributes the highest rating RVS has received on seven of the 14 parameters of excellence to the consistent support of the school's community "which includes students, staff, support staff and parents".
"Krishnamurti's education philosophy with its emphasis on respect for and harmony with nature, development of the inner mind and reflection as also the school's serene environment have made a deep impact on educationists, students, parents and teachers. This perhaps explains the high public reputation of RVS," she says. Currently RVS has 370 students mentored by 60 teachers on its muster rolls.
It's also pertinent to note that two of the six primary-secondaries promoted by the Chennai-based Krishnamurti Foundation of India (KFI, estb. 1968) — Rajghat Besant School, Varanasi (#6) and Sahyadri School, Pune (#9) — are ranked among the Top 10 co-ed boarding schools this year. Moreover, according to S.P. Kandaswamy, secretary-general of KFI, the foundation's counterparts in the UK and USA have promoted schools — Brockwood Park, Hampshire, and Oak Grove School, California, respectively — both of which are "doing very well". Indeed according to several knowledgeable educationists, the KFI school model is eminently exportable worldwide and certain to be warmly welcomed by communities in Western countries where a backlash against rampant consumerism and environment despoliation is gathering momentum.
Although the Top 5 table features the same schools of 2017-18, with several schools jointly ranked in this category this year, the table is bigger. While the superbly equipped Jain International Residential School, Bangalore (ranked #1 on the parameter of infrastructure provision in this category for the past two years) retains its #2 rank jointly with Lawrence School, Sanawar which has been promoted from #3 in 2017-18, the highly rated Assam Valley School, Balipara (which together with the Miles Bronson Residential School, Guwahati (#7) has transformed the K-12 education topography of North-east India) is ranked a notch higher at #3. The scenic Chinmaya International Residential School, Coimbatore (CIRS, estb.1996), routinely ranked among the Top 5, is ranked #4 this year (2) while Sherwood College, Nanital (7) and the relatively newly established Pinegrove School, Dharampur, Himachal Pradesh (6) have been promoted to the expanded Top 5 table.
Sonya Ghandy Mehta, the indefatigable head of the CISCE-affiliated Assam Valley School, Balipara (AVS, estb. 1995) which despite its location in a lonely tea garden in the neglected North-east, has made a huge impact on the national scene with its unique blend of a nature-friendly curriculum combined with state-of-the-art infrastructure and excellent co-curricular and sports education facilities, is pleased that AVS is among the Top 3 co-ed boarding schools this year.
"We are elated that AVS is nationally recognised as a school which teaches beyond the classroom. This has always been our USP, as we believe in educating the mind, body and heart. I am especially pleased AVS is ranked in the Top 5 under the parameter of internationalism because despite our rather remote location, we have been working hard to expose our students to life outside our microcosm. All our infrastructure development initiatives of the past five years have been undertaken with the objective of transforming education into an adventure, and developing our children to become global citizens transcending national boundaries," says Ghandy Mehta, an alumna of SNDT University, Mumbai and University of San Diego, USA and former teacher at The Shri Ram School, Delhi and Indus International, Bangalore, who was appointed head of school at AVS in 2013.
A dark horse which has been steadily advancing up the annual EW co-ed boarding schools league tables is the low-profile Pinegrove School, Dharampur (estb. 1991) sited on two scenic campuses aggregating 50 acres in the Solan Valley of Himachal Pradesh.
"The news that Pinegrove School is ranked among the country's Top 5 co-ed boarding schools was received with great pleasure and enthusiasm by our teachers, staff and students. The deeply-researched annual EWISR serve the very useful purpose of acknowledging and appreciating the work done by over 1,000 of the country's best schools. We are grateful to EW and the informed public for reposing faith in us. Our teachers and staff have worked with great zeal and passion to maintain very high standards of joyful learning which I believe is the unique sales proposition offered by Pinegrove School," says Capt. (Retd) A.J. Singh, an alumnus of National Defence Academy, Khadakvasla, Indian Military Academy, Dehradun and promoter-principal of Pinegrove School. Currently, the CBSE-affiliated fully residential Pinegrove has 932 students and 98 teachers on its muster rolls.
Beyond the Top 5, KFI's Rajghat Besant School ranked #6 (7), Miles Bronson, Guwahati #7 (8), Punjab Public School, Nabha #8 (9) (jointly with Kasiga School, Dehradun) and Wynberg Allen, Mussoorie #10 (11) have improved their rankings to be numbered among the Top 10.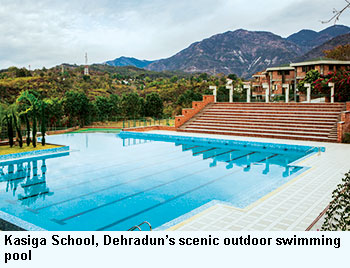 Among the other schools which have raised their 2018-19 rankings are Taurian World School, Ranchi at #11 (14) and #1 in Jharkhand, Sela Qui International, Dehradun #11 (17), Anubhuti School, Jalgaon (Maharashtra) #14 (20), The Sagar School, Alwar #15 (22) and #1 in Rajasthan; Indian Public School, Dehradun #18 (29), Peevees Public School, Malappuram #19 (24) and Fr. LeBlond School, Siliguri #20 (24).
Further down the list of India's 40-plus best co-ed boarding schools, institutions which have improved their rankings in 2018-19 are: International Sahaja School, Dharamshala at #30 (33), De Paul International Residential, Mysore #31 (34), Aryan School, Dehradun #32 (35), Usha Martin World School, Patna #33 (37) and #1 in Bihar; Brighton International, Raipur #35 and #1 in Chhattisgarh (38); Jain Heritage Cambridge, Nagpur #37 (41), the Himalayan International Residential School, Jalpaiguri (West Bengal) #39 (44) and the previously unranked St. Peter's International Residential, Hyderabad and Shanti Gyan International Sr. Sec. School, Dwarka which have debuted at #41 and #42 respectively.