-Riya Ganguly
A day devoted to the celebration of men's cultural, political and socio-economic accomplishments and contributions to society, International Men's Day is celebrated annually on November 19. Started by Dr. Jerome Teelucksingh in honour of his father's birth anniversary, the history professor from the University of West Indies reasoned that while there were days set out for celebrating fathers, no such day existed to celebrate boys, teenagers and men who were not parents. Recognising the need to celebrate positive male role models, he started International Men's Day as an occasion to bring men's issues and well-being to the fore and was received positively in the Caribbean, going on to achieve the worldwide status it enjoys today.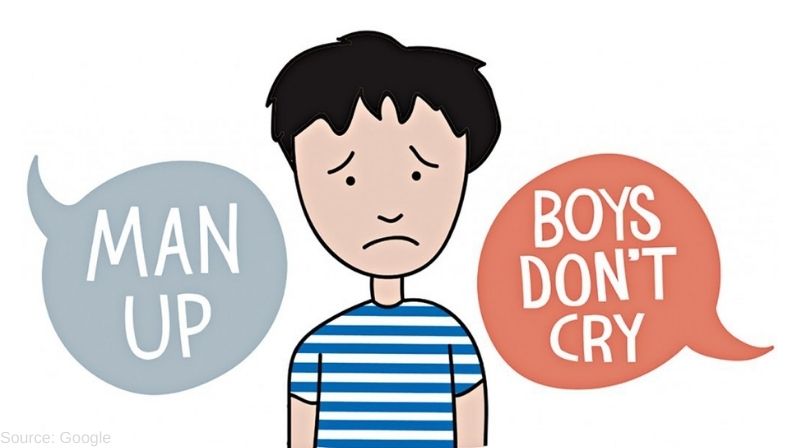 While several remain skeptical at observing men's day alongside other oppressed or minority communities, it is equally important to pay attention to issues affecting men which often tend to be overlooked- such as the unmindful propagation of toxic masculinity and a lack of importance to their mental health. Concepts ingrained in society, from "boys don't cry" and "men will be men" to the famous 'filmy' saying "mard ko dard nahi hota" contribute to the formation of such rigid stereotypes on masculinity. The celebration of this day aims to redraw the currently-warped definition of masculinity on more healthy and positive terms. Culturally conditioned to maintain the impression of 'strong', 'aggressive' and 'unmoved' men, boys from a young age are often stigmatized against the expression of emotion, undergoing emotional repression to varying degrees in adhering to such traditional toxic masculinity traits. A report by the World Health Organization deemed suicide to be the primary cause of the death of men under 45 years of age, where such rigid stereotypes forced upon them comprising this socio-cultural conditioning, lack of role models and sexual identity played a significant role.
Keeping this in mind, 'All the six pillars of International Men's Day' were established as objectives of celebrating the day, covering a large number of issues including the celebration of positive male working class role models alongside celebrities, acknowledging men's contributions to society, drawing focus on their emotional and mental well-being, acknowledging and fighting discrimination against men, encouraging gender equality and relations and working towards a safe and secure future conducive to the development of individuals to their full potential.
Highlighting one of the six pillars dedicated to the improvement of gender relations and gender equality, the theme for International Men's Day 2021 is 'Better relations between men and women'. Gender inequality has long been an issue not just affecting India, but the world at large. From educational inequalities to the financial schism manifesting as pay gaps based on gender, such gender inequality issues have only aggravated the strain between men and women. International men's day hopes to improve the strained relations between the genders by improving gender equality uniformly for men and women.
Also read: International Men's Day: Interesting facts about men
International
,
News