Akhila Damodaran & Sukanya Nandy
The new National Education Policy (NEP) 2020 that was recently approved by the Union Cabinet has been widely appreciated by students, educators and parents alike. However, they all look forward to the landmark NEP being implemented without too much delay. On the occasion of International Youth Day 2020, observed every year on August 12, EducationWorld speaks to the country's youth to find out their expectations from the new policy and what it means to them.
Many young students across the country are happy with the new education policy and wish it was implemented soon so that they could reap its benefits during their school/college days. They welcome the change in the academic structure from 10+2 to 5+3+3+4 system and the flexibility in the learning programme.
Divija Akshay Adappa, an 18-year-old student from Mumbai, who just completed her class 12 and has signed up for a liberal arts course says she is happy as the new education policy provides more scope to students. "Even today, much importance is given to engineering and medicine. Hence, this policy will encourage students to take up other courses and choose careers in other fields as well. The new academic structure of 5+3+3+4 will also help students who would like to pursue their studies abroad," she says.
However, Anisha Anil Kumar, a second year electronics and communications engineering student at Bits Pilani (Goa) feels the flexibility in learning programme may not be a good idea. "I am not sure if flexibility to choose the major and minor subjects in class 9 will help. At that young an age, we are not usually sure about what we would like to pursue. It took me a long time to understand what I would like to do in my life," she says. Binita Oraon, a 23-year-old BA graduate from Siliguri (West Bengal) adds that the flexibility can also be misused by students. "Initially, I thought it to be good policy but as I read and researched more, I realised this will not suit our needs. If flexibility in learning is provided, many students will take undue advantage of it and not take education seriously until forced by parents," she says.
Kriti Sinha, a 20-year-old BA student from Delhi wishes for it to be implemented earlier. "The policy recommends to reduce the pressure of board exams on students which is a good move. Also, the process of multiple entry/exit from a programme is good. It provides flexibility to students to choose a different subject if they are not interested in the one that they have chosen. They can exit the programme anytime with a certificate, diploma or degree. But learning in regional language/mother tongue should not be mandatory. It will affect students in case they move to a different city," she says. Anuj Brahmin, a final year MA student from the University of North Bengal, agrees. "Apart from the medium of instruction issue, I think the rest of the policy looks promising. We just now need to see how far it will be implemented," he says.
Chandrahass Khanna, a law student from Dehradun also appreciates the multiple entry/exit option. "This will help students to choose and work in two or more fields. It will promote different talents of a student. Also, the new curriculum focusses on analytics and critical thinking encouraging students to reskill and upskill themselves," he says.
On the other hand, though many students expressed their concerns about the medium of instruction being in mother tongue or regional languages, Smarak Chakraborty thinks it is actually a good idea. "Many children especially in rural households may not be comfortable in learning a new language. They can comprehend and understand the subjects better when taught in thier mother tongue/regional language," says the law student from Christ University, Bangalore. He adds that provision of free education will also help curtail the drop-out rates. "The only issue with the policy I think is that it doesn't actively involve parents who are important stakeholders. They are the ones taking the financial decisions when it comes to their children's education but the policy does not consider that," he says.
Ruhi Jain, a TYBA student studying Economics and Statistics at St. Xavier's College, Mumbai says "The NEP 2020 looks like a promising endeavour. The vocational training and experiential learning required for students of class 6 in humanities, social sciences, art, math, and sciences will go a long way in inculcating a multi-disciplinarian outlook amongst students. Getting to choose your subjects of study in class 9 is something that I wish I had! I firmly believe it will allow students to enter the workforce with a broader, more open approach to problems. The Academic Bank of Credit is something much-needed because it enables students to pursue other courses and reap the credit benefits of the same. However, despite all these positives, the implementation of the policy is what will determine its effectiveness."
Regarding the implementation of online classes during the pandemic, she says, "I feel online classes were the only way to go ahead with the academic course due to the COVID-19 pandemic. The swiftness and ease with which my college has transitioned to online classes are admirable. Teachers and students use a common interface to hold lectures, get doubts clarified, and share additional reference material."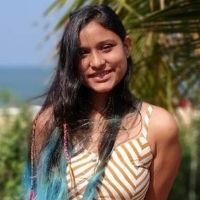 Radhika Dikay, a student representative of SYBA (Economics and statistics) says, "If executed with utmost efforts, I believe the NEP will mould the students in a better way and will give them the freedom to choose for themselves. According to me, a student's capabilities are not restricted to any particular field like science/commerce/arts and they shall be given the opportunity to explore every subject that interests them. This policy will definitely prove useful for each and every student in attaining greater heights of knowledge belonging to different genres and help them have a better understanding of what they want to do as a career."
"Online classes are a great way to keep the education going right from the comfort of one's home. It is difficult indeed, for the students as well as the teachers since we are all used to the physical teaching, however I believe that knowledge has no boundaries and can be acquired from anywhere, anytime." Radhika adds.
Abin Benny, a second-year Bachelors in Management Studies student says, "A good part of the policy that drew my interest is the new 5+3+3+4 years schooling structure. Even though Anganwadi education was an informal idea in the Indian education system, in the past many students missed on its benefits and would directly enrol into school education. The new structure would thus ensure that Anganwadi education is made available to all students," says Abin.
About online education, he says, "The online lectures have ensured that teachers give us daily assignments and report submission which makes sure that we are in touch with the topics being taught in class every day. The provision of studying through online platforms has made life easier. But of course, there are few things that I still miss from the conventional system. The online education has physically isolated me from my social peers. The lack of social interactions may even lead students to depression and anxiety. Thus, I believe that once the lockdown is lifted, at least once a week, students should be asked to come for campus education. This might help students cope up a lot better."
International
,
News