Hitherto one of India's most secular states with a 8-million strong and prosperous Muslim minority, Karnataka (pop.68 million) is experiencing slow spread of religious communalism with headscarves row.
Since December 31, 2021, six hijab (headscarf)-wearing Muslim girl students of the Government Girls PU College (classes XI-XII), Kundapur in the state's coastal Udupi district, have been prevented from attending classes by the management for violating the college's "dress code" and insistence on wearing the hijab. This hijab ban has quickly spread to other education institutions in the district with several other government colleges suddenly denying entry to hijab-wearing girl students even as Hindu male students in some colleges are registering their counter-protest by wearing saffron shawls.
In Karnataka's 1,233 government-run pre-university colleges, actually higher secondary schools providing classes XI-XII education, college development committees and/or School Development Monitoring Committees (SDMCs) are empowered to prescribe students' dress code and uniforms under the Karnataka State Education Act, 1983. However, the convention in the state's 51,084 government schools and junior colleges for the past several years has been to turn a blind eye to Muslim girl students wearing headscarves in addition to their uniforms. In the Government Girls PU College (estb.1952), the college development committee, currently presided by the local BJP MLA, suddenly prescribed a uniform that "does not include the hijab".
Comments Snehal Rayamane, director, Department of Pre-university Education, Karnataka: "We have spoken with the college principal and he says that a common uniform rule has been observed for 20 years. The protesting girls were not wearing the hijab until December. The change came all of a sudden. The PU department does not prescribe any uniform for any college statewide. That duty is of college development committees."
Political commentators and academics ascribe the sudden eruption of the hijab controversy to rising communal polarisation in Udupi — one of three districts (Dakshina and Uttara Kannada) in Karnataka's hitherto strongly secular coastal belt. Since 2014, when the Hindu majoritarian BJP was elected to power at the Centre, party cadres in the state have made Udupi a laboratory of majoritarian hindutva politics. Once a cosmopolitan, peace-loving district known for its scenic beaches, Udupi, which hosts the conspicuously secular Manipal University — repeatedly ranked India's #1 private university in the annual EducationWorld league tables — is now heavily polarised along religious lines. There have been repeated instances of hate speech against Muslims, incidents of political murders, communal riots, 'moral policing' by right-wing vigilante groups and a sangh parivar-led campaign against 'love jihad'. Moreover, since a BJP government was elected to office in the state in 2019, pro-hindutva vigilante groups have become emboldened to implement their divisive Hindu votes consolidation agenda.
Unsurprisingly, the activism of hindutva vigilantes has provoked a backlash. Several Muslim minority groups have sprung up to take on the BJP/RSS vigilante organisations. The BJP and the opposition Congress parties allege that the six protesting girl students have been propped up and supported by the Social Democratic Party of India (SDPI), political arm of the Popular Front of India, an Islamic organisation, which has lately made political gains in the Udupi municipal elections.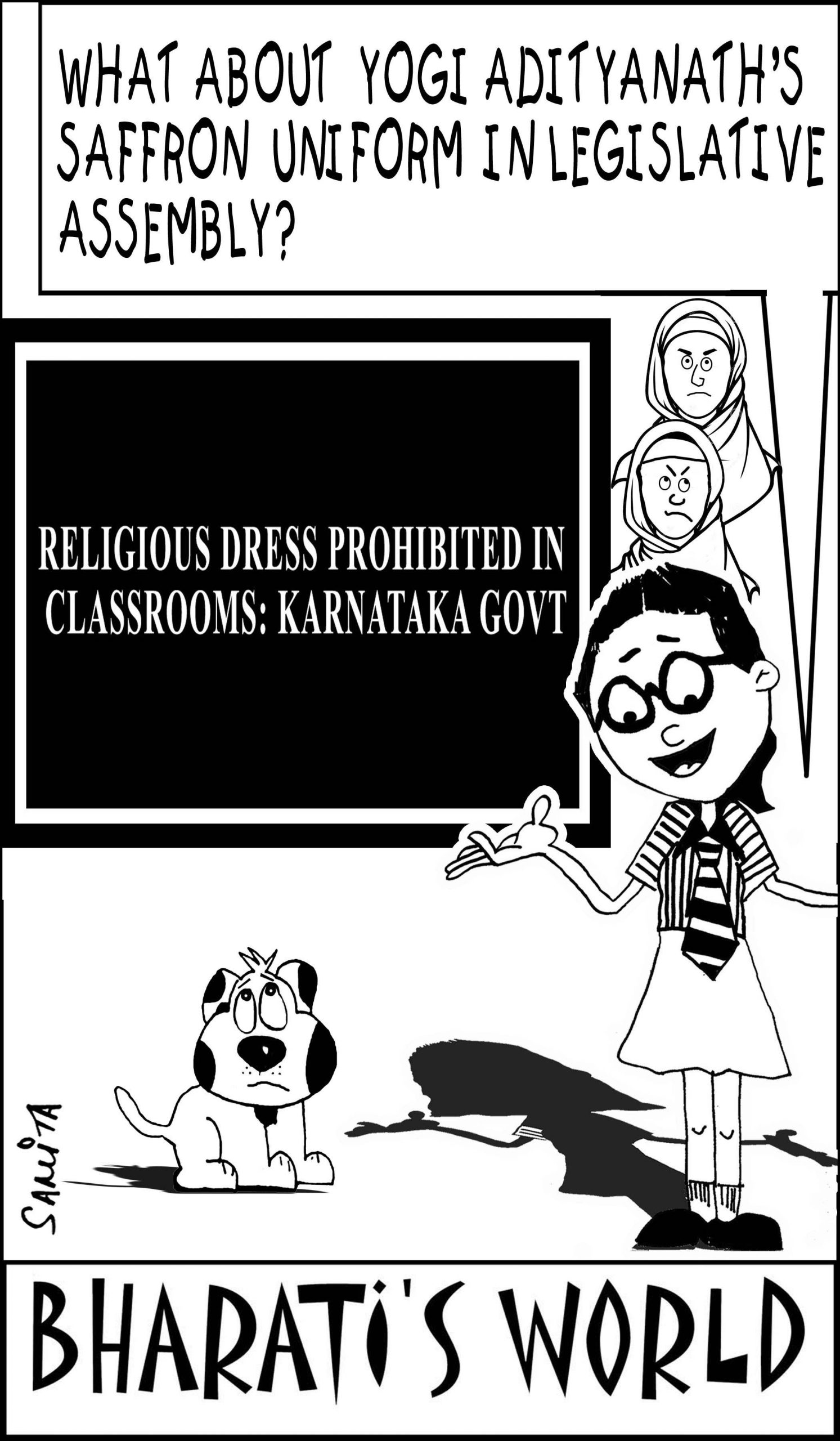 With the hijab row snow-balling into a major controversy at a time when students are returning to campus after the prolonged Covid lockdown, the state's education minister B.C. Nagesh has constituted a high-level committee to investigate the issue. Moreover on February 5, the Karnataka government issued an order directing all students to adhere to the uniform prescribed by their respective College Development Committees (CDCs), and in the event of no rules being prescribed by CDCs, students have been directed to "dress in a manner so as not to disrupt social order and ensure equality and unity are protected". Meanwhile the six protesting students have filed a petition in the Karnataka high court praying for an order to direct the college not to "interfere with their fundamental right to practise their religion".
According to Brijesh Kalappa, a Supreme Court advocate and spokesperson of the Congress party, the girl students' right to wear the hijab is protected under Article 19 (right to freedom of speech & expression) and Article 25 (right to freedom of religion) of the Constitution of India. "Legally, these girls can wear the hijab as long as they are also wearing the uniform. However, I believe the entire hijab controversy is politically motivated with both the SDPI and BJP trying to polarise and divide students along religious lines," he says.
Even as the Karnataka high court is all set to hear the girl students' petition in mid-February, the BJP's top leadership in Karnataka, which is leading the party's thrust into peninsular (south) India, is reportedly expressing quiet satisfaction. Majoritarian communalism has spread and infected the state's hitherto secular tradition which could translate into big electoral gains for the party in the next assembly election scheduled for 2024. If indeed SDPI has instigated the hijab controversy, it has been duped into playing the BJP game.
Summiya Yasmeen (Bengaluru)
Also read: Karnataka High Court: Interim order on Hijab, reopen educational institutions