In the 2019-20 Kolkata league tables of proprietary and franchised preschools, there's only one new entrant in each category, perhaps indicative that the ruling TMC has not yet reversed the toxic legacy of 34 years of Marxist rule.
Political volatility supplemented by capital flight, corruption scams and varsity campus violence — the legacy of 34 years of toxic Marxist rule over the state which the ruling Mamata Banerjee-led Trinamool Congress party (TMC) has been unsuccessful in reversing — perhaps explains why the 2019-20 Kolkata league tables of proprietary and franchised preschools has only one new entrant in each category. This is in marked contrast to the league tables of other metros — Mumbai, Delhi, Bangalore and Chennai — which feature several newly promoted pre-primaries this year, indicating an entrepreneurial boom in the early childhood care and education (ECCE) sector which it is pertinent to note, is not subject — as yet — to the bull-in-china-shop regulations of government.
PROPRIETARY PRESCHOOLS
Promoted in 1964 as one of Kolkata's first Montessori-inspired pre-primaries, Mongrace Montessori House, Short Street (MM-SH), has firmly established itself as the city's pre-eminent preschool. In the EW Kolkata Preschool Rankings 2019-20, MM-SH is ranked the city's #1 proprietary preschool for the seventh consecutive year with top scores under the parameters of teacher competence, teacher welfare and development, leadership, value for money and safety and hygiene.
"EducationWorld was the first publication to highlight the critical importance of early childhood care and education and rank the country's best preschools. Therefore, we are honoured and proud to be repeatedly adjudged #1 by this pioneer publication. I am especially happy with MM-SH's top score under the parameters of teacher competence and teacher welfare and development because the continuous training of our 32 teachers is a top priority of the management. Almost all our teachers have completed the British Council's online certificate courses on global citizenship and 21st century skills, and regularly attend professional development programmes. In 2019, the Early Childhood Association also conferred MM-SH the ECA Hall of Fame Award for teacher development and promoting best practices in reading. With a legacy of over 55 years, I am very satisfied that MM-SH has emerged as a model preschool for introducing new pedagogies and practices to enable children to learn joyfully," says Suman Sood, a graduate of Panjab and Madurai Kamaraj universities who took charge as principal of MH-SH in 2011. Currently, this pre-primary has 300 students mentored by 32 teachers.
Though the 647 sample respondents including parents of preschool children and ECCE principals and teachers interviewed in Kolkata by the Delhi-based Centre for Forecasting & Research (C fore) have retained MM-SH as the #1 preschool, they have voted for a major reshuffle of seating order further down the top table.
Swarnim International Preschool, NSC Bose Road, ranked #5 last year, has forged ahead to #2 pushing Mongrace Montessori House and Day Care Centre, New Town — an affiliate of MM-SH — to #3. Prarambh Preschool, BT Road has retained its #3 position even as Montessori Bal Nilaya, Lake Gardens, ranked #4 (6) and Little Steps School, Garden Reach, at #5 (11) have substantially improved their rankings this year.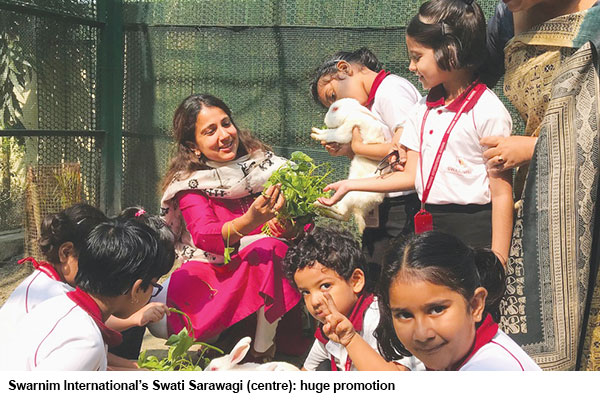 Swati Sarawagi, resident director of Swarnim International Preschool (SIP, estb.2016), is "elated" by this three-year-old preschool's steady ascent in the league table of Kolkata's best proprietary pre-primaries, and top score under the parameter of special needs education. "The huge promotion from #5 last year to #2 in 2019-20 has enthused our teachers and committed us to continuous improvement. I attribute this rise to the hard work, commitment and sincerity of our teaching and non-teaching staff, the active involvement of parents and careful introduction of well-researched and tested ECCE pedagogies. The top rank under the special needs parameter is also gratifying because we are committed to fully inclusive early childhood education, and all our teachers are specially trained for enabling children with special needs. It's also a matter of great pride that Swarnim is top-ranked for safety and hygiene because in preschool, this is a non-negotiable issue. We are one of few preschools in the city to receive the ISO 9001-2008 and fire safety certifications," says Sarawagi, a psychology and education postgrad of Andhra, James Cook (Australia) and Harvard (USA) universities and managing committee member of the city's top-ranked Heritage School. Currently, the preschool has an enrolment of 165 children and eight teachers.
Beyond the Top 5 too, there's been a rejig in the EW Kolkata proprietary preschool rankings 2019-20 with several hitherto low-profile preprimaries rising in public esteem. For instance Stepping Stone Montessori House, Salt Lake has moved up to #6 (#9 in 2018-19), Bubble Blue, New Town to #7 (10), Little Scholars, Sarat Bose Road to #8 (17) and Leap Years Preschool, Bhowanipur to #10 (16).
Indeed the 26-strong 2019-20 league table of Kolkata's top-ranked proprietary preschools is characterised by a major upheaval. Several pre-primaries have gained and lost rank indicating that the city's aware and knowledgeable respondents have rewarded preschools focused on upgrading ECCE teaching-learning standards while demoting those that are slipping (see league table p.67). The only debutant this year is Morning Smiles Preschool, New Alipore, ranked #19.
FRANCHISED
Except at the very top where Kangaroo Kids, New Alipore has retained its #1 position for the second year in succession, the league table of Kolkata's best franchised preschools has experienced a major shake-up. Tree House, Salt Lake ranked #6 last year is #2 in 2019-20, although Tree House, New Alipore, ranked #3 (2) has lost one rank. EuroKids, BB Block, Salt Lake has risen in the public esteem to #3 (5), Tree House, Ballygunge has retained its #4 spot and EuroKids, BJ Block, Salt Lake has slipped to #5 (3).
Archana Mantri, principal of Kangaroo Kids, New Alipore (KK-NA, estb.2002), is thrilled that Kolkata's 647 sample respondents have once again voted it the #1 franchised preschool of this metropolis (pop.5.8 million), and awarded it top scores on eight of the ten parameters of early childhood education excellence including teacher competence, teacher welfare and innovative teaching. "The KK-NA team is elated by this good news. It is the outcome of their hard work and diligence. I also want to thank our parents who have worked in harmony with us to take this school to great heights and our proprietor-franchisee Malika Varma for her unstinting support. The distinguishing characteristic of KK-NA, I believe, is our child-centred proactive curriculum designed by Kangaroo Kids Education. It is well-researched and integrates latest ECCE pedagogies to help children learn in a fun-filled, safe and nurturing environment. Moreover, excellent support is provided for teacher training and development," says Mantri, an English literature postgrad of Rajasthan University and principal of KK-NA. This preschool has an enrolment of 90 children and 23 teachers.
Franchisees of the Mumbai-based Kangaroo Kids chain of 100 preschools — which has been recently acquired by EuroKids International Ltd — have the maximum representation within the 15-strong Kolkata league table of sufficiently well-known franchised pre-primaries with six represented in 2019-20. Next is Tree House with three, EuroKids with two while the Delhi-based Little Millennium, Maple Bear and I Play I learn have one preschool each ranked in the Top 12.
Evidently the merger of Kangaroo Kids with EuroKids has had a beneficial impact on public perception with all Kangaroo Kids franchisees in Kolkata having improved/retained their rankings. For instance Kangaroo Kids, Bhawanipur has risen to #7 (#13 in 2018-19) and Kangaroo Kids, Bangur Avenue to #9 (11).
Ditto pre-primaries affiliated with the Mumbai-based Tree House chain of 200 preschools countrywide. The Tree House Ltd — a company listed on NSE — seems to have bounced back from its financial troubles which almost upended the company in 2017-18, and has improved its public reputation. Three Tree House franchisees — Salt Lake, Alipore and Ballygunge — are ranked among the Top 5 in Kolkata. In particular, Tree House, Salt Lake has risen high in public esteem, with Kolkata's knowledgeable respondents promoting it from #6 in 2018-19 to #2 this year.
Kunal Basu, partner of Edusol Pvt. Ltd, which runs the six Tree House franchised preschools in Kolkata and Howrah, is delighted that Tree House, Salt Lake (THSL, estb.2011) has been promoted to #2 with top scores for parental involvement and value for money (tuition fee: Rs.28,200-29,200 per year). "It is a very proud moment for us that THSL is ranked #2. The high ranks awarded to our schools by Kolkata's sample respondents is a huge morale booster and has made us determined to ensure all our schools are ranked in the Top 10. Our USP is the best-in-class curriculum provided to us by our head office in Mumbai; teacher-pupil ratio of 1:10 and year-round activities which enable children to learn-by-doing. Our top scores under the parameters of parental involvement and value for money are very reassuring. It's an indication that our parents are happy with the early childhood care and education their children are receiving," says Basu.