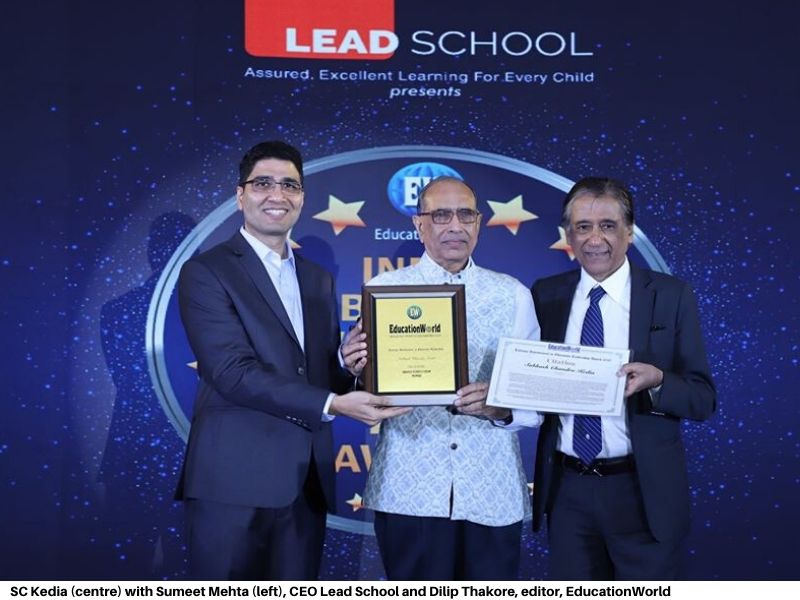 The Mumbai-based honorary secretary of the Unaided Schools Forum (USF) of Maharashtra for the past 18 years, Subhash Chandra Kedia is nationally respected for his relentless advocacy and campaigns to free the state's unaided private schools from the heavy hand of government regulation. As honorary secretary of USF Shri Kedia has led and won many battles against State control of private education. In 2014, USF won a partial victory in the Supreme Court exempting the country's minority schools from the ambit of s. 12 (1) (c) of the RTE Act, 2009 which mandates all private schools to reserve 25 percent capacity in class I for poor children and retain them until completion of class VIII. Moreover it was due to the USF's efforts that the Maharashtra state government exempted school teachers of unaided independent schools from election and census duties.
With degrees in science and law from Lucknow University and Rajasthan University respectively, Shri Kedia is a practicing lawyer who acquired valuable experience supervising the legal and administration of the education institutions of several business houses he was associated with before signing up with the Unaided Schools Forum in 1995. Moreover Shri Kedia is also legal advisor to the Gujarat Schools Association which has a membership of 6,000 private schools and to several educational trusts across Maharashtra and Gujarat. He has also enabled the promotion of schools in Nigeria, United Arab Emirates, and Kuwait.
"The K-12 education sector is too heavily regulated by the Central and state governments. Though private schools educate almost 40 percent of India's school-going children, they are constantly obstructed from discharging their role as education providers. Due to the country's archaic regulatory laws for education, over 80 percent of the rules are impractical to be implemented. The Unaided Schools Forum will continue its fight to limit government control of private schools and help them to become financially and administratively autonomous," says Shri Kedia.
For his dedicated leadership of the Unaided Schools Forum and championing the cause of unaided private schools, the Editors and Board of Directors of EducationWorld are proud to present the EW Lifetime Achievement in Education Leadership Award to Shri S.C. Kedia.