Real-life stories inspire, appeal and excite young children. Westland Publications' imprint Red Panda has published an excellent Little Leaders series for children. This collection of beautifully illustrated books for children between five-eight years of age, introduces them to stories of successful women who braved the odds to reach the top of their professions. Simply and lucidly narrated, these stories will delight and inspire children to dream big. Here are nano-reviews of three selected books from this collection.
Born to Bat by Arthy Muthanna Singh & Mamta Nainy Publisher: Westland Price: Rs.199
This illustrated biography narrates the eventful life of Mithali Raj, captain of the Indian women's national cricket team. A right-hand batswoman, she is the highest run-getter in international women's cricket and the only woman cricketer to score more than 6,000 runs. Her story of grit and determination and her contribution to making women's cricket popular in India is written eloquently and supported by appealing illustrations. Mithali's exploits on the cricket field has inspired a new generation of girl children to play male-dominated sports and games such as cricket and football.
Suni Goes to Space by Arthy Muthanna Singh & Mamta Nainy Publisher: Westland Price: Rs.199
Suni Goes to Space tells the inspiring story of Sunita Williams, an American astronaut of Indian origin, who until recently held the world record for most spacewalks by a woman (seven) and the longest spacewalk for a woman (50 hours, 40 minutes). A trained astronaut, Williams was assigned to the NASA International Space Station as a member of Expedition 14 and Expedition 15 space missions. This is a remarkable story of perseverance and courage, which will encourage girl children to dream and achieve big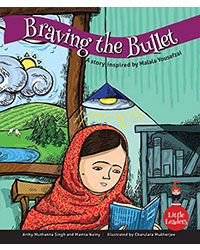 Braving the Bullet by Arthy Muthanna Singh & Mamta Nainy Publisher: Westland Price: Rs.199
This book narrates the courageous story of Malala Yousufzei who took a bullet from Taliban terrorists to protect the right of girl children in the Swat Valley, Pakistan to school education. For her persistent advocacy of the rights of girl children, Malala, an Oxford graduate, was awarded the Nobel Peace Prize in 2014. Braving the Bullet is the inspirational tale of a young girl child who contested male patriarchy to emerge as an international champion of women's education and freedom. In 2013 she promoted the Malala Fund to "work for a world where every girl can learn and lead". Last year the fund received $4 million (Rs.30 crore) in donations.