Company Overview
Chennai-headquartered Live Life Education Private Limited (estb. 2011) is a pioneer in the development and delivery of life transforming training programmes for students designed to make them not just industry-ready but also life-ready.
Founded by globally renowned psychiatrist Dr. Kannan Gireesh, Live Life Education (LLE) has been partnering with numerous well reputed schools and colleges across India impacting more than 2,00,000 students over the past seven years.
Committed to help the youth discover their life direction, understand the overall purpose of life, believe in themselves and to "live life to their fullest potential", the company offers a host of training programmes specifically designed for students, teachers and parents. The scientifically designed training curriculums draw from the exhaustive research and rich experience of its dynamic team of psychologists and psychiatrists.
Besides training programmes, LLE's team of highly experienced psychologists provide one-to-one personal counselling and support to promote personal development, emotional health and wellbeing.
Live Life Education Leader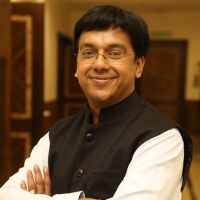 Dr. Kannan Gireesh is an established psychiatrist and founder-CEO of Live Life Education Pvt. Ltd. With an illustrious career in neuroscience and psychiatry, Dr. Gireesh is internationally acclaimed for his pioneering work on behavioural disorders in children.
He founded Live Life Education with the objective of providing a healthy, happy and successful future for the youth of India and thus contribute to national development. Having started with just one child in his clinic, Dr. Gireesh has so far helped transform the lives of 57,000 youths across the nation.
Dr. Gireesh currently serves on the advisory board of several nationally reputed universities and closely works with the government in developing innovative models for empowering the country's youth through transformative education. He also writes extensively for The New Indian Express.
Awards & Encomiums
For his excellent contributions to transforming the lives of the youth, Dr. Kannan Gireesh was honoured with 'AWARD OF EXCELLENCE' by Late Pranab Mukherjee, former President of India in April 2017.
In July 2017, Dr. Kannan Gireesh was felicitated by Thiru. K. A. Sengottaiyan, Minister for School Education, Government of Tamil Nadu on the 100th birth centenary celebration of M G Ramachandran.
The Round Table of India honoured him with the 'THE PRIDE OF TAMILNADU 2017' title as an emerging 'Achiever' in the field of education.
In October 2016, he received the Times of India 'EDUICON AWARD 2016' from Thiru. K. Pandiarajan, former minister for school education and sports and youth welfare, for his pioneering efforts in addressing students-related issues and creating impactful positive change in the education landscape of Tamil Nadu.
In October 2015, Dr. Gireesh became the youngest Indian to receive the Times of India 'EDUPRENEUR AWARD 2015' from Kiran Bedi for his exemplary commitment and impactful positive contribution to education in India.
"I have worked personally with Dr. Kannan Gireesh and found him to be very dynamic and creative person with the very strong desire to serve the students community of India. With his in depth knowledge in Psychiatry and Psychology I have no doubt that the Live life curriculum created by him would surely make a lasting impact on human thinking. I highly recommend his work to anyone who wants to move from where they are to where they want to be in a short span of time". – Jack Canfield, American author and motivational speaker, co-creator for the Chicken Soup for the Soul series.
"Today the youth of this nation face a lot of problems and uncertainties. Live Life programme is a wonderful initiative by Dr. Kannan Gireesh to bring about a positive change in the minds of the students." – R. V. Deshapande, higher education minister of Karnataka, who inaugurated the Life Breakthrough programme at Acharya Institute of Management Studies, Bangalore.
"This programme is the need of the hour for empowering the lives of our young generation. Live Life programme is a novel and inspiring concept which will go a long way in helping students to build a great future." – Pallam Raju, former Union minister for Human Resources and Development, Government of India.
"Live Life Education is a great initiative and a need of the hour. The unique programme aspires to bring out the best in every student. We perceived a visible difference in every student who undertook the programme. I wish the team continues their laudable job and impacts more youngsters for the betterment of their lives." – Dr. S. Geethalakshmi, vice-chancellor, The Tamil Nadu Dr. M.G.R. Medical University, Chennai, who inaugurated the Live Life Education workshop at Medical Kilpauk Medical College, Chennai.
"School education today has gone through a huge shift and along with it, the needs of the younger generation have also changed. Velammal has partnered with Live Life Education in bringing about a change in the perspective of the students towards their life, academics and wellbeing. We have seen tremendous improvement in the performance of the students who enrolled in the Live Life Education programme. I wish Live Life all the best for its future endeavours and we are looking forward to taking this up in a very big way in all our institutions." – M.V.M. Velmohan, director, Velammal Group of Institutions.
Life-transforming leadership programme for schools
Live Life Education has partnered with FranklinCovey Education as the latter's international partner in India to offer the 'Leader in Me' (LiM) programme — an evidence-based, comprehensive school improvement model developed in partnership with educators — that empower students with the leadership and life skills they need to thrive in the 21st century.
Inspired by the principles of Dr. Stephen R. Covey's bestselling book 7 Habits of Highly Effective People, the LiM model creates new paradigms, effective practices, and real results based on a theory of change known as the See-Do-Get Cycle. When you change the way you See things, it influences what you Do and the results you Get.
Instead of focusing on academic measures alone, LiM embodies a holistic approach to education, redefining how schools measure success. This approach empowers educators with effective practices and tools to:
teach

LEADERSHIP

to every student,

create a

CULTURE

of student empowerment,

and align systems to drive results in

ACADEMICS

.
Student Development
Students find their voice in the classroom and through leadership roles by learning and applying life-ready leadership skills.
Children at Leader in Me Schools thrive in a nurturing environment when they feel safe, confident, and supported by teachers and other staff members. By recognising each child as a leader with unique talents, all aspects of their education begin to flourish. This socio-emotional learning process equips students with essential 21-century skills to build meaningful relationships and take ownership of their education.
Staff Development
Administrators and staff participate in training workshops for personal improvement and professional learning opportunities.
Teachers can often lose sight of why they became an educator when working diligently to meet district, state and federal standards of academic performance. Leader in Me helps educators to rediscover their true passion for teaching by encouraging focus on holistic education. Leader in Me reminds educators of their purpose and direction as they reconnect with their vocation.
Family Development
Training workshops and other resources are also available to help parents or guardians develop life-ready leadership skills at home.
During the formative years of childhood development, parents are eager to discover ways to prepare their children for obstacles ahead. Leader in Me offers families a powerful framework that aligns to the same principles being taught at school. And it's not just helping kids finish their homework — families collaborate with their local Leader in Me school to encourage their child to cultivate leadership skills, like motivation, self-directed learning, self-confidence, and working well with others.
Transform School Culture
Leader in Me is a framework that helps schools achieve results by influencing behaviors and paradigms.
Leader in Me serves as the foundational operating system that integrates seamlessly into each school's unique priorities, initiatives, and culture. When implemented with excellence, Leader in Me redefines what it means to be a high performing school in the 21st century.
It provides schools with a model and process that address common challenges that are unique to students in their formative years. Parents, educators, and school administrators are concerned with their child's physical, mental, social, and economic well-being, all of which are factors that can contribute to or hinder academic success.
Children at Leader in Me Schools across the globe thrive in a nurturing environment where they feel safe, confident, and supported by teachers and other staff members. By recognising each child as a leader with talents to share, all aspects of education begin to flourish. This socio-emotional learning process equips students with essential 21-century skills to build meaningful relationships and take ownership of their education.
The LiM programme, which has been implemented in 5,600 schools across 150 countries so far, is currently being offered by 78 well reputed schools in south India. Among them:
St. Britto's Academy, Chennai
Jain Vidyalaya School, Chennai
Vel's International School, Chennai
Good Shepherd Mat. Hr. Sec. School, Chennai
Glendale Academy, Hyderabad
Kola Perumal Chetty Vaishnav Senior Secondary School, Chennai
Sacred Heart Matriculation Higher Secondary School, Chennai
Vidya Peetam Senior Secondary School, Vellore
Annai Violet International School, Chennai
Ssvm Matriculation Higher Secondary School, Mettupalayam
Ssvm CBSE School, Mettupalayam
Ssvm World School, Coimbatore
Ssvm School of Excellence, Coimbatore
Reeds World Schoolcoimbatore
Thangam Mount Litera Zee School, Salem
Jairam Public School, Salem
Kola Saraswathi Chetty Vaishnav Senior Secondary School, Chennai
Global Academy for Learning, Bengaluru
Rmk Residential Senior Secondary School, Gummidipoondi
Sagar International School CBSE, Erode
St. Ursula's Anglo Indian Higher Secondary School, Chennai
Vedanta Academy, Chennai
Achariya Group of Institutions, Pondicherry
Kingston International Academy – CBSE School, Vellore
St. Micheal's Academy, Nagapattinam
Other programmes/services
Counselling and Coaching
LLE provides free and confidential personal counselling and consultation to the youth to promote personal development, emotional health and wellbeing. Its highly qualified team of psychologists works with students at all levels, from elementary school through college helping them work through issues such as bullying, disabilities, low self-esteem, poor academic performance, social anxiety, problems with authority or problems at home.
Educator Management Programme
This programme equips teachers with the skills required to handle their students and help them to achieve their full potential in a fast-paced world.
Parenting Management Programme
As children grow up, they tend to become more secretive and reserved making it more difficult for parents to understand them. And when they don't handle their children's emotions with care, they often drive them away. This programme helps parents to deal with such challenges.
Student Development Programme
Life Breakthrough
Educational institutions focus primarily on teaching the syllabus and often fail to teach children how to live life. With the objective of addressing this gap in our education system, the Life Breakthrough curriculum enables students to develop a greater sense of self-awareness, manage their emotions and manage adverse situations. It helps them to build a strong mental and emotional foundation to succeed in life and career.
Communication Breakthrough
To become successful in life, an individual must be able to communicate effectively. The Communication Breakthrough programme helps students to identify their communication barriers and provides them proven techniques and methods to excel in life.
Career Breakthrough
Career Breakthrough enables students to get exposed to all the career opportunities and helps them to choose a lucrative career outside the conventional options. Students are provided extensive coaching on tackling problems in the work environment and maximising their career growth.
Contact
Phone: +919884446442
email: [email protected]
website: www.livelifeeducation.com