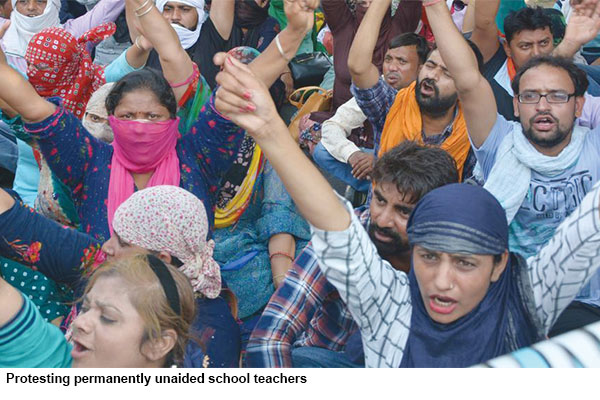 Apart from having a finger in every sector of economic activity, India's powerful control-and-command bureaucracy has a penchant for classification and categorisation. In 2001, babus of the Maharashtra state government created a category of 'permanent non-aided' schools.
These are primary, secondary and higher secondary schools managed by private trusts, societies and NGOs on 'permanent non-aided' basis to provide education in vernacular languages including Marathi, Hindi and Urdu in distant rural outbacks where schools — government or private — are few and far between. Since then, the number of permanent unaided primary-secondaries and junior colleges in Maharashtra has risen to 6,000 with an aggregate enrolment of 1.5 million students and 125,000 teachers on their muster rolls.
In 2009, responding to constant demands for financial aid from these 'permanently' unaided schools and in discharge of the State's (government) constitutional responsibility to provide elementary education to all children in the 6-14 age group under the provisions of Right of Children to Free and Compulsory Education (aka RTE) Act, 2009, the Maharashtra government dropped the 'permanent' tag attached to these schools and resolved to provide grants according to a prescribed formula to these (excluding English-medium) schools. The cabinet's decision was converted into government resolution (GR) dated June 16, 2009.
Under the GR, unaided schools meeting stringent evaluation norms (prescribed in another GR of November 15, 2011) of the state government's education ministry were eligible for grants that covered administrative costs including salaries of teaching and non-teaching staff. These grants were to be progressively scaled from 20 percent in the fifth year of continuous operation, to 40 percent in the sixth, 60 percent in the seventh, 80 percent in the eighth to a full 100 percent from year nine onwards.
Cut to 2019. This year, 6,000 of these former permanent unaided schools shut down for three days (August 27-29) protesting a lathi-charge on August 27 against 300 teachers grouped under the Maharashtra Permanent Unaided Kruti Samiti banner. They were demanding 100 percent government aid for these formerly permanent unaided schools and junior colleges. On August 27 when the protesting teachers attempted a march to the Mantralaya, the state's secretariat, to present the chief minister their demands, the police lathi-charged them.
The agitation of underpaid teachers of these sui generis schools which culminated in their boycotting Teachers Day (September 5) celebrations, is because the state government has failed to progressively raise annual grants to these schools as promised in the GR of June 16, 2009.
Following the fracas on August 27, Ashish Shelar, minister for education in the state government, met representatives of unaided schools and announced a 20 percent salary grant increase, aggregating Rs.304 crore for 65,000 teaching and non-teaching staff of unaided institutions for the year 2019-2020. He also promised cabinet approval for 100 percent grant before the code of conduct for the state's upcoming assembly elections became operative. However, even as the teachers decided to continue their agitation until the government agrees to their demand for 100 percent aid, the code of conduct came into force on September 21, a month prior to the state's assembly elections on October 21.
Thus far the first batch of schools — 399 primary and secondary schools — which completed nine years in 2012, have received full 100 percent grants within the stipulated timeline of 2012-2016. However, these unique schools suffered their greatest setback when the BJP/Shiv Sena government withdrew the June 16 GR and pleading funds shortage, reduced the annual aid grant to 20 percent of salaries plus admin expenditure by an overruling GR of September 19, 2016.
With s.19 of the RTE Act stipulating stringent infrastructure norms and teacher-pupil ratios for private schools, the managements of these essentially charitable private schools pay their teachers Rs.7000-10,000 per month — way below the scales prescribed by the Seventh Pay Commission. The expectation of teachers of these schools was that when they become eligible for the full 100 percent grants, their remuneration would be on a par with their peers in government and private-aided schools. That's why they are on the warpath.
"Despite the long delay, the previous Congress-NCP government respected the progressive grants increase formula. However, the BJP/Shiv Sena government has hit a new low in its disrespect of teachers by letting the police lathi-charge them. This is reflective of the low priority the BJP government accords to education. This government needs to wake up to the fact that without financial help, permanent unaided schools, which provide an essential service in rural and smaller towns, will have no option but to close down, ruining the education of 1.5 million students enroled in these schools and colleges," says Prashant Redij, spokesperson of the Mumbai-based School Principals' Association with 750 member schools.
Successive governments sidelining the issue of financial aid to these sui generis private schools has resulted in 156 protests statewide since 2004 when the Aurangabad bench of the Mumbai high court decreed that unaided schools are eligible for government grants. This Independence Day, a school teacher from Gondia district committed suicide, and another three attempted suicide. Such is the desperation among teachers of these formerly permanent unaided schools.
Dipta Joshi (Mumbai)