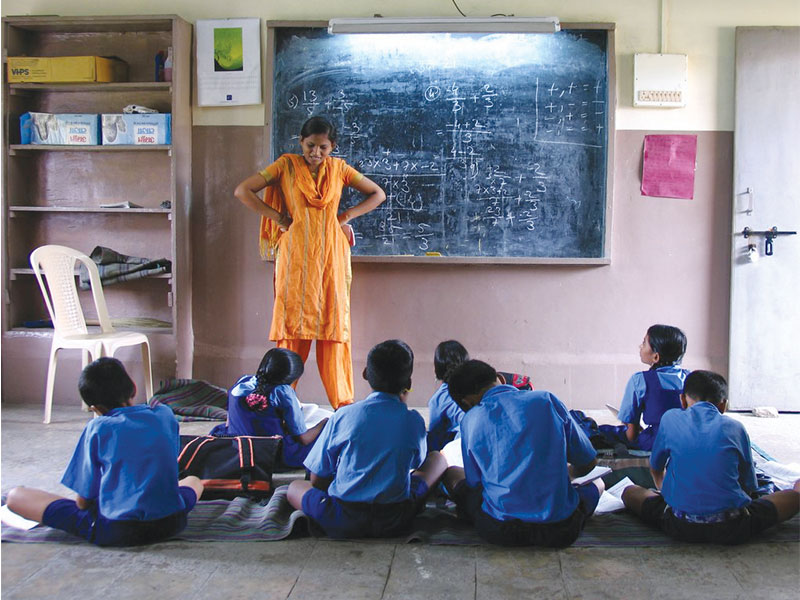 Free-of-charge primary-secondary schools owned and managed by the Municipal Corporation of Greater Mumbai (MCGM) — the richest local self-government institution in the country (2019-20 budget: Rs.30,692 crore) — continue to report steep decline in enrolments. The number of children enrolled in the corporation's 1,186 schools dropped from 3.11 lakh in 2017-18 to 3 lakh in 2018-19. Despite generous per capita outlays, free mid-day meals and providing two pairs of free-of-charge uniforms and textbooks, 35 percent (418) of MCGM's 1,186 schools host less than 100 students, a self-evidently unviable number.
This data is contained in The State of Municipal Schools in Mumbai, an annual white paper published by the Praja Foundation, a Mumbai-based NGO that studies data obtained under the Right to Information Act, 2005.
Tracking MCGM's record of providing quality education to children from bottom-of-pyramid households over the past decade, Praja's latest data analysis highlights a 59 percent drop in class I enrolments from 67,477 in 2009-10 to 27,918 in 2018-19. Not only is enrolment dropping, MCGM schools are struggling to retain the few who are enrolled. Only 22 percent children in class I in 2009-10 reached class X in 2018-19. The total number of students opting out of MCGM schools increased to 29,508 in 2018-19 from 15,978 in 2017-18.
Although MCGM has been dominated by the Marathi language chauvinist Shiv Sena for the past 23 years, in deference to the uniquely polyglot culture of India's commercial capital (pop.23 million) the MCGM provides entirely free-of-charge education to primary children in seven vernacular languages — Marathi, Gujarati, Hindi, Tamil, Telugu, Kannada, Urdu — in 980 primary (class I-VIII) and 206 secondary schools. And despite Shiv Sena leaders routinely beating the Marathi language drum, over the past few years MCGM's vernacular-medium schools have been emptying with enrolments declining year by year. Of the 41 vernacular MCGM schools shut down in 2018-19 due to teachers outnumbering children, 23 had adopted Marathi, the state's official language as the medium of instruction. According to the Praja Foundation, in the past decade 132 Marathi-medium schools have downed shutters.
This is because even within bottom-of-pyramid households — though politicians feign ignorance — there is strong preference for English-medium primary-secondary education. The MCGM's own 'semi-English' schools where natural sciences and maths subjects are taught in English, have witnessed a 25 percent increase in the number of enrolments from 77,487 in 2017-18 to 97,115 in 2018-19. Another indication of parents' growing aversion to education in the vernacular medium and high preference for English language education is evident in growing student enrolments in MCGM's 69 fully English-medium schools christened Mumbai Public Schools (MPS). Enrolments in MPS registered a rise of 5.22 percent from 75,918 in 2017-18 to 79,884 in 2018-19.
A household survey commissioned by Praja Foundation and conducted by the Mumbai-based Hansa Research Pvt. Ltd indicates that 87 percent of low-income households want to shift their children from free-of-charge municipal schools to fees-levying private budget schools (PBS). Even though many of the latter are not 'recognised' because they don't adhere to the teacher-pupil and infrastructure norms prescribed by s.19 of the Right of Children to Free & Compulsory Education (RTE) Act, 2009.
"In a self-proclaimed welfare state, closing down free-of-charge municipal schools is not an option. But there's urgent need to focus on quality of education and holistic development through values education, sport and art to restore parents' confidence in MCGM schools. The Shiv Sena which has ruled MCGM for the past 23 years, has to make school managements accountable. Even the corporation councilors — locally elected representatives meant to supervise MCGM schools in their area — don't seem to be bothered about attending the once-a-month school management committee (SMC) meetings that brings teachers, parents, headmasters, education experts and municipal education councilors on one platform to discuss ways and means to improve the school's functioning. Our survey reveals 74 percent of the councilors skipped every single SMC meeting in 2018-19. In the state's legislative assembly too, only one question related to high dropout percentages in MCGM's schools was asked in four years," says Milind Mhaske, director, Praja Foundation.
Curiously, enrolments in MCGM's schools are dropping despite the corporation's education budget increasing from Rs.2,454 crore in 2017-18 to Rs.2,740 in 2018-19. The corporation's per-child expenditure has also risen from Rs.51,007 in 2017-18 to Rs.60,878 in 2018-19, a very generous per capita outlay way above the national average of Rs.13,974 per child per year.
A small minority of educationists has consistently maintained that the public K-12 education system is primarily run for the benefit of over-paid teachers — usually fraudulently appointed kith and kin of state and local government officials. MCGM schools are a classic case study which supports this hypothesis.
Dipta Joshi (Mumbai)