Do it NOW!
Are you looking for a special way to tell your friend you care? Make a potpourri friendship jar that your friend will
treasure!
Get a pretty glass or plastic (transparent) jar or take an old one and remove the labels by soaking it in warm water.
Fill the jar with a mixture of goodies as suggested below.Ten or more pieces of coloured paper. On each, write a reason why he/she is your best friend. You can cut these in the shape of hearts, diamonds, etc. Now fill the jar with:
Friendship bands or colourful beads and two elastic strings (for the two of you to make friendship bracelets together on a rainy day).
Poems and quotes on friendship. Write them on rect-angular pieces of paper, roll them up like scrolls and tie with wool or satin ribbon.
Dried rose petals, cloves, dried orange peel or a store-bought sachet of potpourri to fill the jar with a wonderful smell.
Little trinkets like key chains with your friend's initials, favourite chocolate bar, a sticker or a fancy eraser. Wrap each item for visual appeal!
Screw the lid on and tie the neck of your jar with satin ribbon.
Add a colourful tag with your friend's name.
There you go! Your unique gift is ready! Send us a photo of what you made or tell us about it.
– Anitha Bennett
Day for others
A unique friendship
Who said cats and dogs can never be friends? A male cat named Yodi has a very special friend — a female dog named Aspen who is blind! And these critters do everything best friends do! They hang out together all the time, share treats, and to top it all, Yodi is the seeing eye for Aspen!
The cat rubs against his blind friend to guide her to her food, and imitate Aspen lying on his back, with paws in the air.
But now Aspen has a reason to mope — for Yodi has been reported missing. The boxer-terrier mix just lies around and broods, anxiously waiting for her best friend of ten years to return to where he belongs. The whole family shares her grief and local papers and agencies have been alerted to find Yodi and unite him with his pal again.
Puzzle Box
Priya's out to defeat her enemy. Find out her secret weapon by shading the areas with blue dots.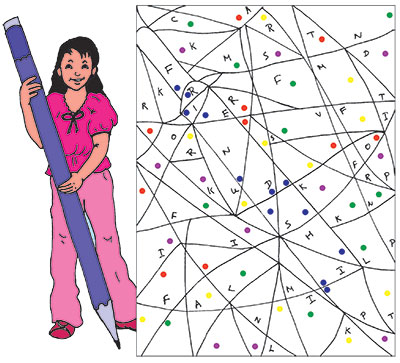 Yellow – ew + a = _______________
Shone + t = ____________________
Long + iv = ____________________
Unscramble the letters above to find out what great friends are like.
(For answers, turn the page upside down.)
Answers: Friendship, loyal, honest, loving
Book recommendations
– Matilda
A tale of an amazing friendship between an extraordinary girl and her teacher. Matilda unravels the secrets of her teacher's past and helps her and her schoolmates to a better future in Roald Dahl's captivating story. (Publisher: Puffin Books)
Tom Brown's Schooldays
Thomas Hughes' classic is an action-packed boarding school story set in a different era. Read about a friendship that changes the hero's life. (Wordsworth Editions)
Moms n' Dads
Who says Moms and Dads can't be great friends of children? Here's an activity for your family.
Plan a picnic with at least four different activities. Two are chosen by the kids. The other two are chosen by the parents. Choose from games/activities of your childhood.
Spend time talking about each person's favourite activity. The day will give you a great opportunity to enjoy and understand each other's favourite pastimes.