Weekend trippers out of Delhi can take a rejuvenating break in Agra and Fatehpur Sikri. Easy reach of the scenic Bharatpur bird sanctuary with its myriad mix of colourful birds is an additional incentive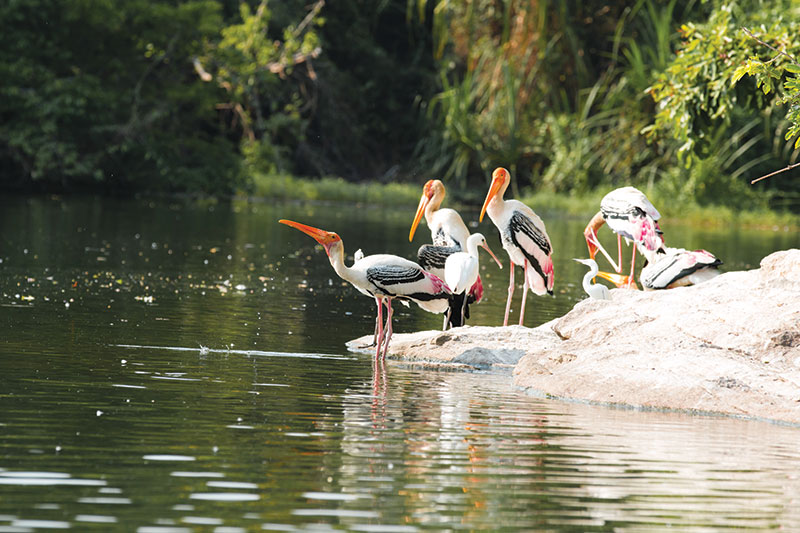 The post-liberalisation (1991) emergence of Delhi (pop. 19.8 million), the administrative capital of the country, into a vibrant epicentre of business and industry, has multiplied the inflow of business visitors and tourists to this city of broad boulevards, gardens and carefully preserved ancient monuments. With the capital's public spaces, tourist haunts and parks choc-a-bloc during weekends and holidays, a growing number of people head out of the city into the neighbouring states of Uttar Pradesh and Rajasthan for a breather. The excellent new roads infrastructure which links Delhi with Agra, Bharatpur and Jaipur is further motivation for people to visit contiguous historical, cultural and recreation destinations more often.
Recently your correspondent joined the exodus of weekend trippers out of Delhi to take a rejuvenating break in Agra and Fatehpur Sikri. Easy reach of the scenic bird sanctuary at Bharatpur with its myriad mix of migratory and colourful birds was an additional incentive.
AGRA
The sprawling city of Agra (pop. 1.9 million), first mentioned in the Mahabharata as Agraban, acquired prominence when the first Mughal emperor Babur made it his capital in 1526. The later Mughals also displayed a special fondness for Agra which is evidenced by the number of ancient monuments that are an integral aspect of the city. Most rulers used Agra as a garrison capital, together with Delhi and Lahore. Though contemporary Agra is an archaeologist's delight with its magnificent monuments and historical structures, in terms of urban amenities and facilities, it is like any of India's cities: in a state of chaos and imminent collapse.
Agra's unregulated traffic and failed municipal facilities display the rot of small town India at its worst — this despite millions of tourists streaming into it every month. All potential visitors need to be aware that they can and will be importuned every step of the way. From the second you begin your walk to a monument, whether it's the Taj, Sikandara or Itmadudaulah, visitors are besieged by guides and hawkers selling them everything imaginable and unimaginable. Some of it is useful — postcards or sorely needed bottles of water — and the rest of doubtful value — whips, portable chess sets, carved elephants — not the kind of items you need to weigh yourself down as you troop precariously through the steep, cobbled roads of a fort or a tomb invariably set in large gardens which necessitates long treks on uncovered and unrelentingly sunny paths.
The Taj Mahal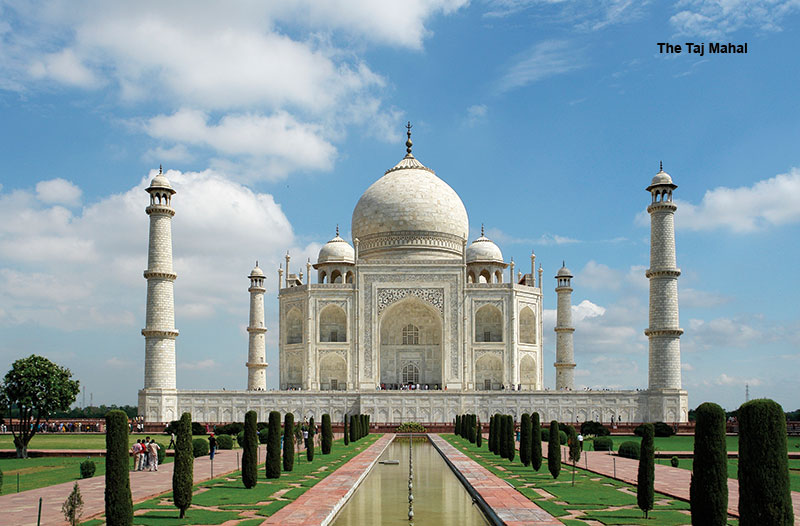 All the trials, tribulations and harassment a visitor to Agra is inevitably subjected to is compensated by this architectural masterpiece which overawes even those who have seen it time and again. Among the seven wonders of the world, it is believed that the Taj Mahal attracts over 200,000 tourists from around the world annually. The Mughal emperor Shah Jahan built it as a mausoleum for his wife Mumtaz Mahal, a legendary beauty who bore him 14 children. Designed by master architect Ustad Isa, it took 20,000 craftsmen from Delhi, Kannauj, Lahore and Multan 22 years to complete the construction of this magnificent monument to true love.
Despite the Taj having been lovingly shot by the world's most renowned photographers, none of it can prepare you for the shock of the huge 213-ft high dome and minarets of pure white marble, reflecting the colours of the sky.
There's an inherent grandeur in its magnificence combined with a delicacy which makes visitors incredulous as thy behold it. Etched against the sky, river breezes wafting over it while the call of the koel resounds from the sumptuous gardens that surround it, this extravagantly romantic monument of a long dead emperor for his beloved continues through the centuries to enthral 21st century visitors.
Sited on the bank of the Yamuna opposite the Taj Mahal, Agra Fort dominates the city's skyline. Built by emperor Akbar in 1565 as a military bastion, the fort was partially converted into a palace during the reign of Shah Jahan. Constructed from red sandstone, the palace's living quarters are of pure white marble and were once the residence of Shah Jahan's daughters Roshanara and Jahanara Begum. Currently 70 percent of the fort is under the command of the Indian Army, while the rest is open to the public. Despite the heat and dust of the bustling town, the sheer scale of the buildings and fixtures must be seen to be truly appreciated.
The splendour of the Mughal court is reflected in emperor Shah Jahan's imposing black marble throne in the Diwan-i-Khas (hall of private audience), built from an entire slab of touchstone and sited in an enormous courtyard, designed as a pachisi board with dancing girls. The Diwan-i-Aam (hall of public audience) had in its heyday a water tank replete with fish, to enable the emperor to indulge his passion for fishing. Inside the fort is the fabled mirrored room supposedly built for Mumtaz Mahal to bathe in, made more famous by a dance sequence in the filmMughal-e-Azam which depicts the story of a slave girl in love with prince Salim (later emperor Jehangir).
Itmaduddaulah aka 'the baby Taj' is the tomb of Ghias-ud-din Beg, the wazir of Jehangir and father of his empress Nur Jehan. Built by the empress between 1622 and 1628, it features exquisite geometric patterns covering every available space, while beautiful marble screens allow light and breeze to waft over the tomb. However, getting there is quite a chore because the bridge across the Yamuna is invariably choc-a-block with carts bearing impossibly heavy loads.
Once you are across the Yamuna it's a good idea to head towards Mehtab Bagh — the moonlit garden — believed to have been designed by Shah Jahan to view the Taj on moonlit nights. The 25-acre garden had been neglected and fallen into ruin with its main landmark, the fountain, buried under sands of the Yamuna. In 1998 the fountain was excavated, drip irrigation installed and hundreds of champa and chameli trees were planted between rows of ornamental pomegranate. The renovation has transformed Mehtab Bagh into a well-tended garden resplendent with brilliant orange-red flowers and amazing vistas of the Taj. There, in a cool garden surrounded by sweet-smelling shrubs, one can gaze undisturbed at the marble wonder in all its glory on the other bank of the Yamuna. If you make the mistake of visiting Agra on a Friday (when the Taj is closed) you could view it from Mehtab Bagh, even if you cannot step into its hallowed precincts.
Back across the infamous bridge, with the rap number of an overhead train (the bridge is a rail bridge too) tattooing above, you could head for the domes of the Jama Masjid. An inscription over the gate states that it was built by Shah Jahan's favourite daughter, Jahanara Begum. Apart from its unusual onion-shaped dome the other interesting feature of the masjid is the absence of minarets.
Getting there. The Bhopal Shatabdi Express leaves New Delhi at 6 a.m and arrives at Agra Cantonment at 8.06 a.m or the Taj Express, leaving from Hazrat Nizamuddin Station at 7 a.m to arrive at Agra Cantonment at 9.40 a.m everyday are very convenient.
Road. Regular buses depart from Delhi's Sarai Kale Khan bus stand to traverse the 200 km six-lane highway NH 1 aka Grand Trunk Road — originally built by Sher Shah Suri in the 16th century.
Air. Air India operates a 35-minute Delhi-Agra flight daily.
Accommodation. Top-end: The Oberoi Amar Vilas (Rs.80,000-11,00,000), Jaypee Palace (Rs.4,000-16,000), ITC Mughal (Rs.5,700-17,000), Trident (Rs.5,000-20,500). Mid-range: Man Singh Palace (Rs.4,750). Budget: Taj Khema (Rs.1,000-1,500).
Excursions. Ex Agra there are several day options. Sikandara (4 km) is the site of the impressive mausoleum of emperor Akbar who actually began the construction of his own tomb. In keeping with Akbar's liberal philosophy, the tomb is a perfect blend of Hindu, Christian, Islamic, Buddhist and Jain motifs. Mathura (60 km) believed to be the birthplace of Lord Krishna is a pilgrim centre revered by Hindus across the country.
Fatehpur Sikri
Designated a world heritage site by Unesco, Fatehpur Sikri in the town of Fatehpur (pop. 2.8 million) was built to commemorate a battlefield victory in Gujarat. It was the capital of the Mughal dynasty under Emperor Akbar between 1571 and 1585.
Legend has it that it was a monument of gratitude to Sheikh Salim Chisti, a penniless Sufi saint of the 16th century, who had accurately predicted the birth of Akbar's sons. After the first prince Salim (later Jehangir) was born, Akbar built a red sandstone hill fort here and made it his capital for ten years. Fatehpur has two distinct complexes — the exquisite white marble dargah of Chisti with a mosque and lofty gateway, Buland Darwaza, the largest in Asia. The gateway is 136 ft high and is raised on a platform 46 ft above ground level, making its total height of 182 ft a stupendous example of Islamic architecture. The second complex is the royal enclosure of palaces, harem and other official buildings.
Fatehpur Sikri or 'City of Victory' mirrors the many facets of Akbar. It reflects a ruthless empire builder with all the trappings of power as also the liberal, enlightened ruler with a passionate interest in every aspect of life from religion and literature to architecture and miniature painting. This glorious city abandoned shortly after Akbar's death in 1605 because of chronic water shortage, is a harmonious blend of Islamic and Hindu architecture, which gave rise to the distinctly different Akbari style. Akbar used Hindu craftsmen primarily from Gujarat. The Islamic aspect of the Akbari style are the precise plans and subdued ornamentation in symmetrical motifs while the Hindu element is distinct in the floral patterns.
You can spend the better part of a day marvelling at the jewel of Chisti's tomb set like a white flower in the midst of red sandstone. Skip over the sandstone flooring, bare feet burning till you reach the cool sanctuary of pristine marble where Qawali players render haunting melodies every morning till noon.
To enter the royal enclosure you have to buy a Rs.20 ticket which gives access to the expansive sandstone palaces of Jodabai (Akbar's Hindu wife) and Mariam (Christian wife), each endowed with unique architectural features. The Panch Mahal palace, five stories tall with each successive floor smaller than the one below was built solely for the emperor and his consorts to catch the breeze atop the hill and to enjoy an unhindered view of the stars and moon.
The 9 sq km interior of Fatehpur Sikri is enclosed by a high wall punctuated at regular intervals by nine gates.
The question that most tickles the intellect of Fatehpur Sikri's archaeologists is why Akbar abandoned the city after a mere 13 years. It seems a little difficult to believe that a master Moghul builder's planners and engineers created a monumental city without ensuring something as essential as water supply. A more likely explanation is that Akbar moved north to Lahore to handle a threat to his empire and then returned to Agra allowing historian G.H.R. Tillotson to observe that Fatehpur Sikri was "a typical exercise in Mughal prodigality".
Getting there. Fatehpur Sikri is easily accessible by road from Agra (39 km) and Delhi (160 km).
Accommodation. Most visitors to this abandoned city make a day trip from Agra or Delhi but there are several hotels which offer rudimentary facilities. Among them: Gulistan Tourist Complex (Rs.1,000 per night), Hotel Goverdhan Tourist Complex (Rs.1,000-1,200), Hotel Vrindavan (Rs.850), Hotel Prince Tourist Lodge (Rs.800 per night).
Bharatpur Bird Sanctuary (keoladeo national park)
Bharatpur (pop. 206,000) in Rajasthan became a national park quite by chance when earth was excavated from it in 1760 to build the earthen Ajan Dam. The depression created by the removal of soil from the dam morphed into the famous Bharatpur lake. Sited on the edge of the Thar Desert, the lake sprawls across a diameter of 11 sq km with an embankment of 29 sq km. Currently it is the breeding site of over 375 species of birds including herons, storks, cormorants and until a few years ago the migratory Siberian crane.
To go bird watching, you can walk (not recommended considering the vastness of the park and the lurking presence of not-entirely friendly pythons and alligators) or take a cycle rickshaw with a guide. The local guides are remarkably knowledgeable and point out birds that you are unlikely to spot without help. Despite the lack of water in early July there were numerous birds nesting and roosting around the lake. Amongst the more commonly found bird species are the Indian long tailed tree pie, spotted owlet, rosy ringed parakeet and jungle babbler. I also heard the call of the Himalayan flamebacked woodpecker and the white eyed buzzard.
As we peddled deeper into the quiet of the park and encountered shallow water with dark moving shapes which transformed into turtles, more water birds hove into view. White necked storks, white breasted wattle hens, the magnificent black necked stork, a little egret, grey herons, cormorants, spoon bills, black headed brahmany ducks, the aptly named snake bird whose long slender neck stays above the water while its body and feet are submerged, open billed stork, common sand piper, paddy bird — so called because of its golden colour while at rest which turns white when in flight, like paddy with the husk removed — also known as pond heron. Red turtle doves, black drongos with their swallow like tails, pied mynah, pied bush chat, little green bee eater and a date palm full of freshly made weaver bird nests with the birds themselves squabbling and chattering in their roof top condominiums. Come dusk and one hears the throaty gurgle of a dusky eagle owl.
All fear of lurking creepy crawlies forgotten, we descended from the rickshaw and ploughed happily through the jungle undergrowth to be rewarded by the sight of a huge eagle owl fleeing to safety after luring us with its call. Other birds found here are coot snipes, spanish sparrow, red crested porhard, rosy pelicans and flamingos. Birds are not the only denizens of this sanctuary — monitor lizards, jackals, sambhar, spotted deer, black buck, antelopes and pythons can with a little patience, be spotted.
Getting there. From Agra by road the Bharatpur sanctuary is around 60 km and a mere 17 km from Fatehpur Sikri. A longer option is to drive directly from Delhi (280 km) on the six-lane Grand Trunk Road that takes you to Agra. By rail the Golden Temple Mail leaves Delhi at 7.20 a.m to reach Bharatpur three hours later.
Accommodation. Top-end: Lakshmi Vilas Palace, a heritage hotel owned by the former royal family is adorned with sepia photographs of triumphal hunts and bird shoots (Rs.6,000 per night). Bharatpur Forest Lodge (Rs.2,000). Mid-range: The Birders Inn (Rs.3,500-6,000). Budget: Hotel Saras (Rs.1,100-1,300).
Excursions. The 18th century Lohagarh Fort built by Raja Suraj Mal is situated close to Bharatpur. It is an inhabited fort, open to visitors and tourists. Government offices, schools and homes are within its precincts and protected by its impregnable walls surrounded by a double moat of green water. The architecture is an interesting blend of Mughal and Rajput styles. The Kamra Khas government museum is recommended for history and heritage buffs.
Deeg Palace (32 km) is Bharatpur's second capital and is as steeped in history as Agra. With a fort and palace, legions of charming tales about Raja Suraj Mal and a secret subterranean passage to the Raja's Hanuman Mandir, it is well worth an exploratory visit.
Kalpana Parikh