Sprawled across a four-acre meticulously landscaped campus in the Yelahanka suburb of north Bangalore, Nagarjuna Vidyaniketan (NV) — the first of five institutions promoted by Nagarjuna Education Society (estb.1995) — is the brainchild of Sridevi Rangaraju, founder-member of NES, who established the school in 1995 with the objective of making high-quality English-medium education accessible to children of this then under-developed suburb. NV began modestly admitting its first batch of 14 students in a rented room.
Over the past 23 years, NV has blossomed into a full-fledged K-12 school affiliated with the Central Board of Secondary Education (CBSE) with a roll-call of 1,550 students mentored by 98 teachers. Moreover, since J. Sowjanya, an alumna of Bangalore University with an executive MBA degree from Harvard University took charge as director in 2009, NV has adopted and integrated progressive 21st-century pedagogies and best international K-12 management systems blended with value-based education to transform into a world-class institution.
"When my mother promoted the school in 1995, she had one objective in mind — to provide high-quality education to children in this locality of Bangalore. The fact that we have grown from 14 students to 1,550 students today, without actively promoting and advertising the school, is testimony to the high-quality education we provide at an affordable fees. My vision for the school is to impart internationally benchmarked well-rounded education rooted in Indian values and traditions to prepare children for success in the increasingly globalised world," says Sowjanya, who also serves as the joint director of Nagarjuna Group of Institutions (NGI).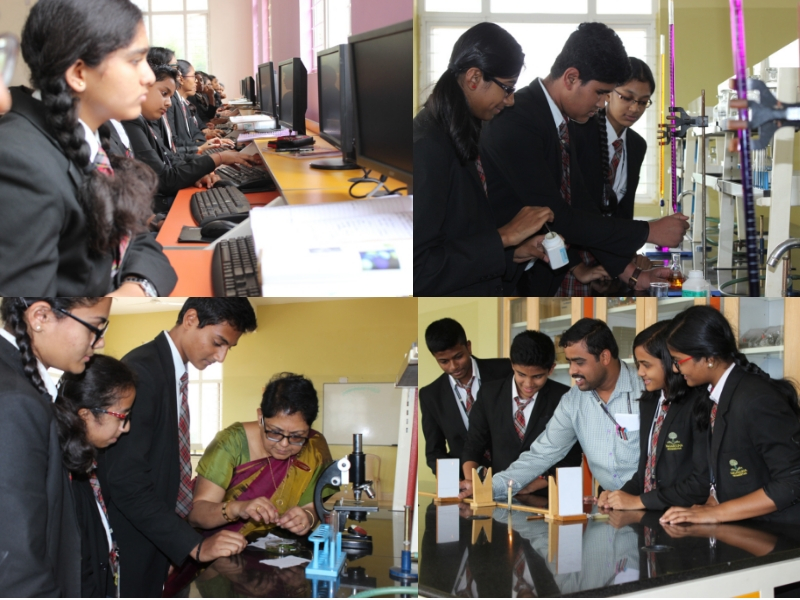 To fulfil this institutional objective of enabling holistic development of students, the school management has invested generously in state-of-the-art infrastructure and facilities. From the creatively designed theme-based pre-primary building to the well-equipped science and computer labs, every learning space in the school reflects meticulous planning to enrich the learning experiences of students. Facilities include 10 Smart classrooms, three Internet-enabled computer labs, three well-resourced libraries, well-equipped AV, dance and music, art & craft room, and Yoga rooms, an open-air amphitheatre, fruits, vegetable and medicinal garden. The sports infrastructure is equally impressive and comprises a sports ground with athletics track, cricket pitch, throwball court, basketball-cum-skating court and kabaddi arena. Indoor sports options include table tennis, badminton, chess and carrom.
Among the many teaching-learning innovations introduced are project/problem-based learning, discovery and collaborative learning. "Our objective is to offer rigorous academics blended with sports and co-curricular education to enable the holistic development of children. To this end we have introduced a number of innovative programmes which promote experiential learning and design thinking. They include STEM learning through CREYA lab, Science ADDA, Incidental Peer Tutoring Programme, Learning through Walking and Talking in Garden and From Soil to Market project, and environment awareness programmes," says Leena B.H, an alumna of Mysore University with three decades of experience as an educator and administrator who was appointed principal of NV in April, 2012. A committed educator, Leena is a recipient of Best Teacher Award 2001 of the Government of Karnataka.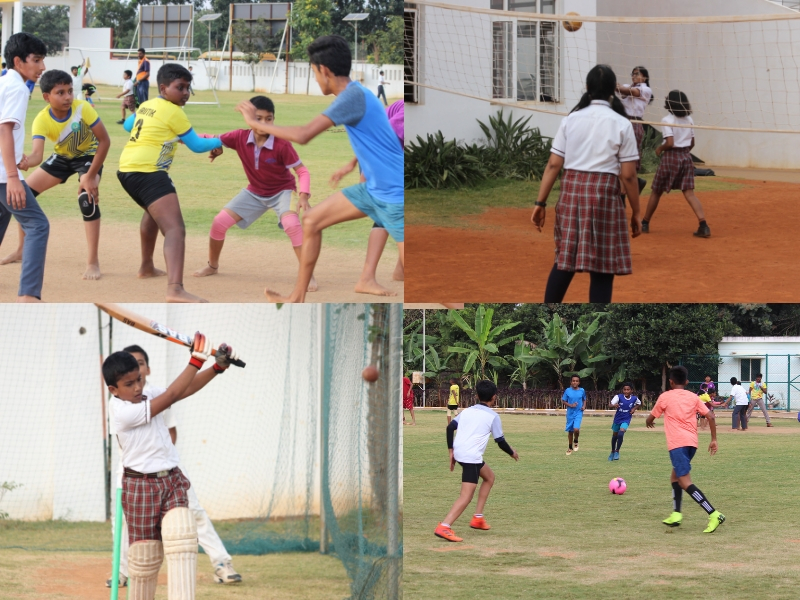 According to Leena, the school's unique Global Interaction Programme provides an effective platform for global exposure with educators from Jordan, Maldives, Tibet and Germany regularly visiting the school to witness and share innovative teaching-learning practices with teachers and students.
The focus on holistic development has paid rich dividends. Since inception NV has recorded 100 percent pass percentage in the CBSE class X and XII board exams with a majority of students achieving first class or distinction. In the academic year 2017-18, Harini M.S. was the city topper in the class XII CBSE board exam (commerce stream) with 97.6 percent. The school was also recognised and awarded for securing high number of A1 grades in economics in the class XII CBSE board exams 2018 by Bangalore Sahodaya School Complex (BSSC).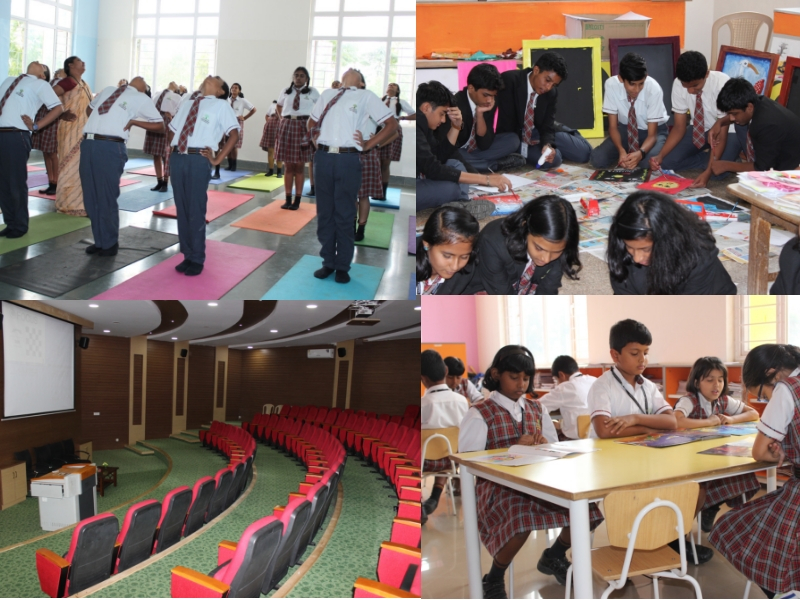 Following the inspiring success of Nagarjuna Vidyaniketan in K-12 education, the NES management promoted the Nagarjuna Pre-University College (estb.2000), Nagarjuna College of Engineering & Technology (estb.2001), Nagarjuna Degree College (estb.2013) and Nagarjuna College of Management Studies (estb.2015) to provide high-quality higher education opportunities to students of north Bangalore.
Approved by AICTE and awarded an 'A' grade by the National Assessment and Accreditation Council (NAAC), Nagarjuna College of Engineering and Technology (NCET, estb. 2001) — the showpiece institution of Nagarjuna Group of Institutions (NGI) — is sited on an expansive 100-acre campus in Devanahalli, which houses the city's hi-tech and busy international airport. Affiliated with Belagavi (Karnataka)-based Visvesvaraya Technological University (VTU), NCET offers undergraduate and postgraduate study programmes in several engineering streams as well as an MBA programme. With its strong research focus, eight departments of the college have been recognised as research centres by VTU to offer Ph D programmes. Managed by its go-getting CEO Chaithanya Verma and headed by principal Dr. S. G. Gopala Krishna, NCET is well-reputed for the excellent facilities and high-quality engineering education it offers its 2,225 students mentored by 153 faculty.
Sharing the 100-acre campus with NCET is the Nagarjuna College of Management Studies (estb.2015) – the newest addition to the Nagarjuna Group of Institutions. Affiliated with Bangalore University, the institution offers undergraduate programmes in commerce, business studies, computer application and science, and a postgraduate programme in commerce.
The Nagarjuna Degree College (estb.2013) is sited on a state-of-the-art three-acre campus, 2 km from Nagarjuna Vidyaniketan. Affiliated with Bangalore University, the institution offers undergraduate programmes in computer application, commerce and business studies embedded with skill certification courses and highly immersive industry focused M.Com and MBA programmes. The unique feature of education at Nagarjuna Degree College is its strong focus on skill enhancement and holistic development. This futuristic institution managed by Professor Manohar Narajji, director, NGI and led by its committed principal Dr. Bhavani M.R, also boasts an international collaboration with the Malaysia-based Lincoln University College.
With its K-12 Nagarjuna Vidyaniketan and four higher education institutions establishing an excellent reputation in South India for offering contemporary education rooted in strong values and ethics, the NGI management is exploring several international collaboration options and foray into the early childhood education sector.
"The high-quality education and infrastructure we offer students across all our institutions at such a modest fee range would not have been possible without the management believing in investing in the welfare of students. While we look back at our success story with a sense of pride and gratitude, we still have much to do. While continuous improvement of every aspect of education at the Nagarjuna Group of Institutions will always be our top priority, we have made plans to foray into the pre-primary education sector. We are strongly committed to taking forward the legacy of offering internationally benchmarked value-based education from early childhood to higher education," says Sowjanya.
Campus