Promoted with the objective of "empowering students to excel in the ever-changing complexities of the modern world and excel in the choice of their field as an ideal global citizen", Neerja Modi School, Mansarovar, Jaipur (NMS, estb.2001) has metamorphosed into a progressive K-12 institution with a nationwide reputation for providing 21st century education rooted in Indian values and traditions to its 5,460 students mentored by 399 highly qualified teachers.
Sited on a 20-acre green campus in the pink city, NMS-M is ranked among the country's Top 10 co-ed day-cum-boarding schools, and # 1 in Rajasthan and Jaipur in the latest EducationWorld India School Rankings 2022-23.
The CBSE (Delhi), Cambridge International (UK) and International Baccalaureate (Geneva)-affiliated NMS-M is the flagship school of the Neerja Modi Group of 6 primary-secondary schools across four cities in Rajasthan Jaipur,(Chittorgarh, Jodhpur and Udaipur) promoted by industrialist-philanthropist Saurabh Modi.
NMS-M's holistic approach to student development and commitment to "creating responsible citizens who embrace diversity, change, and life-long learning" has paid rich dividends with the school boasting a strong track record of academic excellence, integrity and social responsibility.
"Most of our students join us at the age of 3 and spend the majority of their formative years with us. We are sensitive to the fact that each of these young minds are gifted with unique abilities and different learning styles. Therefore, it is important for us to discover the learning methodology that works best for them and provide a strong bedrock for their future. The school's teaching philosophy fuels the true essence of education by carefully kindling the interest of a child in learning and helping them explore their ingenious talent," says Saurabh Modi.
An alumnus of Sydenham College, Mumbai, Saurabh Modi started his career in a mining soon after his graduation. A champion of sustainability with a strong drive for innovation, he encouraged participation of the local tribal communities in mining operations that inspired a more sustainable business model.
His keen interest in education and desire for contributing to social development led him to establish the non-profit Shri Modi Shikshan Sansthan and subsequently, the Neerja Modi School in 2001 as a non-sectarian, co-ed day-cum-boarding school.
He also founded Nischay, a community service initiative which provides education and vocational training to over 700 underprivileged girl students.
Pedagogy and curriculum designed to nurture excellence
Upgraded each year, the NMS-M curriculum focuses on developing 21st century skills and competencies in children. Specialised workshops are conducted regularly for students to enhance their learning experiences and groom their personality. Experiential learning and interaction with industry experts and stalwarts enable students to gain practical knowledge in areas of their interest.
Sports and extracurricular activities are an essential part of life at NMS-M and the students are encouraged to participate in several sporting, literary and cultural events every year. Moreover, the school hosts several annual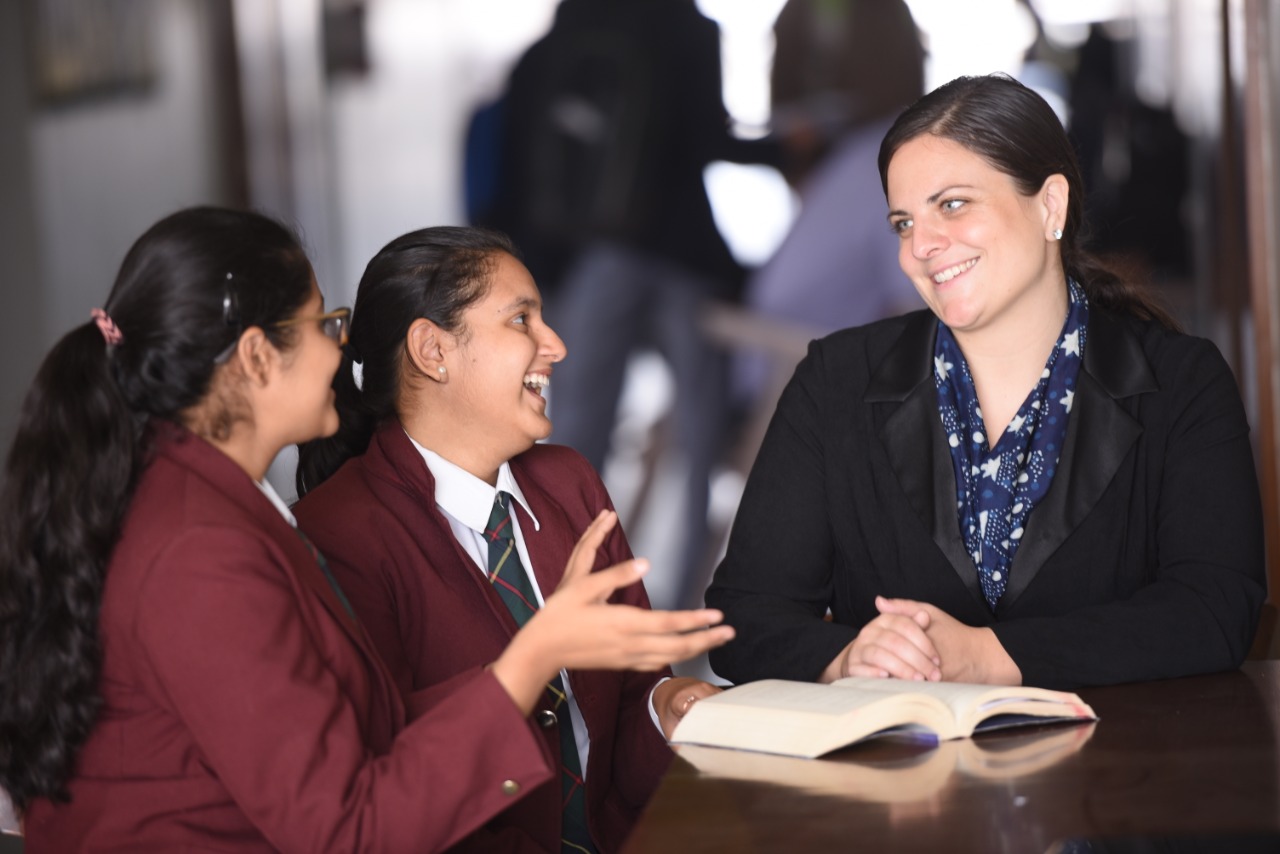 day events during the year to provide the students ample opportunities to exhibit their talents and develop their leadership and cognitive skills.
Sports and co-curricular education aside, the school is nationally reputed for promoting academic excellence with toppers across CBSE, Cambridge and IB boards and several innovation and technology enthusiasts. Unsurprisingly, NMS-M graduates have been readily welcomed into several Ivy League institutions over the years.
Committed to nurture innovation and entrepreneurship, the school has launched Nstart — one of the first incubation centres for high school students in India – in partnership with the Global Centre for Entrepreneurship and Commerce in 2021. The programme has been integrated with the school curriculum in adherence with the National Education Policy (NEP 2020) guidelines.
"Children, the future of this world need an environment for learning that embraces technology, innovation, and diversity. This encourages their intellectual inquiry, curiosity and collaboration which will promote deeper understanding of the complexities of the world. Our innovative approach towards holistic education is fully geared to help students achieve their highest potential," says Saurabh Modi.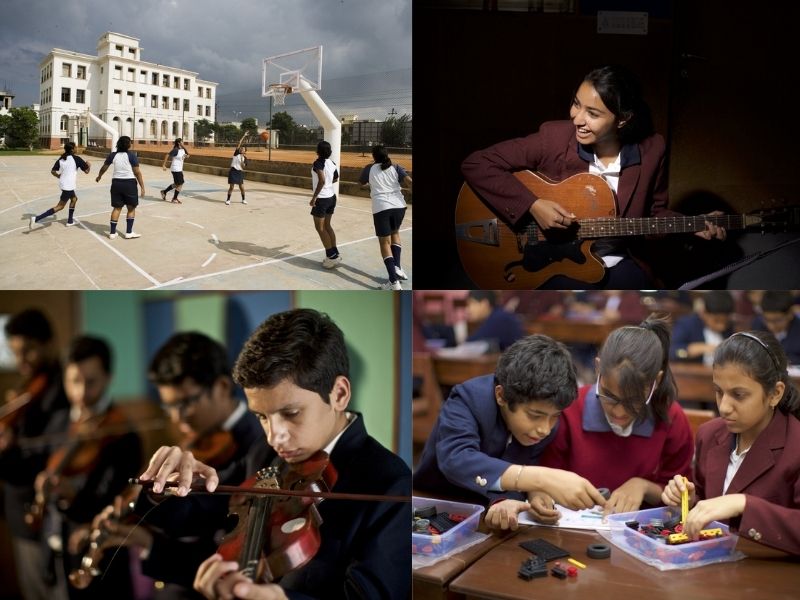 Adapting to the Covid-19 pandemic
During the mass closure of educational institutions prompted by the Covid-19 pandemic, the school management and staff swiftly rose to action to ensure provision of uninterrupted learning to the students. Study material and workbooks were couriered to students to help them derive maximum benefits of regular schooling. The tech-savvy teachers also integrated sports and co-curricular education in the online curriculum to ensure a holistic and engaging learning experience for students. Moreover, the NMS-M alumni pitched in to actively engage with the students through the "Alumni Mentorship Program".
During the second wave of the COVID-19 pandemic, NMS-M co-founded 'Spirity' — a 40-day programme aimed at safeguarding the mental health of students by encouraging them to express gratitude.
With the Central government launching the inoculation drive for COVID-19 in early 2021, the high school students designed and launched the innovative VForVaccine app to raise awareness about the importance of vaccination. They also started a petition requesting the government to get teachers vaccinated on priority. With the help of school administration staff, students helped over 300 school staff to register for the COVID-19 vaccination through the CoWin website.
"We believe that the only constant is change, so NMS is ever evolving. The education practices imbibed during pandemic have added valuable dimensions to learning beyond boundaries of time and place. It has also evoked a greater need for mental wellness of students and teachers," says Saurabh Modi.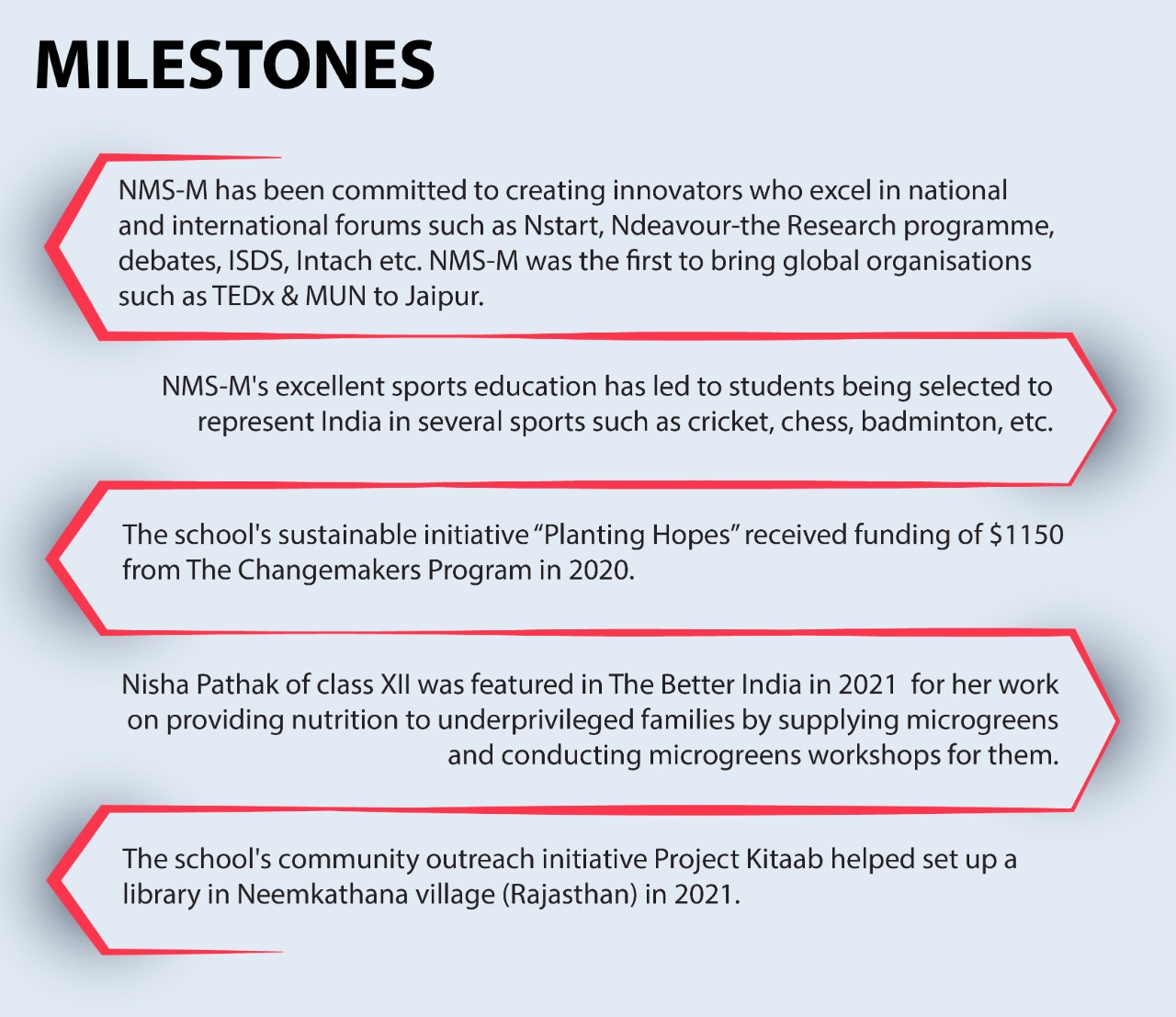 Also read: Leaders who can revive Indian education – Saurabh Modi
Campus
,
News