Territorially the largest state of the Indian Union and a vibrant and colourful tourism mecca, last year Rajasthan attracted 17.5 million tourists including 1.5 million international visitors to the 'Land of Kings'.
If there were a prize for the most vibrant and colourful tourist destination of India, it would go to the desert state of Rajasthan (pop. 78 million), sited in the west, north of Gujarat, bordering Pakistan.
Last year Rajasthan attracted over 17.5 million tourists including 1.5 million international visitors. Territorially the largest state of the Indian Union, Rajasthan (343,000 sq. km) incorporates the Aravalli Hills and Thar Desert.
Literally the 'Land of Kings', Rajasthan was formerly known as Rajputana and encompassed 18 princedoms, two principalities ruled by chieftains and the small British-administered province of Ajmer-Merwara. After independence in 1947 the princedoms and principalities were integrated into the Indian Union under the umbrella name of Rajasthan. The state assumed its present form on November 1, 1956, when the States Reorganisation Act came into force.
The history of Rajasthan is resplendent with legends of romance, betrayal, honour and chivalry and monuments associated with the 1,000-year reign of Rajput dynasties. Between the 7th and 11th centuries the entire region was ruled by successive Rajput dynasties, the most famous of them being the Gurjara-Pratihara. Under Bhoja I (836-885 AD), the territory of the Gurjara-Pratiharas stretched from the foothills of the Himalayas to the Narmada river and from the lower Ganges Valley to Sindh. But towards the late 10th century the empire slowly disintegrated as several rival Rajput clans carved out princedoms for themselves.
The next four centuries saw repeated, though unsuccessful, attempts by the Delhi moghuls to defeat Rajput states. Rajput ascendancy reached its zenith in the beginning of the 16th century under Rana Sangram Singh (Sanga) of Mewar, but he was defeated in the first Battle of Panipat (1526) by the Mughal invader Babur.
Later towards the end of the 16th century the Mughal emperor Akbar established a cordial relationship with Rajput kings by entering into matrimonial alliances with several Rajput dynasties. These Mughal-Rajput marriages continued until the early 18th century, and it is noteworthy that the emperors Jahangir and Shah Jahan were both born of Rajput mothers.
In the 19th century following the imposition of British rule, the boundaries of Rajput states were redrawn to form Rajputana province which later became Rajasthan in post-independence India. Rajput princes were allowed to retain their titles, some special privileges, and privy purses by the newly independent government of India. However these privileges and privy purses were abolished in 1969 by prime minister Indira Gandhi. As a consequence several princes transformed into hoteliers by converting their dynastic palaces into luxury heritage hotels which are thronged by foreign tourists through the year.
Best time to visit. Winter (November-March) is the best season for visitors.
Getting there. The most exclusive (and expensive) way to experience the royal splendour of Rajasthan is by taking the seven-day package tour offered by the Palace on Wheels, a fully air-conditioned, 14-saloon luxury train, with excellent dining, accommodation, sight-seeing and shopping facilities on board. Palace on Wheels takes visitors on one of India's most fascinating round trips through Rajasthan starting from Delhi.
However for those who want to explore the authentic culture of Rajasthan at a slower pace, the state's major cities are well connected by road, rail and air with the rest of the country.
Jaipur
The state capital, Jaipur (pop. 3.8 million) is usually the starting point of discovery into the romantic, ageless and timeless grandeur of the region. Founded in 1727 by the astronomer-warrior-king Sawai Jaisingh II, Jaipur is popularly known as the Pink City after the colour of its old city buildings.
Tourist attractions in the western and central Rajasthan include Jaipur, Udaipur, Jaisalmer and Bikaner. In this despatch the focus is on southern and eastern Rajasthan — Ajmer, Pushkar, Jodhpur, Udaipur, Chittorgarh and wildlife sanctuaries.
Ajmer
Nestling at the base of Mount Ajaya Meru, Ajmer (pop. 735,854), built in the 7th century, is steeped in history. This region was dominated and ruled by the Chauhan dynasty until 1193, when Prithviraj Chauhan was defeated by
Mohammed Ghori. Contemporary Ajmer is a renowned pilgrim centre for Hindus and Muslims.
The most venerated monument of the city is the Dargah Khwaja Moinuddin Chisti, built in honour of Khwaja Moinuddin Chisti, a Sufi saint who came to India from Persia in 1192 with Mohammed Ghori's invading army and died here in 1236. The main attraction in the dargah is the mausoleum enshrining the tomb of the saint and its two mighty doors aka Buland Darwaza. Above this gateway is the main Naqqar Khana (drum house) containing two pairs of huge naqqars (beating drums) presented by Emperor Akbar (1542-1605) after a successful battle in Bengal.
Also absorb the simple beauty of the white marble Shahjhan's Mosque contiguous to several other attractive buildings, tombs, and daalaans, some of which are gems of Moghul architecture.
Those who are fit enough to climb the Taragarh Fort, built on a hilltop, can enjoy breathtaking vistas of the city and its surroundings. Ajmer is also the location of one of India's most well-known public schools, Mayo College.
Accommodation. Top-end: Hotel Mansingh Palace (Rs.5,772-9,430 per night). Mid-range and budget: Hotel Ambassador (Rs.1,700-3,700), Hotel Embassy (Rs.1,450-1,650).
Excursions. For culture tourists Ajmer is the base for several day and weekend options. Among them Pushkar (11 km), which hosts a vibrant annual fair; Kishangarh (27 km) with its massive fort, and Merata (45 km), birthplace of the legendary composer-singer Meera bai are the most popular.
Pushkar
A mere 11 km from Ajmer by road, Pushkar (pop. 21,626) has the only Lord Brahma temple in the entire world, contiguous to a picturesque lake. This quaint, sleepy town comes alive during the Pushkar Fair, attended by massive multitudes (estimated at over 1 million) of colourfully dressed devotees, musicians, acrobats, folk dancers, traders, comedians, sadhus and tourists. The annual eight-day Pushkar fair is held in the month of kartika (October-November).
Camel and cattle trading reach their peak during the Pushkar Camel Fair, staged in October-November every year. During the second half of the fair, religious rituals predominate. Pushkar is of special religious significance to Hindus not only because of its Brahma Temple but also for the Panchkund (five springs) believed to have been built by the Pandava brothers during their exile here as recounted in the Mahabharata. Moreover devotees take a dip in holy Lake Sarovar, in quest of salvation.
Accommodation. Top-end: Royal Desert Camp (Rs.8,500 per night), Hotel Pushkar Palace (Rs.5,450-8,250). Mid-range: Pushkar Villas Resort (Rs.1,250-2,500), Hotel New Park (Rs.1,500-2,000). Budget: RTDC Tourist Village (Rs.850-1500).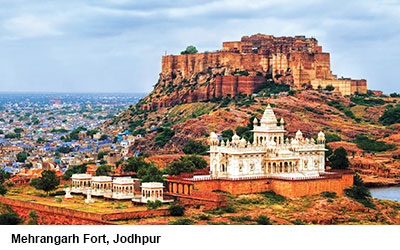 Kishangarh
Twenty-seven km from Ajmer by road is Kishangarh, epicentre of the foremost school of miniature painting which flowered to full bloom in the 18th century. Its Bani Thani school of painting experienced a spurt of excellence under Nihal Chand — a painter in the court of Raja Sawant Singh (1699-1764). Kishangarh has also emerged as the largest marble trading centre in Asia, situated as it is in close proximity to stone-rich deposits.
Accommodation. Hotel Phool Mahal Palace (Rs.4,450 – 6,250 per night).
Jodhpur
Sited in the heart of the Thar Desert, Jodhpur (pop. 1.5 million) with its ochre sand dunes and vermilion sunsets is on the popular tourist beat of local and foreign travellers. Fortified by a 10 km stone-walled perimeter with eight gates, Jodhpur is packed with history, art and culture. All this topped up by a charmingly traditional lifestyle, festivity and ever smiling people.
The invincible Mehrangarh Fort with its lavish and delicately embellished palaces is the most notable landmark of this city. Its museum displays an excellent collection of vintage battle paraphernalia including swords, daggers, spears and matchlock guns, a battle tent seized from Emperor Jehangir, chariots and carriages, musical instruments and traditional turbans. Moreover Jodhpur earned its place on the global map when Sir Pratap Singh, ruler of the region in the 1870s, invented the fashionable jodhpuris or riding breeches. The panoramic vista of the city and desert beyond the ramparts of the fort is awesome.
Accommodation. Top end: Hotel Umaid Bhawan Palace (Rs.35,500-48,890 per night), Hotel Taj Hari Mahal (Rs.16,900-27,750). Mid-range: Hotel Kalinga (Rs.3,500-5,500), Hotel City Palace (Rs.1,900-2,450), Hotel Ghoomar (Rs.1500-1,850)
Excursions. Mandore (8 km), the capital of ancient Marwar is an oasis in the desert with beautifully laid out gardens. The Hall of Heroes housing 16 gigantic figures chiselled out of a single rock is the main attraction here. For wildlife enthusiasts, a visit to the immaculately maintained Guda Bishnoi villages (25 km) of the Bishnoi community — staunch believers and protectors of the sanctity of plant and animal life — will prove uplifting. Nagaur (137 km) sited on the edge of the Thar Desert is famous for its shimmering fort.
Bikaner
Built in 1488, Bikaner (pop. 644,400) is dotted with reddish-pink stone buildings rising from miles of barren thorn and scrub. Bikaner's location on the ancient caravan routes which linked Central Asia and north India with Gujarat seaports, made the city a bustling trade centre in days of yore. The city is built on an elevation and surrounded by a seven-kilometre walled perimeter 15-30 ft high pierced by five gates. Jumagarh Fort, Lalgarh Palace, Ganga Government Museum and Bhandeswar Jain temples are the city's popular sights.
Udaipur
Built in 1567, Udaipur (pop. 642,518) on the banks of lake Pichola is named after its founder, Maharana Udai Singh. Variously described as the 'Jewel of Mewar', 'City of Lakes,' 'City of Palaces', it is ringed by palaces on all sides. On the lake are islands including the Jag Mandir and Jag Niwas which have been converted into luxury hotels.
Udaipur boasts the largest palace in Rajasthan famously known as the City Palace, divided into various sections each with its own distinctive style. Connoisseurs of the good life can wallow in the sumptuous Lake Palace aka Jag Niwas. Magical at first sight, it seems afloat on the lake.
Other attractions of Udaipur include Saheliyon ki Bari, a delightful garden designed as a picnic spot for royal ladies. The 17th century Jagdish temple dedicated to Lord Vishnu is one of the largest vaishnavite temples of north India.
Accommodation. Top end: Hotel Lake Palace (Rs.80,542-177,100 per night), Hotel Udaivilas (Rs.50,818-185,800). Mid-range: Hotel Shikarbadi (Rs.6,358-9,830), Trident Hilton Hotel (Rs.17,750-25,892), Hotel Quality Inn Vishnupriya (Rs.2,300-2,850). Budget: Hotel Kajri (Rs.1,550-1,850).
Chittorgarh
Founded in the 8th century, Chittorgarh (pop. 2.8 million) has perhaps the bloodiest history in the state. Constructed on a rocky plateau atop a 500 ft hill, the fort enclosing 700 acres was besieged and taken three times by Moghul rulers. Today Chittorgarh is an industrial town, off the tourist circuit, but definitely worth a visit.
Accommodation. Hotel Panna (Rs.2,322-2,644), Hotel Pratap Palace (Rs.1,850-2,450).
Mount Abu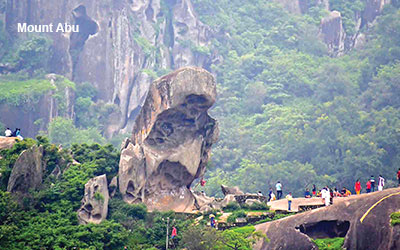 The Aravalli hills stretching from Delhi to Gujarat reach their highest point (4,416 ft) in the Sirohi district crowning which is the picturesque plateau town of Mount Abu, an important pilgrimage site for Jains. In 1845 Mount Abu was leased by the British and developed as a hill resort akin to Shimla. Its most remarkable attractions are a series of intricately carved Jain temples, built between the 11th and 15th centuries.
The Annual Summer Festival every June is a cultural window to the folk arts of Rajasthan, especially the dance traditions of Bhil and Naga tribes. Sporting events such as the boat race on Nakki lake add variety to the festival. The Sham-e-Qawwali is a popular musical evening. The Adhar Devi, Dilwara Jain and Gaumukh temples as well as Nakki Lake, Sunset Point and Trevor's Tank are points of interest in this hill resort.
Accommodation. Top-end: Hotel Palanpur Palace (Rs.9,700-18,350), Hotel Hillock (Rs.8,750-9,250), Hotel Connaught House (Rs.6,260-8,050). Mid-range: Bikaner House (Rs.3,990-5,060), Cama Rajputana Club Resort (Rs.2,750-4,750). Budget: Hotel Rising-Sun Retreat (Rs.1,750-2,150).
Wildlife tourism in Rajasthan
The southern and south-eastern parts of Rajasthan are covered with thick forest hosting several species of carnivores and herbivores including the endangered Indian tiger. A visit to Rajasthan would be incomplete without taking in one or more of the state's national parks.
The Keoladeo Ghana or Bharatpur National Park sprawling over 29 sq. km is perhaps the most spectacular bird sanctuary in India. Over 300 species of indigenous and migratory water birds nest here.
Ranthambhore Tiger Reserve. This is one of the smallest Project Tiger reserves in the country. Its name derives from the vast fort that stands in the middle of the forest. The elegant Ranthambhore fort or Jogi Mahal and six large lakes are sited within this park.
Sariska National Park. A mere 200 km from Delhi and 107 km from Jaipur, Sariska covers an area of 800 sq. km, dominated by the Northern Aravali Hills. The dry deciduous forests are excellent tiger country and Sariska, once the royal reserve of the rulers of Alwar was declared a sanctuary in 1955. Herds of sambar, chital, nilgai and sounders of wild boar are commonly seen in the forest. Carnivores include the leopard, tiger, hyena and jungle cat.
Desert National Park. The best example of the eco-system of the Thar desert, this park is ideal for observing wildlife. Sand dunes form 20 percent of the park, which consists of craggy rocks, pavements and compact salt lake bottoms, intermediary areas and fixed dunes. The great Indian bustard, in peril of extinction, is also native to the park.