The new academic year has already begun. Children are excited to go to school and meet their friends and teachers. Among the many agendas, mothers are worried about how to make the lunch box interesting and visually appealing to those discerning eyes. There are many creative ways to pack your children's lunch box. Garnish the food with natural colours while packing in enough nutrition. Prepare the meals fresh so that it can provide health benefits to your children. This year, make sure your child's lunch goes straight into their stomachs and not into the trash bins.
Get the best lunch box
One of the best ways to attract the kids towards a healthy meal is to buy them a bento box. This box contains many compartments of different sizes. Most kids enjoy the bento boxes because it is divided into little sections. You can pack the lunch of the kids in a variety of creative ways. Each section can be filled and this increases the chance of adding more fruits, veggies and nuts in there.
Plan a nutritional meal
Kids require great amount of nutrition to do their best at academics and extracurricular activities. Every meal should have nutritional benefits and so vegetables and fruits are a must. Do not pack junk food everyday for them. Also allowing them to binge on oily food everyday is not advisable. Do not give in to their request of buying them an aerated soft drink post their school hours or after lunch.
Use a specialty cutter
Cut the veggies and fruits into interesting shapes using the specialty cutters. By using them, mums can turn watermelons and carrots into flowers, trees and stars. When the fruits and veggies look visually appealing, it becomes a lot easier for the kids to eat. Mums can try the same thing with the sandwiches, or any other eatables too.
Small serving sizes
Do not forget to cut the veggies and fruits into small sizes, in order to fit them in the box. Peel oranges, cut them along with a banana and mix it with blueberries to make a healthy fruit salad. Do not put in a whole apple rather cut it down to make it less daunting and easier for the kids to eat. It is an easier task for the kids to eat small things.
Add cheese, sauce and jam
Along with making the lunch boxes look great, also make them tasty. The various options could be pasta with broccoli, macaroni or a healthy quesadilla with beans and spinach. Children love cheese, hence add a little in their burgers, sandwiches and pastas. If it is a chapathi you can roll the chapathis with some stuffing and add sauce to it. Children love colourful idlis, so you can attempt to make spinach or beetroot idlis.
Don't over pack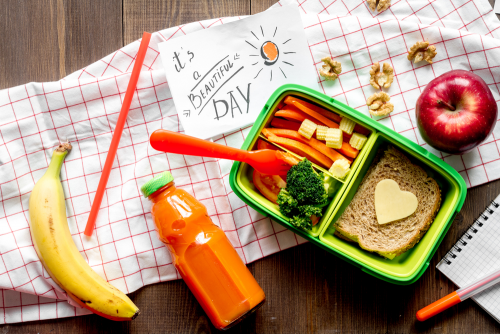 Packing a lunch box should depend upon how your child eats at home. If he/she eats small meals, then a giant lunch at school is a bad idea. It may be tempting to pack your child's lunch box with too many things. But do it as per the capacity of the child. You can also consult your child, on what he/she feels like eating that day. Make the lunch accordingly. This will encourage your kids to finish the lunch at school.
Sweets and snacks
You can make room once in a way for goodies such as a cookies or brownies. Probably you can also allow them their favourite snacks such as kachori, samosa or pakodas once a week. Along with that do not forget to pack their favourite chutneys or ketchups. Pack them healthy homemade sweets or snacks and refrain from buying outside food.
Pack smoothies along
Many a times, children have an issue with eating vegetable salads. The best way to solve this problem is turning the veggies into smoothies. For instance you can use unsweetened almond milk, fresh spinach, a bit of vanilla and turn it into a smoothie. Smoothies turn out to be delicious, and kids can have a great healthy and tasty drink. Smoothies can be a fun addition to the lunchbox.