The Police Public School, Raipur's unique feature is that its well-qualified teachers are also trained police personnel
Police Public School, Raipur (PPS) was established in 2019 by the Police Welfare Association of the Chhattisgarh Police Department under the leadership and guidance of the Director General of Police (DGP) D. M. Awasthi. Initially, started as a school exclusively for the children of the police personnel, PPS had later on, opened admission to public in order to cater to the education needs of children from different backgrounds and to have a fair combination of students. PPS is a CBSE (proposed), coeducational (day) school with classes from kindergarten to grade VIII with 185 students and 30 well-qualified teachers and administrative staff on its muster rolls.
"A police personnel's job requires him/her to be always on his/her toes, and Police Public School Raipur was established with an aim to relieve them off the stress as far as their child's education is concerned. At PPS, our focus is to train the students to be conscious, righteous and wellinformed individuals who grow up to be leaders of tomorrow," says DGP Awasthi, the chairman of PPS.
Sited on a spacious and green campus at the center of the city in a well-connected and accessible area of Pension Bada in Raipur, Police Public School Raipur provides a state of the art infrastructure and a safe campus with 24X7 CCTV camera surveillance. The campus houses 30 spacious classrooms, well-equipped laboratories for Biology, Chemistry,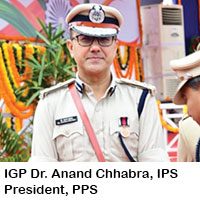 Physics, Mathematics and Computer, a fully-stocked library-cum-reading room with age-appropriate reading materials for both students and teachers, a health room, and separate rooms for Art, Dance and Music classes. According to PPS' management, the most important qualities needed for anyone to succeed in life are focus, physical and mental agility and these qualities can be inculcated in students through sports. In tune with this belief, the school has a spacious playground and facilities for games such as football, basketball, kho kho, cricket, kabbadi, chess, carrom, and table tennis, apart from having dedicated time allocated for yoga, meditation and other mind exercises. Further, students can learn and enjoy extra-curricular activities by choosing among the host of clubs that the school offers, which includestitching and embroidery, physical grooming, hospitality &
cooking, and social service.
The curriculum is scientifically designed to meet the 21st century education needs of students and help nurture a well-rounded personality which is an amalgamation of both the modern outlook and traditional values. Apart from the regular chalkand-talk classroom method of teaching, students are also regularly assigned projects and presentations to assess their understanding of topics in a better way. PPS gives great
emphasis on forging a healthy relationship with the parents to better facilitate the learning outcomes of the students. A detailed performance card is prepared for each student by the teachers and regular parent-teacher meetings are organised to acquaint the parents of their child's progress. Police Public School Raipur also conducts workshops and training sessions in classroom management, communication skills, and subject-related upgradation programmes to help teachers. Principal Shani Mishra says, "In PPS, education doesn't just mean academics, it's a combination of values, integrity, morals as well as physical, mental, psychological and social wellbeing. Every activity and lesson taught is a conscientious effort to make the child ready for the different challenges in life. Moreover, we value the trust and faith parents placed on the PPS management and teachers, and hence we make it a point to have healthy parental involvement in the school's activities."