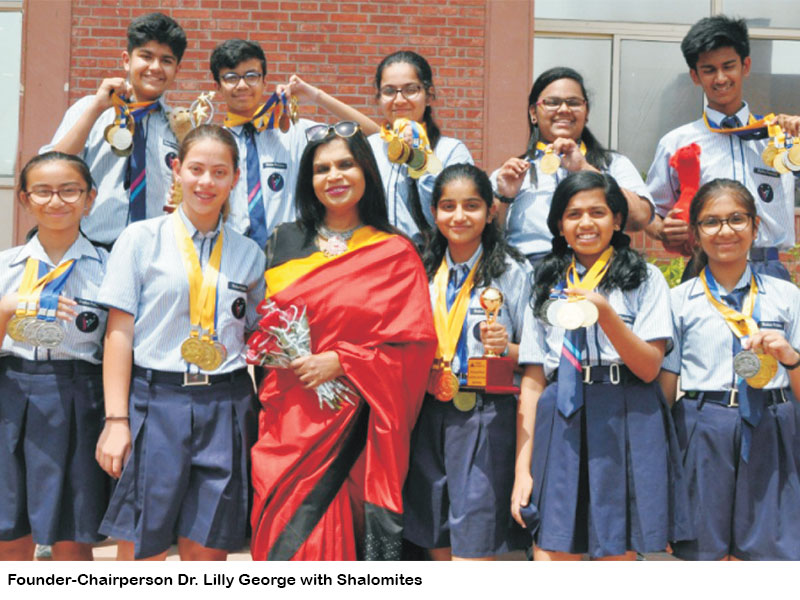 Promoted by Dr. Lilly George, Founder and Chairperson, Shalom Hills Group of Schools situated in Gurugram has four schools, namely Shalom Hills International School (K-XII) ranked #7 in Gurugram; Shalom Presidency School (K-XII), in the latest EW Indian School Rankings 2018-19, the school comes in top 15 schools in the co-ed day schools category I all over Haryana; and two Shalom Hills Schools (Nursery) in Sushant Lok and Nirvana of Gurugram.
Shalom Hills Group of Schools were established to provide a stimulating and safe learning environment with innovative and responsive teaching techniques which will maximize individual potential and thus empowering the students to meet the challenges of life in a rapidly changing global environment. Schools offer a warm and supportive culture here that not only facilitates learning but also develops a deep bond between students, teachers and the environment", says Dr George.
The driving force behind the stupendous success of the Shalom Group is its Founder & Chairperson, Dr. (Mrs.) Lilly George, a larger than life figure with limitless talent and a selfeffacing, down-to-earth persona. The embodiment of grace, poise, fineness and propriety, she exudes an aura of peace and calm. Despite her external gentleness, she exhibits great mettle, sense of commitment and is a pillar of strength. A true academician and educationist, for whom 'Education is not preparation for life; but life itself', she has always been at the helm of the unprecedented rise of the Shalom Group.
While working diligently towards achieving high academic results, the co-curricular activities are well intertwined in its system. The exalted World Scholar Cup is one such debating platform that the students of the school have been regularly participating in. Their enthusiastic preparation and dedicated efforts bear fruit each year, with the children winning laurels at all levels, be it in China, Malaysia, Singapore, Korea or finally at Yale University, Connecticut, USA. The various skill clubs and activities provide a platform to the students to hone their talents and instill social responsibility in them.
Sports form an integral part of the curriculum right from the early classes, which helps students make it a part of their routine effortlessly, in addition to instilling the ethic of true sportsmanship and help build camaraderie between children. The students are physically and emotionally healthy and stay focused to perform well in academics as well.
Schools have unmatched academic environment, innovative teaching techniques, dedicated personalized care and opportunities for a lifetime of learning. The school believes in broadening horizons, encouraging out of the box thinking and problem solving skills, right at the initial year. The students are
motivated to dream and aspire for the very best in the world and be the agents of change and progress in the years to come.
Shalom is steadily moving towards actualizing the goals by creating a safe and supportive environment for its students, and by providing a perfect balance of academics, sports, artistic and social opportunities. Childhood, youth and learning should be a joy and that is what everyone at shalom strives for. Managed by luminaries who have greatly contributed to the education landscape of the country over the years, and coupled with new-age teaching ideologies, Shalom Group of Schools is an insignia of modern education today. It is a system based on values and principles that will last the children a lifetime directing them to be the ambassadors of positive change and help build a better tomorrow.
Dr. Lilly George feels that in the future, education and livelihood skills will not be enough for a child to succeed. According to her, what is needed is a holistic, nurturing ecosystem that strengthens a child's belief in theirselves and naturally connects him/her to the environment.