For adults the island nation of Singapore is one of the busiest global business hubs worldwide. But, for children, it's a fantasy wonderland with an endless list of enthralling sights and sounds which simultaneously educate and entertain – BHUMIKA K.
A giant black slope lights up and bursts into flowers as you slide down a fruit and flower projection slide, birds feed on nectarine from your hands, dolphins wobble and wiggle before you or come kiss you, cable car rides take you across the sea to tempting islands, and you spend a day with dinosaurs and mummies, roller coasters and fairytales…! The stuff that dream holidays are made of.
Most parents select and build their annual holiday plans around their children's interests and activities. So like every summer, this year too we customised our annual holiday to suit our nine-year-old son. But unlike previous years we chose an international destination as a special treat and Singapore was the first choice.
For adults the island nation of Singapore (pop. 5.6 million) is a clean, tech-driven shopper's paradise and one of the busiest global business hubs worldwide. But, for children, it's a fantasy wonderland with an endless list of enthralling sights and sounds which simultaneously educate and entertain.
Here are the must places to visit if you are on a four/five-day family holiday to this beguiling destination.
Singapore Zoo
Spread over 26 hectares, the 24×7 Singapore Zoo is home for over 2,800 animals, including rare species of wildlife such as polar bears and sea lions. Cages and cramped enclosures are unknown in this habitat with wilder species housed in spacious, natural surroundings behind glass partitions. The feeding sessions when children can feed a rhinoceros or giraffe are a big draw as is walking amidst fruit bats. The zoo also houses the world's first free-ranging orangutans and families can breakfast with them. The Night Safari, which was introduced in 1994, is also a huge attraction offering opportunity to sight rhinos, leopards, striped hyena and giraffe in near natural environments.
Jurong Bird Park
Asia's largest bird park with free-flight aviaries is a treat. You can literally walk amidst the birds, hold a cup of nectarine for lories to feast on, wiggly worms for hornbills to come peck at, and watch amazing bird shows. Teeming with 600 rare, exotic avian species, it's acknowledged as one of the world's prime examples of conservation and bird life displays in natural settings.
One of the indoor displays titled Magnificent Birds is a brilliant example of how museums can provide interesting visual information about avian life, and their interconnection with humans. You could also don the role of a palaeontologist and dig up and brush out mud to discover dino bones at one more experience in the park. For parents who believe fun and learning can't possibly go hand in hand on vacation, Singapore is an excellent example of edutainment.
Art-Science Museum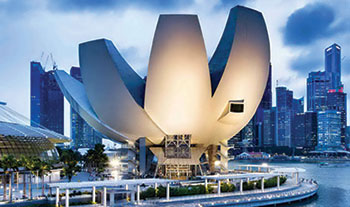 For science and tech loving children, the ArtScience Museum is the destination to head for the most interactive technology experiences. The exhibits in this lotus-shaped building are constantly changing with the exception of Future World which provides an immersive journey through nature, town, park and space. Digital meets play with children allowed to draw and colour a spaceship and feed it onto a digital screen and bounce on huge neon balls. Crystal Universe, the finale, showers a cascade of over 170,000 LED bulbs leaving children spellbound.
Sentosa Island
Sentosa Island is a man-made themed park, a 12-minute cable car ride from Vivo City in Singapore CBD, which attracts 20 million visitors every year. Its main attractions include a 2 km long sheltered beach, Fort Siloso, two golf courses, the Merlion, 14 hotels, and the Resorts World Sentosa, featuring the theme park Universal Studios Singapore and one of Singapore's two casinos. I recommend a two-day stay at Sentosa with a day each for the island and Universal Studios.
The island is a theme park lover's paradise, where you can try out a mind-boggling number of ticketed rides
including the luge, go bungee jumping or indoor skydiving, explore history near Fort Siloso, marvel at Singapore's iconic Merlion statue, or enjoy gorgeous views on multiple cable car rides. Another must-visit is the S.E.A. Aquarium which hosts a burst of colourful fish and exotic creatures in overwhelming displays. There are touch-and-feel experiences for children, and quizzes on ocean pollution with prizes on offer. The fluorescent jellyfish display is another huge draw.
Universal Studios is a gigantic-scale theme park featuring 28 rides, shows, and attractions in seven themed zones. There's a wide selection of amusement rides from the stomach churning Human and Cyclon roller coaster to milder rides for young children in themes of children's blockbusters such as Puss in Boots, Madagascar, and Jurassic Park. Check out www.rwsentosa.com for height specifications for rides. For older children, Universal offers Transformers — The Ride — a 4D simulator ride that plunges you into dark nothingness in the middle of war. Navigating river rapids in the Jurassic world is something most dino fans can't afford to miss — get splashed and swished around in a circular bobbing boat with animatronic dinos baying at you. There's enough song and dance, castles and carousels to keep the young and old entertained in this awe-inspiring studio.
River Safari
The River Safari is Asia's first and only river-themed wildlife park offering the most awe-inspiring display of aquatic creatures great and small, from gigantic manatees and Mekong river fish, to exotic forms of freshwater life from rivers as far away as the Mississippi, Congo, Nile, and Yangtze, and closer home, the Ganges.
Amazon River Quest
Say hello to the world's most famous Pandas, Kai Kai and Jia Jia and also eat Panda Pau (steamed buns shaped like pandas) to celebrate them! The Amazon River Quest is a must-do experience where you can spot tapirs, jaguars and more from the safety of a well laid-out boat ride.
There is a lot more to do in this tiny island nation including the Singapore Eye, history walks in the Chinese quarters and Little India, museums and libraries, among other activities. But if your objective is to edu-entertain and treat your children, my recommendations will not disappoint.
Facts file
Singapore (pop. 5.6 million) is a tourist in particular child-friendly small, but hi-tech island nation. From custom-built toilets for children, numerous nappy-changing stations, mum-n-kid larger sized toilets, to strollers and pushcarts for rent, handheld chargeable fans and child-friendly maps, every effort has been taken to make all tourist attractions child-safe and welcoming. Moreover, each attraction in Singapore offers interactive maps and apps to download, use, play, see and learn.
Best time to visit. The summer months of April-May are hot and humid with the monsoon season beginning in June. October-February is the best time to visit.
Given Singapore's hot and humid climate, every public place, mall and tourist attraction has water play areas for children to splash around and cool off. Always carry a towel, swimming gear, and a change of clothes for the children.
Getting there. Singapore Airlines and almost every major airline fly to this destination. The budget traveller has Scoot, Air Asia and Tiger Airways options. Flying time varies between 4.5 to 5.5 hours.
Hotel options. Take your pick from the fancy to budget hotels. There's also plenty of Air BnB picks. But if you're out to enjoy resorts, stay on Sentosa Island.
Tickets. The online Singapore Tourist Pass and other similar passes offer combination tickets to major tourist attractions. But with children and moody plan changes, and unpredictable weather, this may not be such a great idea. Registered travel agents in Chinatown offer highly discounted tickets, sometimes far cheaper than online purchases. For all the wildlife reserves there are combination tickets or Park Hoppers.
Food. Singapore attracts a large number of Indian tourists and most restaurants have Indian cuisine on the menu, including vegetarian options. But I recommend that you experiment with local food including the ice cream sandwich wrapped in pandan leaf bread.
Transport. With a great network of Metro trains (MRT & LRT) and buses, getting around the city is a hassle-free experience. Taxis are a good option for short distances and if you are three or four people. Install the Uber app on your phone. Also get the Ez-Link contactless card useable across MRT, LRT and buses.