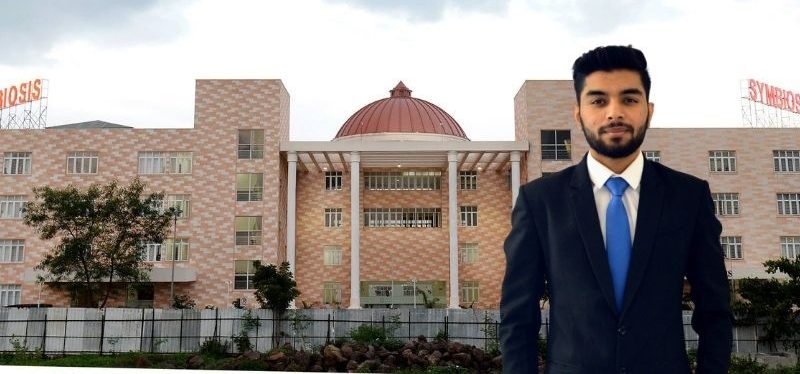 Shivansh Ahuja is a fourth-year BBA LLB student at Symbiosis Law School, Pune. Serving as part of the institute's student advisory board for four years and the international cell for three years has proved fruitful to Ahuja who is an avid debater and an enthusiastic participant in mock courtroom competitions.
As an office bearer during the pandemic, Ahuja believes the online 'student peer assistance system', 'student buddy system', and the 'mentor-mentee initiative' made the student advisory board's online experiences easy and memorable.
The aspiring corporate law advocate plans to pursue his masters in the field of corporate laws in Canada before eventually practicing as a solicitor. Ahuja shares his thoughts on the student community's journey during the past two years.
What kind of classes are being conducted currently in your educational institution?
Our institution has been very prompt to resume offline classes for vaccinated students while taking adequate precautions. The college has also continued with online classes for its non-vaccinated and international students.
What is the general response to attending offline classes even as the possibilities of closures in case of rising COVID cases persist?
The students are relieved and more than happy with the resumption of physical classes. Students are aware of their responsibility to continue taking precautions. We are also aware of the possibility that we might have to resume online college once again if the situation demands it. However, we are well equipped to make the shift and such a shift will not affect our academic or co-curricular and extra-curricular activities.
How did you carry out your responsibilities as a student advisory office-bearer amidst virtual classes?
I have been fortunate to be a part of the student advisory board since my first year and continue to serve as an office-bearer even today. During the pandemic, the shift from offline to the virtual platform was a drastic one. However, our college introduced several online initiatives like the 'student peer assistance system', 'student buddy system' and the 'mentor-mentee initiative' which helped the student advisory board to function on an online platform without any hitch.
Do you think administering your duty online restricted the scope of the work you could have conducted otherwise?
The online platform certainly restricted the functioning of the student advisory board (SAB). However, our respected director and other faculties guided and motivated us to take up virtual initiatives and virtual events. This ensured that the SAB fulfilled its mandate through a virtual platform.
With little time for syllabus revision, do you think students are ready for offline exams?
Yes, we are well equipped to write exams offline too since our college took several proactive measures to conduct extra lectures and schedule remedial lectures too. As a regular practice, the college conducts periodic internals which help students to revise the syllabus for our external examinations.
How according to you could your institution bridge the learning gap caused to the closures?
I think our institution has done a great job to bridge the learning gap caused by external factors during the pandemic. The institution ensured a smooth transition to a virtual platform while not compromising on the quality of education. We were also not overburdened by written internals and various other modes of the internals were adopted.
How would you describe your academic journey since March 2020?
My academic journey since March 2020 has been very erratic. At first, the shift to a virtual learning method was really difficult. However, with the right amount of motivation given to me by my peers and the college faculty, students were able to develop various methods that helped us study during the pandemic. We also attended virtual guest lectures and workshops which proved helpful to us.
How did you manage to stay connected with your friends during the pandemic?
I used social media to stay connected to friends during the pandemic. Speaking to each other and discussing our problems really helped since the student community went through similar problems.
How have you dealt with the last-minute changes in exam patterns, evaluation criteria etc.?
Considering the overall uncertainty created due to COVID, the changes undertaken by the institution benefitted the students. These changes were required to facilitate a feasible and fair evaluation method for all irrespective of internet connectivity issues etc.
Do you think the state and central government did enough to support education and children during the pandemic?
I believe the state and central government did the best they could with the resources they were equipped with. The issuance of timely guidelines and ensuring that educational institutions adhere to COVID norms were major tasks considering the scale of the pandemic.
Do you think the absence of in-person interaction with teachers impacted access to learning about the latest career and higher education prospects?
I personally believe that over the past two years, we have all adapted to functioning virtually on every aspect. Thus, I didn't feel I was being deprived of opportunities or knowledge which would help facilitate my ambitions regarding potential career or higher education prospects. In fact, thanks to the digital shift, I have access to the most requisite content which has aided my research. Additionally, knowing my faculty are just a call, text or email away has been a comforting thought.
How have you coped with exam stress?
Exam season is always stressful for law students, owing to the vast and complex syllabus. However, I consciously keep aside some time for my hobbies and other stress busters. Additionally, all students had access to our college's wellness center counselor should we want to reach out for help.
Have you understood the National Education Policy 2020?
I believe the policy aims to address the lacunas in the present educational landscape. NEP will provide students with opportunities to learn through research-based instruction as well as additional learning options. With the student's learning environment and learning process undergoing a huge change, I think it would do students well to seek assistance from experts and specialists while selecting their career prospects. Through NEP, the government wants to equip teachers with more advanced teaching techniques and skills. The policy is certainly a welcomed move.
Also Read:Students Corner: Vineet Singh Bhatia, FORE School of Management