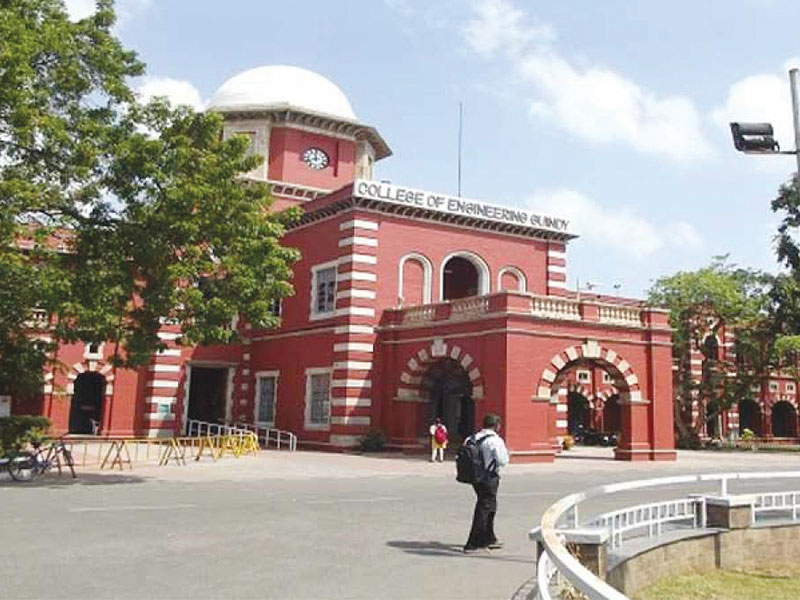 There is a palpable sentiment of euphoria within the corridors of Anna University, Chennai (AU, estb.1978) — Tamil Nadu's premier engineering and technology university — which has 571 affiliated engineering colleges. In August, an expert committee of the University Grants Commission recommended AU for conferment of Institute of Eminence (IoE) status.
The IoE scheme was introduced in 2017 with the purpose of empowering 10 public and 10 private higher education institutions in India to become world-class teaching and research universities and improve their standing in global rankings. The criterion for IoE selection is that they should have been placed in the Top 500 of World University Rankings (WUR) of the London-based academic rating agencies QS and Times Higher Education and/or the Shanghai Jiao Tong University rankings, and also within the Top 50 of the National Institutional Ranking Framework (NIRF) of the Central government. IoE institutions enjoy complete academic and administrative autonomy.
However, since Anna University is currently an affiliating varsity and will not enjoy affiliation powers after it is granted IoE status, the E.K. Palaniswami-led AIADMK government in Tamil Nadu has resolved to bifurcate the university into Anna Institute of Eminence (AIoE) and Anna University (AU) by amending the Anna University Act, 1978, and drafting new legislation. Under this schema, AIoE will become a research-driven autonomous varsity while AU will remain an umbrella affiliating university for 571 engineering colleges statewide.
But even as the state government has appointed a five-member ministerial committee assisted by three principal secretaries to incept AIoE, some major misgivings expressed by academics have stayed the state government's hand from forwarding this proposal to the HRD ministry.
One of them pertains to the continuation of the state's existing 69 percent reservation in public higher education institutions for Scheduled Caste, Tribes and OBCs in the proposed AIoE. The HRD ministry has reportedly assured the state government that the exceptional 69 percent reservation which is in breach of the Supreme Court's upper limit of 50 percent applicable to all public higher institutions, but insulated against judicial challenge by being inserted in the Ninth Schedule of the Constitution, will continue to be applicable to both units even after grant of IoE status.
Moreover, under the IoE scheme the Centre will provide a grant of Rs.1,000 crore over a five-year period on condition that the state government contributes 50 percent of the total requirement over five years. In effect, Anna University will require Rs.2,750 crore to attain IoE status of which the state government has to contribute Rs.1,750 crore.
Although for the funds-strapped TN government this amount is a tall order, educationists, experts and industry leaders are unanimous that the state shouldn't miss the opportunity to establish AIoE. "The hived off IoE will be empowered to focus on research and consultancy and compete with the best global universities. Apart from complete academic, administrative and financial autonomy, it will be qualified to enter into academic collaborations with foreign higher education institutions, recruit foreign faculty, frame its own syllabus, determine its tuition fees and provide world-class residential facilities. However, it's surprising that not even one academic from TN has been included in the five-member committee to study the bifurcation of Anna University and related issues," says Dr. E. Balagurusamy, former vice chancellor of Anna University.
But knowledgeable educationists may be reluctant to get involved with the proposed bifurcation because of the unapologetic interference of Tamil Nadu's two major political parties — DMK and AIADMK — in academia. AU has been converted and recast from a unitary to an affiliating university and vice versa three times since 2002, according to the whims of political parties in power.
Nonetheless, some monitors of higher education in the state are convinced that acquisition of the Central government's IoE tag will put an end to interference with AIoE and enhance the new university's position in global university rankings. "The four colleges of AU which will constitute AIoE are reputed for maintaining high academic standards and providing high quality education. This is an opportune time for the state government to establish another world-class university in the state," says V.M. Muralidharan, former chairman of Ethiraj College for Women and CEO of the Global Bahwan CyberTek Group, an IT services company based in Chennai.
Given that freedom from UGC regulations comes with high expectations, Anna University's governing council will have to carefully engineer the proposed bifurcation. IoE institutions must break into the ranks of the world's Top 500 universities in ten years and eventually into the Top 100, failing which their status could be revoked.
Hemalatha Raghupathi (Chennai)