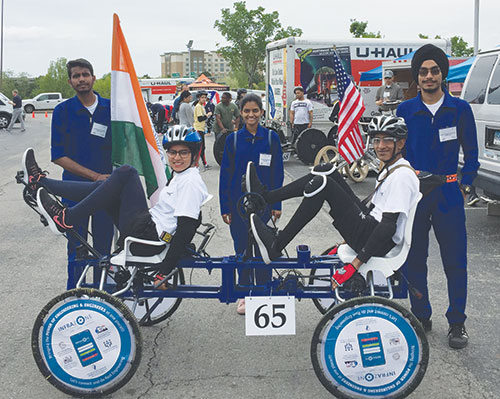 A seven-member team of the Jalandhar (Punjab)-based Lovely Professional University (LPU, estb.2005) — ranked #3 in Punjab in the latest EW India Private University Rankings 2019-20 — was adjudged winner of the prestigious STEM Engagement Award 2019 of the Human Exploration Rover Challenge sponsored by the National Aeronautics and Space Administration (NASA), Huntsville, Alabama (USA) on April 13.
Team Visionauts — comprising engineering undergrads Karan Singh, Hemant Sharma, Rohit Manik Patil, Harsimran Kaur, Tejinder Kaur, Ekampreet Singh and Gursewak Singh — bested 115 teams worldwide to bag the title (one of 15), a trophy, certificates and cash prizes.
Organised by NASA, the annual Rover Challenge invites high school and college students to design and build rugged automotive vehicles (aka rovers) for future missions to the Moon, Mars and beyond. This year's challenge required participants to design and construct a prototype of a lightweight 7ft x 5ft rover equipped with all-terrain navigation capabilities. At the 2019 Rover Challenge, rovers were assigned the task of navigating a mile-long course with 14 formidable obstacles while collecting samples and deploying measuring instruments within a seven-minutes time frame.
"For this year's challenge, we used carbon fibre components and 3D printing technology to improve manoeuvrability of our rover christened Hana. Further, we divided the responsibilities of manufacturing, documentation, market survey and procurement among our team members. This strategy of breaking the project into smaller components paid off," says Karan Singh, spokesperson of Team Visionauts.
For the young champions, participation in NASA's Rover Challenge has been a valuable experiential learning experience. "We are often lectured about the importance of project planning, teamwork and assuming responsibility. But putting these nostrums into practice successfully is an altogether different type of learning experience. We are keeping our fingers crossed hoping NASA accepts our rover technology and design for its future missions," says Karan.
Way to go, Guys!
Sruthy Susan Ullas (Bangalore)