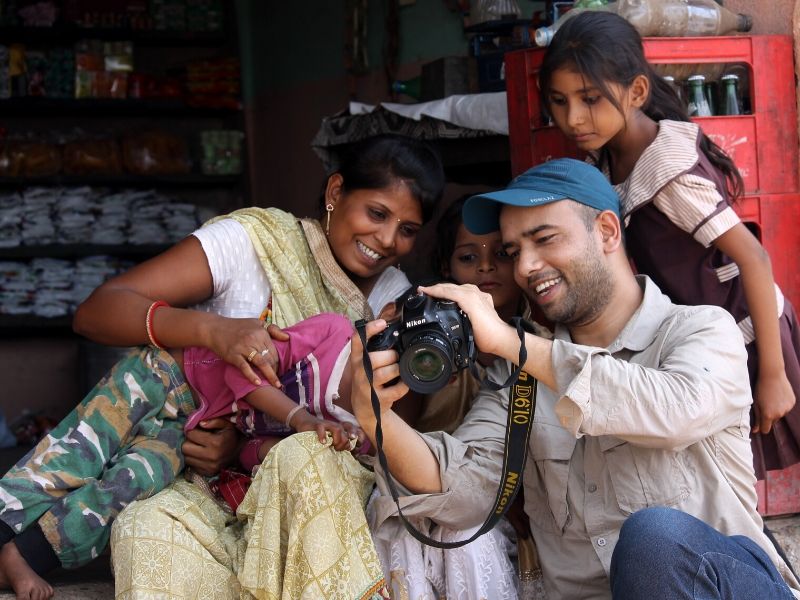 Pictures not only freeze the moment but also tell us moving stories and bring back a rush of memories. But when pictures have a historical, political or social connotation attached to them, they have the potential to raise the collective conscience of an entire generation and play a catalyst to major change. Something similar happened recently when photojournalist and independent social documentary photographer Rohit Jain showcased the photographs of children, the second or even third generation affected by the deadly Bhopal Gas Tragedy, also touted as the worst industrial disaster of the modern world that killed about 3,800 people. The impact of the photos was such that it brought back the haunting memory of the tragedy that took place 35 years back, but its wounds are still fresh. People were forced to rethink and empathise with the victims of this tragedy who still have to live with its impact, even as the disaster itself has been erased from the public memory. "For my one-month long project, I had received a grant from the Pulitzer Centre. I wanted to bring to public attention, the memories of this disaster which not only affected those who lived in 1984 Bhopal, but continues to affect the subsequent generations, till day after 35 years," says Jain, who released this project in December 2019.
View this post on Instagram
Jain mostly documented young children born with physical and congenital deformity and now are left immobile and dependent completely on their families for menial and daily chores, some as trivial as "washing themselves or even brushing a housefly off from their face". These striking pictures and the stories achieved its desired results and re-initiated a conversation around the topic, something that gave Jain an immense sense of achievement.
View this post on Instagram
View this post on Instagram
"If you are privileged, you must raise your voice for those who haven't been as lucky as you," is the mantra that 32-year-old Jain swears by. He says that he was and continues to be driven by the sole purpose of bringing forward untold stories of marginalised communities, women and children through his pictures. "I feel it is important to add that my photos not only just tell stories of despair and suffering. My aim is to also highlight that in between the sufferings there is always some hope of better times," says Jain.
Jain's introduction to this field was very unconventional. A commerce graduate, Jain never had a formal training or degree in journalism or photography. Infact, he was preparing for MBA entrance exam along with juggling a job in the KPO sector when the realisation dawned upon him that he wanted to pursue photojournalism. "After a stint of 3-4 months in the KPO sector, I felt that I will not be able to realise my full potential if I continue in the corporate sector. I have been drawn to the social development sector since I was in school, and hence decided to give it a serious shot," tells Jain. In 2009, Jain was selected as one of the field associates for a government survey on rural development in the Kaushambi region of Uttar Pradesh, where he got a first hand account of poverty, inaccessibility to public healthcare and hunger. It was this experience that made his resolve even stronger to do something to take these stories to the world. Jain says, "I started with a camera gifted to me by father and started documenting such stories. With the passage of time, I was able to network with a lot of activists working on the ground who helped me gain an insiders perspective on the matters of public healthcare, rural development, issues pertaining to women and children and literacy. Slowly, I started getting commissioned work and I covered many projects including life of the Bhil tribe in Madhya Pradesh, pregnancy and reproductive health of women in a slum of Indore and child marriage in Rajasthan, among others."
View this post on Instagram
Between 2012 and 2015 he also worked with a reputed national daily where he says he learnt the tricks of the trade better. After quitting a stable job in 2015, he again ventured out in the unpredictable sea of freelancing, and after several hits and misses, gained the coveted grant of the Pulitzer Centre on Crisis Reporting for the photo story titled "Aftermath of Bhopal Gas Tragedy", and the rest, as they say, is history. Jain is now looking forward for a grant to start work on public healthcare of the country.
When asked for his message for youngsters looking to join this profession, Jain said, "You have to be driven by intense passion to bring change through your work. While this career may not promise to pay exorbitantly well, but the job satisfaction is immense."
Also read: World Photography Day: Recalibrating the lens to a post-Covid landscape