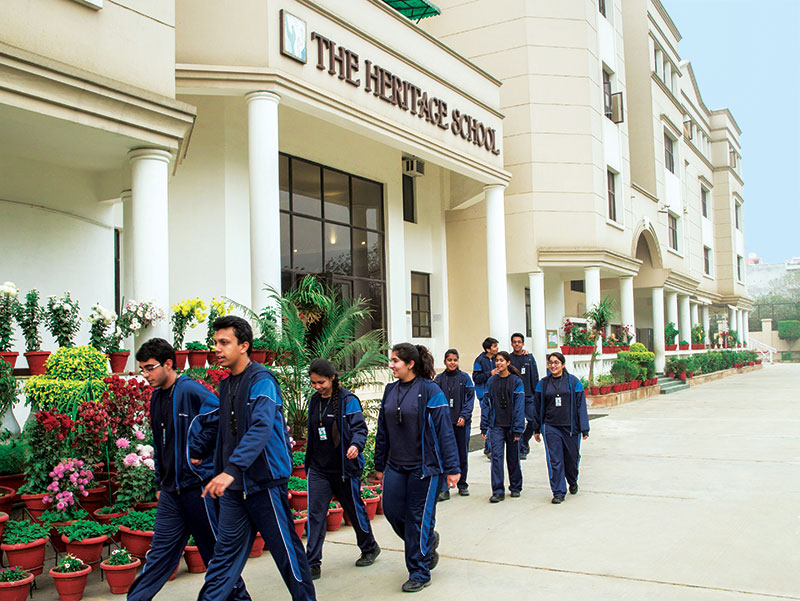 Founded in 1999 by Delhi-based real estate developers N.C. and Manit Jain, promoter-directors of Conscient Infrastructure Pvt. Ltd, the Heritage Group comprises three K-12 day schools in Delhi NCR — Vasant Kunj, Gurgaon and Rohini. Together, they have an aggregate 6,000 students and 600 teachers on their muster rolls.
Promoted in 2002, the objective of The Heritage School, Rohini (THS-R) is to develop "a learning community where each child is encouraged to realise her highest potential". Sited on a four-acre green, eco-friendly campus in the new upmarket suburb of Rohini in north-west Delhi, within a short span of time THS-R has established an excellent reputation and is ranked among Delhi's Top 10 co-ed day schools in the EducationWorld India School Rankings 2018-19. All three Heritage schools, affiliated with the Central Board of Secondary Education (CBSE), offer innovative experiential learning pedagogies and are ranked among Delhi's top co-ed day schools.
Heritage School Leaders
Manit Jain, Director
An alumnus of the Harvard Graduate School of Education and co-founder and director of the Heritage Group of schools, Manit Jain has successfully mainstreamed experiential learning pedagogies in the group's three schools. A committed proponent of 21st-century teaching and learning, he has led from the front with hands-on involvement in developing and nurturing the Heritage schools in Delhi NCR, into a revolutionary initiative in K-12 Indian education. He is also founder of 'I am a teacher' — a postgraduate teacher training diploma programme launched in 2014 to upgrade teacher training standards in Indian education
Neena Kaul, Founder Principal
Neena Kaul has over 27 years' teaching experience and has played a pivotal role in the development of the school into a hub of education excellence and experiential education. THS-R's intensively researched Prakriya experiential pedagogy equips students to design and devise solutions for complex challenges confronting the community and country.
THS-R's intensively researched Prakriya experiential pedagogy equips students to design and devise solutions for complex challenges confronting the community and country
Campus Infrastructure
The school's ergonomically designed four-acre campus with a built-up area of 77,826 sq. ft hosts 88 IT-enabled, climate controlled classrooms, a 500-seats amphitheatre, seven science laboratories, four computer labs and excellent sports facilities.
THS-R students topped the CBSE class XII exams in history, business studies and accountancy in 2015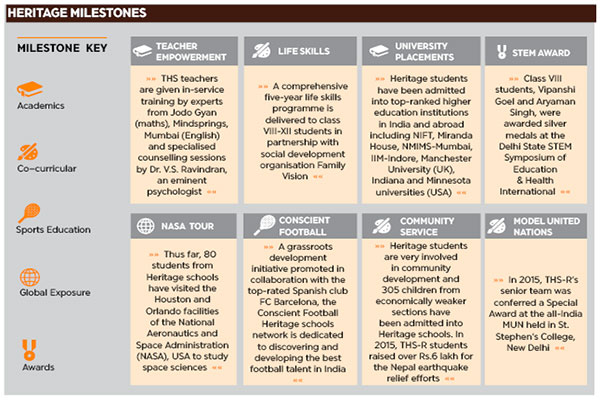 Co-curricular and Sports Education
THS promoter-directors are fully committed to providing students with a holistic learning environment in which they develop hearts, bodies and mind. The school offers a 97,000 sq. ft playground for field sports and dedicated design labs for carpentry, pottery, media and graphic design.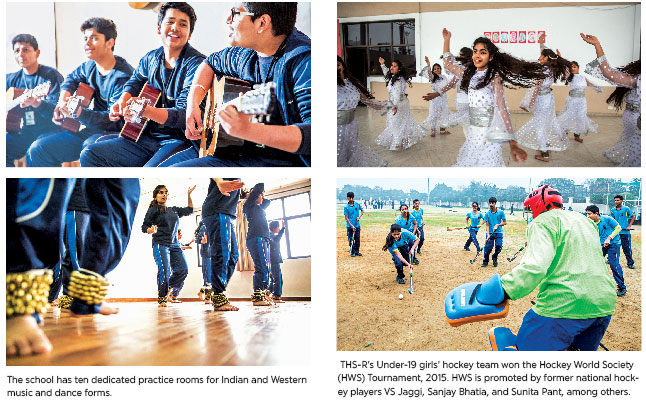 FACULTY SPEAK
"The bedrock of any relationship is trust, and belief in each others' abilities is the core of every bond in the Heritage family — among teachers, among students and especially between teachers and students."
Anurag Advani, Alumnus/Faculty, Secondary Programme
"The Heritage School never lets excitement, curiosity and the spark to learn extinguish within us. Every step is towards new learning and discovery that shapes students into more evolved individuals."
Prerna Bharadwaj, Faculty, Primary Programme
WORLD SCHOLARS CUP, YALE
In 2015, 14 selected THS students travelled to Yale University, USA to participate in this international conference which attracts over 3,000 students from 40 countries annually, to discuss and debate subjects such as ethics, science, literature and the arts.
Admission & fees
The Heritage School, Rohini, Delhi is a K-12 CBSE-affiliated co-ed day school. It admits children in kindergarten in the month of February.
Annual tuition fees. Rs.97,620-109,620
For further information visit www.theheritageschool.in
(Excerpted and adapted from Future-Ready Schools of the New Millennium, 2017)