Sited in the national capital's bustling Punjabi Bagh suburb, The Knowledge Bus Global Preschool (TKBG, estb. 2017) is the latest venture of the TKBG chain of schools promoted by well-known educationist Dr. A. Sukhija, and comprising the TKB Global Preschool, Ashok Vihar (2015) — ranked among the Top 10 preschools in Delhi in the Education World India Preschool Rankings 2017-18 — and K-12 TKB Global School, Mohali (2016). Spread over an area of 7,500 sq. ft, the newly promoted TKB Global Preschool, Punjabi Bagh has quickly earned a reputation for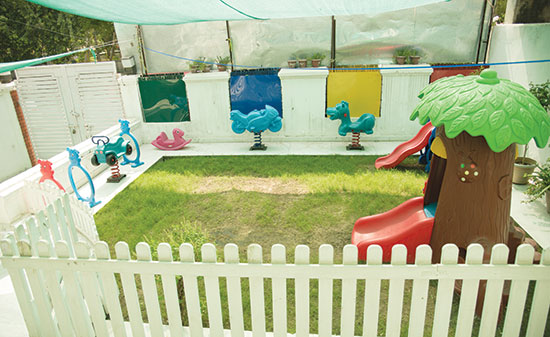 offering professionally administered early childhood education to 180 children in the 1.5-3.5 years age group.
The distinguishing feature of TKB Global Preschool, Punjabi Bagh is that it offers the internationally benchmarked and intensively researched early childhood education curriculum of the Busy Bees Singapore Pte Ltd, a subsidiary of Busy Bees, UK (estb. 1983), which owns over 400 highly-respected pre-primaries in the UK and South-east Asia. Uniquely, the curriculum integrates the student-centric Reggio Emilia, Multiple Intelligences Theory and Lilian Katz pedagogies to enable holistic development of youngest children. Additionally, TKB Global Preschool, Punjabi Bagh offers the Letterland English phonics programme which promotes interactive learning.
TKBG leader
Dr. A. Sukhija
Founder-director
An alumna of the Chaudhary Devi Lal University, Sirsa (Haryana) and MBA from Newport University, California, USA with over 25 years of teaching and administrative experience, Dr. A. Sukhija is the visionary founder-director of The Knowledge Bus Global chain of schools. Prior to promoting TKBG, Dr. Sukhija served in top-ranked international schools such as VS International School in Delhi NCR and KG School, Lucknow and trained faculty of K-12 schools in Delhi NCR, Bangalore, Mumbai and Lucknow.
Recently, Sukhija completed a certificate course in international education for preschool professionals from the Asian International College, Singapore and an international certified career coach program of Mindler Education Pvt. Ltd (India) and Career Development Alliance LLC (USA).
The objective of the TKB Global Preschool, Punjabi Bagh is to "enable the cognitive, linguistic, physical, social and emotional development of its pupils by offering a rich blend of extracurricular activities to make learning joyous".
Campus Infrastructure
Spread over 7,500 sq. ft, TKB Global Preschool, Punjabi Bagh provides its students child-friendly facilities including 12 spacious, well-ventilated classrooms equipped with multimedia computers and audio visual aids, a library hosting over 500 children's story and picture books, a pretend play zone, a large multipurpose hall and a mother-child engagement area.
Co-curricular and Sports Education
Committed to providing holistic education, TKB Global Preschool, Punjabi Bagh offers excellent co-curricular and play facilities. The campus hosts a physical development room, music and dance rooms, art and craft corners, splash pool and soft gym. Young learners are taught yoga and taekwondo by certified instructors.
Admission & fees
TKB Global Preschool, Punjabi Bagh is a pre-primary with day-boarding facilities for children aged 1.5-3.5 years. The school admits students throughout the year.
Fees (per year): Rs.146,000 (Tuition fee: Rs.9,000 per month & initial fee: Rs.38,000)
For further information contact 9871503001/ 9870156262/ 9870166262